United Kingdom / Britain
ASW Weapons
Dropping depth charges off the stern via a rack or track was standard practice for destroyers and destroyer escorts in both World Wars. Ahead firing weapons saw service introduction in 1917 and again in late 1942, but were relatively unsuccessful in the Royal Navy until 1944.
Modern day ASW weapons are mainly torpedoes.
In mid-1916 the D-type depth-charge had been developed, but there were reliability problems with the firing pistols. Production of these much needed weapons was hampered by technical difficulties, resulting in strict rationing of their use by 1917. Usually, escorts carried no more than 35 DC, which, given the unreliable detection methods of the time, was considered to be quite inadequate. The Allies sank about 30 German submarines with DC in World War I; two in 1916, six in 1917 and twenty-two in 1918.
In 1939 the only British ASW weapon for surface ships was still the depth charge and there was no satisfactory aircraft borne weapon. The depth charge remained the main British ASW weapon until the middle of 1944 when Hedgehog and Squid started sinking more U-boats.
Postwar, the ASW torpedo has been the primary anti-submarine weapon, although the Limbo mortar introduced just after the end of the war was used throughout the 1980s on Canadian and other Commonwealth vessels.
Most early sonar systems lost the target submarine on close approach. "Blind Time" is the time between when sonar lost the target and the time when a weapon could be launched. Usually, the attacking ship would "sprint" to reduce blind time. For depth charges, this meant that they were dropped or fired after the sonar contact was lost. Hedgehog was the first "ahead-fired" weapon that could be used while the attacking ship still had sonar contact on the target submarine.
The following table shows British success against German U-boats during World War II. A "half" represents a shared kill. Totals including a "half" mean that the kill was shared with a non-British asset.
| Period | Surface Ships | Shore-based Aircraft | Shipborne Aircraft | Bombing Raids | Total |
| --- | --- | --- | --- | --- | --- |
| 1939 - 1942 | 72 | 31.5 | 3 | --- | 106.5 |
| 1943 - 1945 | 153 | 177 | 16.5 | 22 | 368.5 |
| Total | 225 | 208.5 | 19.5 | 22 | 475 |
The following table shows the relative effectiveness of the ASW weapons used by British surface ships in the 1943 to 1945 period. A "half" represents a shared kill.
Period
Depth Charges
Hedgehog
Double Squid
Single Squid
Totals
Attacks
Kills
Attacks
Kills
Attacks
Kills
Attacks
Kills
Attacks
Kills
Jan - June 1943
554
27.5
53
4.5
---
---
---
---
607
32
July - Dec 1943
4,011
15
49
4
---
---
---
---
4,060
19
Jan - June 1944
404
30
70
10
---
---
3
0
474
40
July - Dec 1944
98
5.5
37
13
6
2.5
17
0
158
21
Jan - May 1945
107
7.5
59
15.5
21
8.5
3
2
190
33.5
Total
5,174
85.5
268
47
27
11
23
2
5,492
145.5
The first Depth Charge Rack in British service was the USN Mark I, which was developed after the USN rejected the British practice of using a sling to hold a single DC. Developed with help from Lt.Cmdr. Ishwood, RN, deliveries of the Mark I started in April of 1918 and 250 American, British and French destroyers had them installed by the Armistice.
Mark Numbers for other British DC Racks are not available at this time. Generally similar to USA versions. Racks manufactured in 1943-44 for escort vessels held 12, 18 or 34 charges.
Development of this thrower started in 1916 and saw general service issue by August of 1917. Nominal range of 40 yards (27 m) when using the Type D depth charge. Sometimes listed as ML 9.5 In DCLT IV. "9.5 In" (24.1 cm) was a reference to the bore size for the arbor. Used a 2-pdr casing for the propellant.
The British experienced production difficulties with this weapon and turned to the USA for help. When examined by the USN in 1917, the conclusion was that it was over-engineered and the USN instead designed their own DCT, the famous "Y" gun.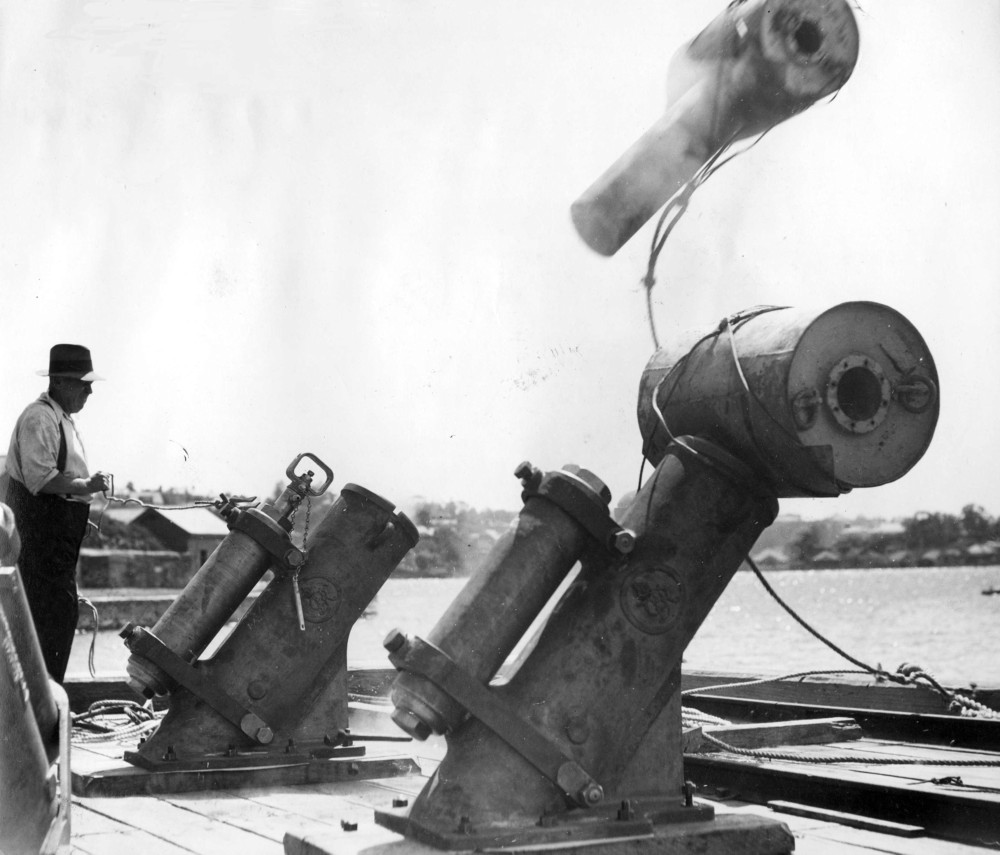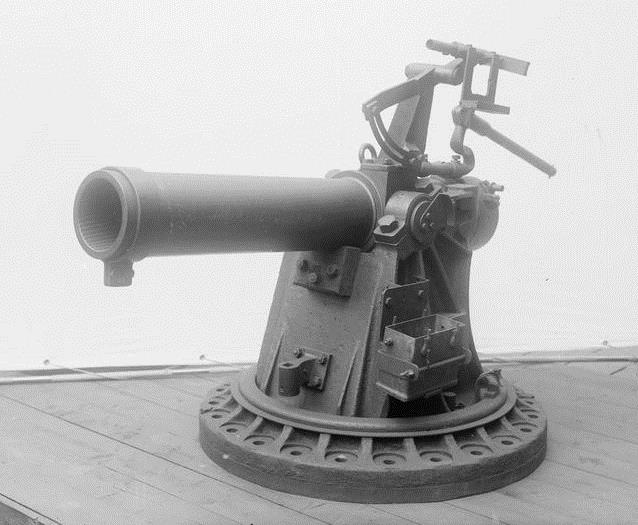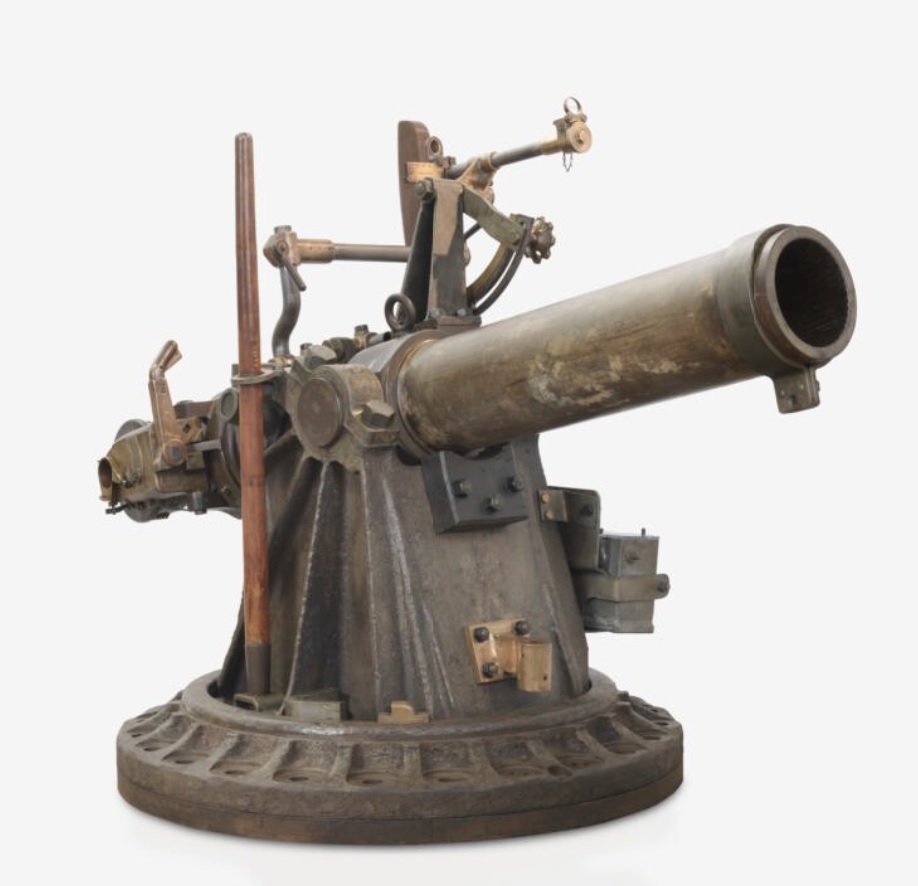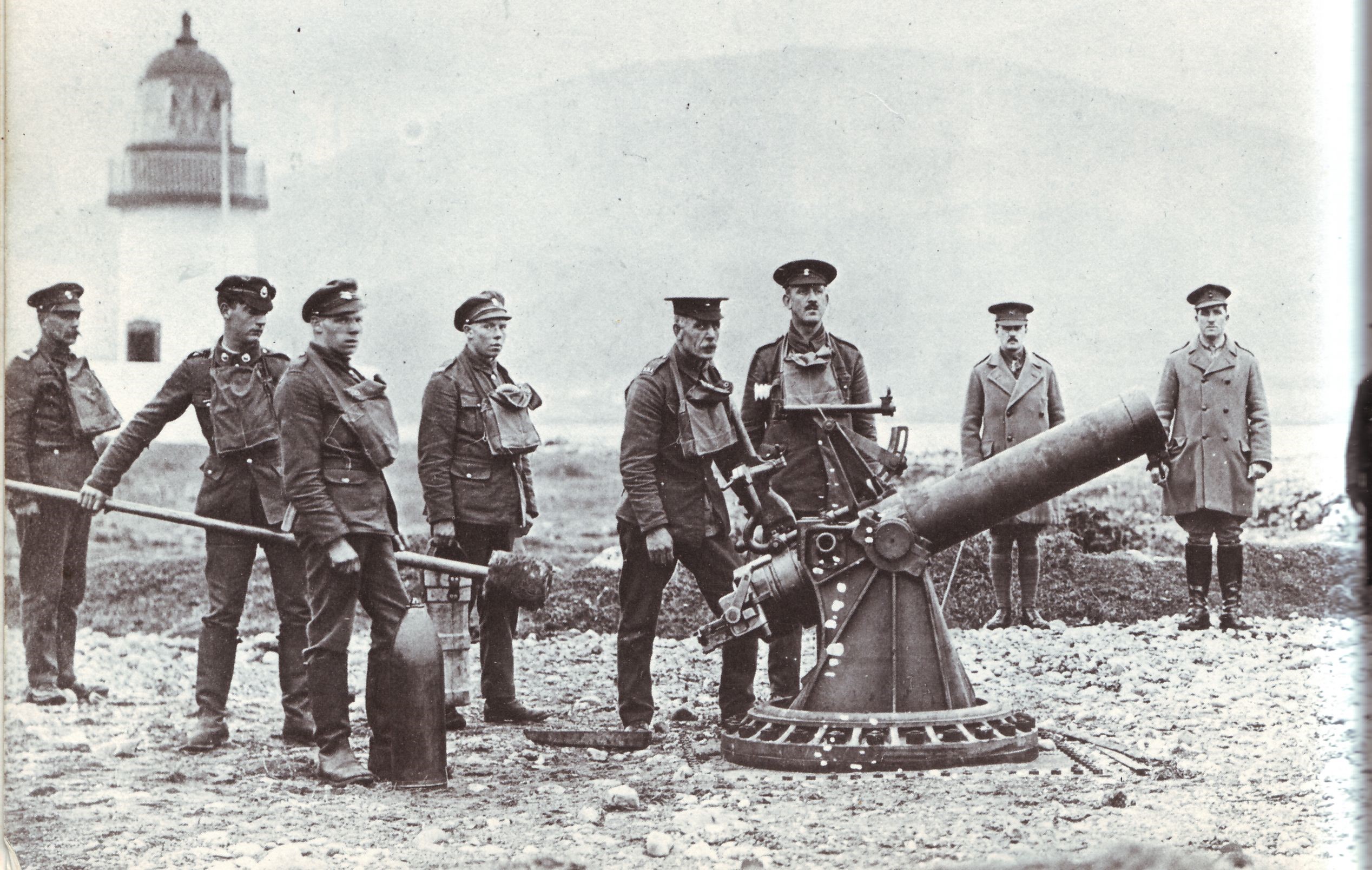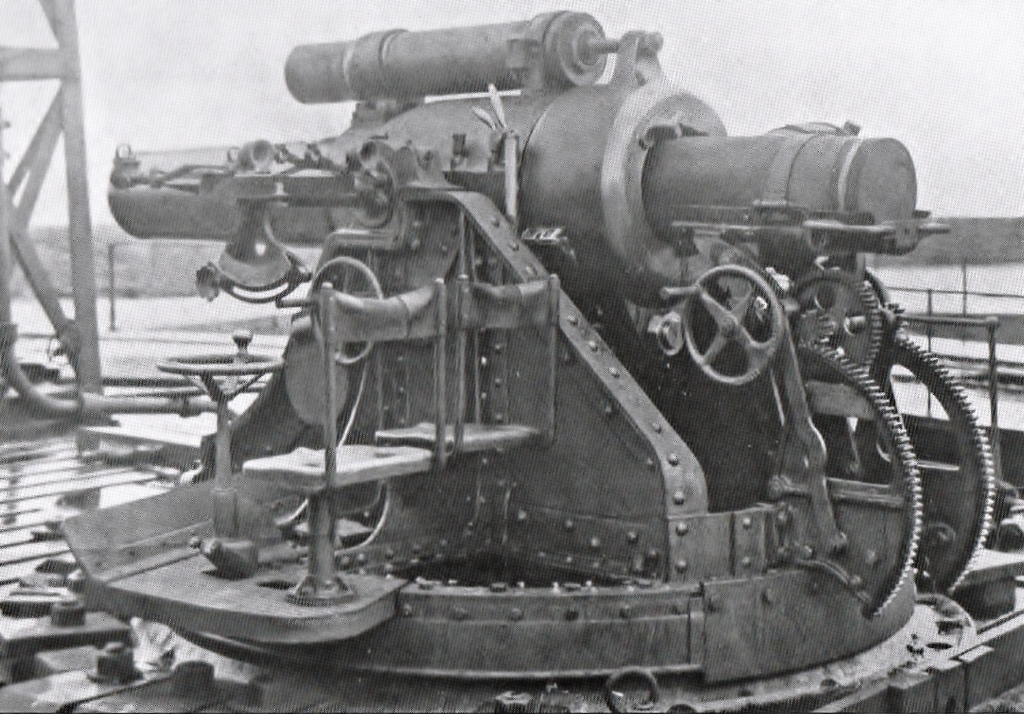 As the U-boat threat grew during the latter half of World War I, the Royal Navy began an urgent program of increasing their ASW capabilities. The value of a larger-caliber weapon firing special ASW projectiles was clearly seen and the Navy procured twelve Army 5" (12.7 cm) howitzers in early 1917 for testing. Elswick modified the mountings for naval use but tests showed that the projectiles were too small to be effective against U-boats.
This finding led to the Navy developing their own 7.5" (19 cm) ASW Howitzer Mark I. First issued in June 1917, these were short-barreled, rifled howitzers that fired a projectile that looked much like a conventional artillery round. 950 of the 7.5" (19 cm) howitzer were made along with an additional 50 that were made to a similar but smoothbore "bomb thrower" design.
There were two different projectiles in service. The first was a 100 lbs. (45 kg) projectile with a 43 lbs. (19.5 kg) TNT charge with a maximum range of 2,100 yards (1,920 m) while the second was a 500 lbs. (227 kg) projectile with a 250 lbs. (113 kg) TNT charge and a maximum range of 300 yards (275 m). In June 1918, the British modified both projectiles to add a flat nose disk that caused the rounds to dive at a steeper angle. The projectiles could be used with either the rifled or the smoothbore gun and used a special fuze that delayed detonation for two seconds after impact, which would allow them to sink about 20 feet (6 m). The round was designed to penetrate the outer casing of a U-boat and then detonate on contact with the pressure hull.
Issued primarily to Auxiliary Patrol Vessels with 42 being equipped by October 1917 and 174 by October 1918. The mountings were non-recoil types and had a limited traverse, probably because of concerns about the recoil blow. Not an effective weapon and no ASW success are recorded.
Two of these weapons were mounted aboard USS Caldwell (D-69) for evaluation in June 1918 following a decision to make a similar 8" (20.3 cm) Howitzer for the USN. The gun received praise from the USN sailors as it was suitable for firing at targets inside the destroyer's turning circle but outside of the range of her Y guns. However, the British projectile was criticized as being a poor design as its nose fuze needed to be set and inserted just before firing, which necessarily slowed the rate of fire.
The 7.5" (19 cm) howitzer fired the largest projectile that could be easily handled by a single crewman, but it was felt that the projectile was too small to reliably penetrate a U-boat hull. This led to orders for an 11" (28.3 cm) rifled howitzer and a 10" (25.4 cm) smoothbore bombthrower. Deliveries began in February 1918 and 107 of these were in service by the end of the war with the first being used on HMS Vindictive during the Zeebrugge Raid.
Projectiles were stick bombs 21.95 inches (55.8 cm) in diameter that weighed 620 lbs. (281.2 kg) including stick with a 300 lbs. (136.1 kg) burster. Range was about 600 yards (550 m) at a muzzle velocity of 270 fps (82 mps). Unlike the 7.5" (19 cm) mountings, the 11" (28.3 cm) mountings had recoil cylinders and could be traversed.
It was proposed that capital ships carry two of these larger howitzers, but this was rejected by Admiral Beatty who held that ASW should be performed by destroyers not capital ships.
In mid-April 1917 EOC proposed a 13.5" (34.3 cm) ASW howitzer on a gimbal mounting. One weapon was ordered for trials, but no more were produced.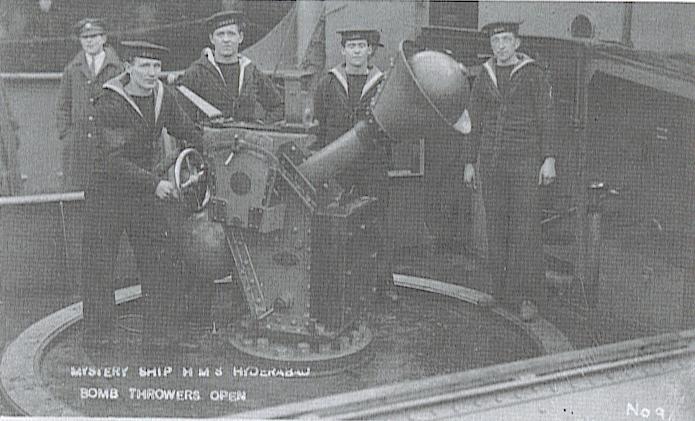 These were smooth-bore weapons that were the direct ancestor of the Thornycroft DCT and issued primarily to Special Service Vessels (small trawlers). Not an effective weapon and no success are recorded. Most of these Bomb throwers fired directly ahead with no provision for traversing.
These weapons fired stick bombs using a hydrostatic fuze. Early units had a single depth setting but later ones could be set for 40 feet, 90 feet, 140 feet or 190 feet (12 m, 27 m, 43 m or 58 m). The 3.5" (8.8 cm) bomb thrower fired a 200 lbs. (91 kg) stick-bomb with a charge of 98 lbs. (44 kg) to a range of 1,200 yards (1,100 m) or a 350 lbs. (159 kg) stick-bomb with a charge of 200 lbs. (91 kg) to a range of 650 yards (590 m). The bomb thrower used with the Type F DC had a range of between 50 and 150 yards (46 to 137 m). Stick bombs were also developed for standard 4" (10.2 cm) guns.
The British also developed a stick bomb for 12-pdr. guns on Auxiliary Patrol with each gun receiving four rounds. Used a similar hydrostatic fuze as the other stick bombs with the same four settings.
The photograph to the right is identified by the IWM as being the Fairlie Mortar, but it appears to be a completely different forward-firing weapon called a long-range DC thrower that was designed by HMS Vernon and built by Thornycroft that fired standard Mark VII depth charges. As can be seen in the photograph, reloading this weapon was a long and clumsy process requiring eight men and nine minutes to accomplish. The tubes were angled at 50 degrees and they could launch a DC about 330 yards (300 m) using a cordite charge of 16 oz (0.45 kg).
The 5-barrel prototype was tested during 1941 aboard HMS Whitehall and a second 4-barrel prototype was tested aboard HMS Diana in early 1942 [Source note: This is taken from "Depth Charge" by Chris Henry, but in 1942 there was no HMS Diana afloat. It is not known what ship was actually used for these tests]. It was found that neither the deck of the ships nor the DCs themselves could withstand a large enough charge to throw the DCs far enough ahead such that the firing ship did not run over them when they detonated. The depth charges were then fitted with tail fins, making them now some 4.5 feet (1.4 m) long and thus more difficult to handle. Three rounds were fired at 360 yards (330 m) but it was found that they had poor aerodynamic qualities and the charges themselves were damaged by the firing forces and water impact.
The real Fairlie Mortar was developed in 1941 by a team at the anti-submarine branch led by scientist B.S. Smith. This weapon fired special projectiles that had a heavy lead weight in the nose and only 20 lbs. (9 kg) of explosives. As a result of having the lead weight taking up the nose position, the fuze had to located at the rear of the projectile. This meant that the fuze was a non-contact impact type that had to withstand the heavy shock of striking the water but then detonate when it made the much lighter hit on the hull of the submarine. These conditions meant that the fuze would only function at certain angles of impact.
Further testing determined that the warhead was too small to reliably penetrate the outer hull and then pierce the pressure hull of the German U-boats. In the end, the Admiralty decided it wanted better performance from ahead-throwing weapons than could be achieved with either the HMS Vernon design or the Fairlie Mortar design and development of both weapons was halted around the end of 1942 in favor of a spigot mortar design which became the much more successful Hedgehog.
Following teething problems with Hedgehog, the Fairlie Mortar was redesigned during 1942 to become Parsnip which was two ten-barrel units firing a semi-circular pattern to port and starboard with a common center. Firing was electrical and there was a 0.1 second delay between each pair of projectiles. The tubes needed to be lowered horizontally for loading and used a breech-loaded cartridge for firing. Pattern trials were carried out by HMS Ambuscade in February 1943, but these were not impressive and the weapon did not enter into service.
Although both the Fairlie Mortar and Parsnip were unsuccessful, they should be seen as the direct ancestors of the much more successful Squid and Limbo mortars.
This spigot mortar was the first ahead-throwing anti-submarine weapon of World War II in British service. More popular and more successful with the USN than with the Royal Navy, possibly because of the former's better sonar detection practices. The design was from the Department of Miscellaneous Weapons Development (DMWD) and testing took place with a dummy installation on HMS Westcott in 1941. Production began in late 1942 following a successful demonstration to PM Winston Churchill. As with any new weapon, teething problems were found during early service introduction with one of the more notable being a premature detonation shortly after firing that nearly blew the bows off HMS Escapade. No U-boats were sunk with the new weapon until November 1942 and it was not really successful in the Royal Navy until 1944 when improved sonar techniques were introduced.
Projectiles had a diameter of 7 inches (18 cm) and weighed 65 lbs. (29.5 kg) with an explosive charge of 35 lbs. (15.9 kg) of Torpex. Sinking speed was 22 to 23.5 fps (6.7 to 7.2 mps). The projectiles were angled to give a circular pattern 40 yards (37 m) in diameter about 200 yards (183 m) ahead of a stationary ship. The projectiles had an interesting firing method. The spigots had a spring-loaded firing pin. When receiving the electrical firing impulse, the springs released a firing pin into the propellant container in the base of projectile. The force of the expanding propellant gasses then re-cocked the firing pin. Projectiles were fired in pairs in rapid succession.
The standard "box" mounting contained 24 projectiles arranged in six rows of four projectiles each as can be seen in the photograph above. A variation was "Split Hedgehog" which was used in some sloops and other small ships where it was necessary to retain the forward gun. These mountings held 12 projectiles each and one was placed on each beam, near the bridge. These were coupled together, initially with wire ropes, later by hydraulic jacks. About 35 ships were so fitted between 1942 and 1943.
Some of the advantages of this weapon were that 1) They only exploded if they hit something, which meant that the firing ship could more quickly make follow-on attacks if the previous attack was unsuccessful; 2) as unsuccessful attacks did not disturb the water, this meant that ASDIC/Sonar performance was not affected; and 3) the projectiles had a higher sinking rate than conventional depth charges which again sped up the time that it took to make follow-on attacks.
The USA produced their own variant of the Hedgehog.
Literally ordered directly from the drawing board, this weapon was rushed into service in 1943 and first used aboard HMS Ambuscade. This weapon was a three-barrel 12 inch (30.5 cm) mortar with the mortars mounted in series, one behind the other, with all three barrels at a fixed elevation. The barrels were mounted in a frame that could be rotated 30 degrees to either side for training and 90 degrees for loading. The barrels were set slightly askew such that their pattern formed a triangle about 40 yards (37 m) on a side at a distance of 275 yards (250 m) ahead of the ship.
The projectiles weighed 390 lbs. (177 kg) with a 207 lbs. (94 kg) minol charge. Sinking speed was 43.5 fps (13.3 mps) and a clockwork time fuze was used to set the depth. Maximum depth was 900 feet (274 m) and all three projectiles had to be set the same.
The weapons were automatically fired by the Type 147 Asdic at the proper moment based upon the depth of the target U-boat. The first successful use was by HMS Loch Killin on 31 July 1944 when she sank U-333, although U-744 was forced to surrender on 6 March 1944 after being damaged by depth charges and Squid.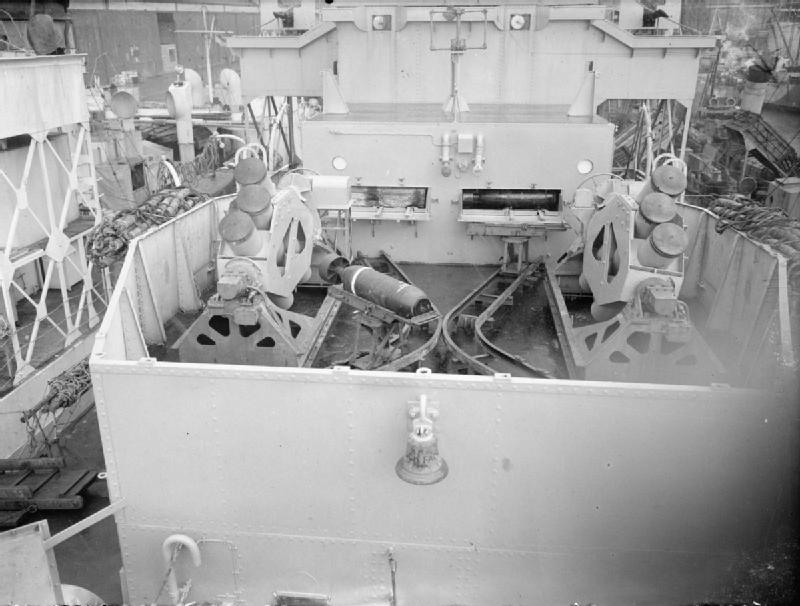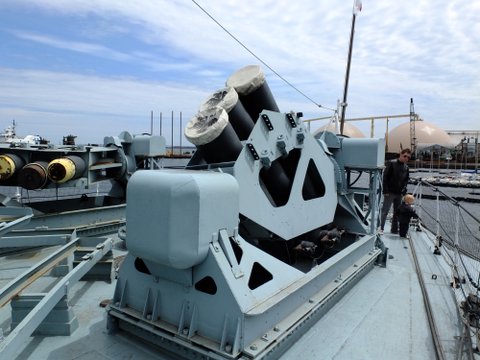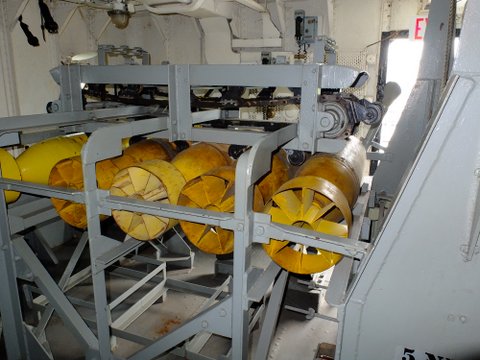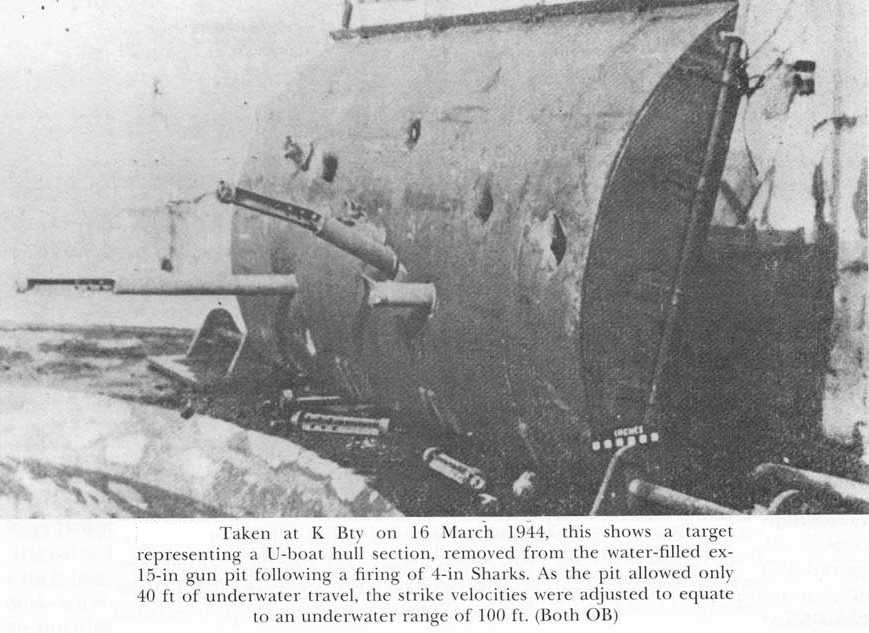 Developed very late in the war, this projectile could be fired by any 4 inch (10.2 cm) QF gun. Most guns used a propellant charge of 1.44 lbs. (0.65 kg) SC048, except for the Mark XVI* which used a charge of 1.63 lb (0.74). Muzzle velocity was between 500 - 700 fps (150 - 210 mps).
The Shark projectile itself weighed a total of 96.25 lbs. (43.66 kg) including a Torpex bursting charge of 24 lbs. (10.9 kg). Overall length was a maximum of 73.66 inches (187.1 cm) of which 53.3 in (135.9 cm) was the body and the rest finned tail. There were two anti-ricochet nose rings and a base percussion fuze.
This weapon was intended to be fired such as to land 20 yards (18 m) short of the target submarine, striking the water at an entry angle of about 5 degrees and then continue its trajectory underwater to the hull. It was able to pierce any side tanks and then detonate in contact with the pressure hull.
The outfit was to be 12 to 22 rounds per ship.
There were at least three Marks (I, II and III), but it is not known what the differences were between the Marks. It is possible that the later Marks were intended for use against small coastal vessels. Mark I entered production in early 1944 while by the end of that year Mark II and Mark III were undergoing trials. It is not known if any of these were ever used against a U-boat, but trials with it were thought to be "highly satisfactory."
There was also a similar and smaller projectile called "Sharklet" which had a shorter range. Not known if this entered service use.
Three-barrel mortar, somewhat similar to Squid. Limbo was the final development of British World War II ahead throwing ASW weapons. Range was controlled by opening gas vents and was between 400 and 1,000 yards (366 and 910 m). The barrels were aimed by a combination of roll and pitch compensators which also stabilized the mounting. This weapon was designed such that the shells always entered the water at the same angle, which simplified the fire control solution.
The shells were time fuzed and used 207 lbs. (94 kg) minol for the explosive charge. Total weight was 390 lbs. (177 kg) and lethal range was about 5 yards (4.6 m).
This weapon survived until the 1990s in the Royal Navy and Commonwealth Navies.
A Limbo mounting including a magazine holding 17 salvos (51 projectiles) weighed about 35 tons.
"Bayly's Navy" by Vice Admiral Walter S. Delany USN (Retired) on line at Naval Historical Center
"Naval Weapons of World War Two" by John Campbell
"US Naval Weapons," "Naval Weapons of World War One" and "The Naval Institute Guide to World Naval Weapon Systems 1991/92" all by Norman Friedman
"Depth Charge: Royal Naval Mines, Depth Charges & Underwater Weapons 1914 - 1945" by Chris Henry
"Guns and Gunners at Shoeburyness" by Tony Hill
"British Artillery Weapons and Ammunition 1914-1918" by I.V. Hogg and L.F. Thurston
"Find and Destroy: Antisubmarine Warfare in World War I" by Dwight R. Messimer
"The Wheezers & Dodgers: The Inside Story of Clandestine Weapon Development in World War II" by Garald Pawle
"The U-boat Offensive 1914-1945" by V.E. Tarrant
---
"Navy Ordnance Activities: World War 1917-1918" by Bureau of Ordnance, US Navy
17 July 2008 - Benchmark
10 July 2011 - Added information on Shark, corrected typographical errors and other minor changes
31 August 2011 - Added photograph of Thornycroft thrower on HMCS Sauenay and Hedgehog projector on HMCS North Bay
20 November 2011 - Added photographs and information about Type A, Type B, Type C, Egerton, Mark I and Mark II Mines
18 May 2013 - Added information on Squid, photographs of NSW Thornycroft DCT and Squid launchers and projectiles on HMCS Haida
05 January 2014 - Redid 7.5-inch Howitzer photograph
03 February 2014 - Added photograph of HMS Loch Fada
30 May 2014 - Added information on Hedgehog, unsuccessful weapons and photographs of HMS Barrosa, HMS Dianthus and HMS Whitehall
07 February 2015 - Added information on the 7.5" (19 cm) and 11" (28.3 cm) ASW howitzers and comments regarding USN evaluation of the 7.5" (19 cm) ASW Howitzer
30 May 2015 - Corrected typographical error
28 November 2015 - Changed Vickers Photographic Archive links to point at Wayback Archive
06 January 2017 - Added source note regarding HMS Diana
28 February 2018 - Converted to HTML 5 format and added photograph of HMCS Kootenay
11 August 2019 - Corrected typographical error, minor changes for clarity
10 June 2020 - Added photograph of Mark VII DC on a Norwegian corvette
04 December 2020 - Added British Hedgehog sketch
23 September 2021 - Added photograph of 7.5" (19 cm) Howitzer being used as a coastal defense weapon
03 May 2022 - Added photographs of 7.5" (19 cm) Howitzer and Mark XI DC
12 February 2023 - Referenced the Thornycroft DCT bore size designation