In the war of Schleswig-Holstein (1848-50), a mine field was planted to defend Kiel Harbor. Wine barrels were used as mine cases and held a 300 lbs. (136 kg) charge of gunpowder. These were controlled by a shore installation, which had a wet battery for each mine to heat a platinum wire placed in the middle of the charge. The Danes learned of this field and made no attack on Kiel, but it is not known how much if any effect the existence of the mine field had on their decision.
In the Austria-German War of 1866, the coasts of Istria and Dalmatia were defended by fairly dense mine fields. In 1868, the Hertz horn was invented (see British Mines and USN Mines) and by 1914 these had become the most reliable way to detonate contact mines. During the Franco-German War of 1870, the Jode, Elbe and Weser rivers were defended by mine fields. Soon after the war and union of the German states, Germany began a large mine development program and by the time of World War I was well able to wage mine warfare. Large stocks of reliable Hertz horn contact mines were available, all equipped with automatic anchors that used hydrostats to set mine depth and lock the mooring cables. Most of her capital ships and cruisers as well as many destroyers and auxiliary vessels were able to lay mines. On-going research included a program for laying mines via U-boats.
German mines had a high reputation in both World Wars for reliability and innovation. The British paid perhaps the ultimate compliment in 1917 by copying a captured German Hertz horned mine to produce their first reliable contact mine. Following World War I, Germany established a mine warfare research and development command in 1920. Airborne mines were successfully tested in 1931 and acoustic and magnetic mines were developed before the war started. Some 1,500 magnetic mines were available in the spring of 1940, far short of the 50,000 originally ordered. Pressure mines were developed in 1943 but not used until the night of 6-7 June 1944 in the Normandy invasion area. This late deployment was to avoid their capture and duplication by the Allies. However, the Allies had already developed their own but had not used them for similar reasons. German pressure mines that could not be swept were nearly ready for deployment at the end of the war. Postwar, Germany used British and USA mines until the 1960s, at which time Denmark and Germany began cooperating in developing a new generation of magnetic ground mines.
World War II Function Codes

| Code | Notes |
| --- | --- |
| BM | Airborne mines laid without parachutes |
| EM | Moored Contact mines. Mostly Hertz Horns. |
| FM | Shallow water contact mines, mostly moored types. |
| KM | Anti-invasion coastal mines |
| LM | Airborne parachute mines |
| MT | Ground mine torpedoes laid from torpedo tubes |
| OM | Surface mines |
| RM | Shore-controlled or independent ground mines |
| SM | Moored magnetic mines laid from mine tubes on U-Boats |
| TM | Magnetic (influence) mines laid from torpedo tubes |
| UM | ASW contact mines |
German mines of World War II were all designated by letters, the first two indicating the function and the third the series designation within that category, usually indicating a modification.
Postwar, new mine designations originally included the year that development started, but new mines now are designated by function.
During World War I, Britain classified German mines into four general types. During World War II, Britain changed to a two letter code sequence to identify German mines, with the first letter being G (for "German") and the second letter given in a sequence as to when the first example was captured. Where possible, these codes are included in the tables below.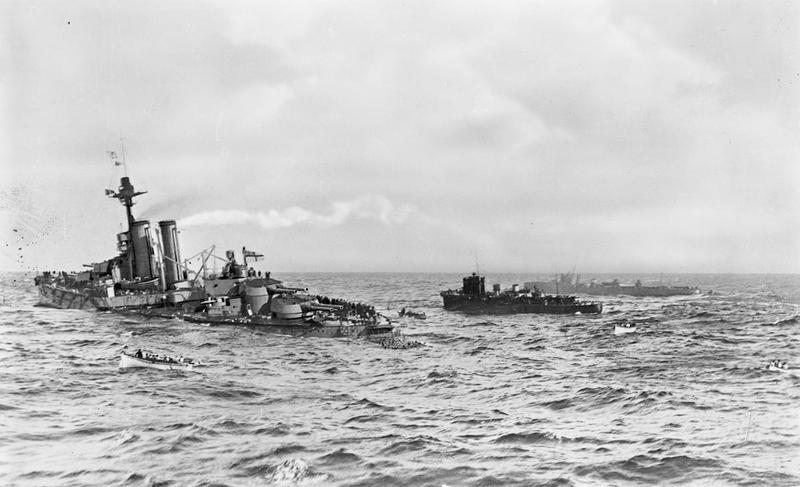 Germany started laying operations almost as soon as World War I was declared with the first mine field being planted by the auxiliary minelayer Koenigin Louise off Lowestoff on the night of 4/5 August 1914. Koenigin Louise was sunk the next day by the British cruiser HMS Amphion, but had her revenge on the following day when one of her mines sunk Amphion.
During World War I, Germany laid more than 43,000 mines which claimed 497 merchant vessels of 1,044,456 gross tons (GRT), with one source claiming that the total was 586 Allied merchant ships. The British alone lost 44 warships and 225 auxiliaries to mines. Allied losses included two British and one French pre-dreadnoughts sunk by Turkish mines during the Dardanelles campaign.
For all of the Allies, losses to mines included the new battleship HMS Audacious, seven pre-dreadnoughts and six cruisers. The loss of the cruiser HMS Hampshire to a mine was especially damaging, as the casualties included the British Secretary of War, Lord Kitchener, who was on a mission to consult with the Russian Government regarding the Eastern Front.
The British and Russians lost at least eight submarines to mines with the possibility that some of the six Russian and ten British submarines that disappeared without a trace during the war were also sunk by mines.
Several U-boats were fitted as mine layers and one of these planted a field off the east coast of the USA which claimed the armored cruiser USS San Diego (ACR-6).
In World War II, some 534 merchant vessels of 1,406,037 GRT were sunk by German mines. At least ten UK and US destroyers were sunk by German mines, but the only major Allied warship sunk was the cruiser HMS Neptune and the mines that sunk her were actually deployed by Italian ships.
The peak success came in 1939-1940, when German aircraft, destroyers and minelayers were actively laying minefields off British harbors and no counter-measure against the magnetic mine had yet been developed.
However, the greatest single success ever achieved by a minefield was by the one laid off Cape Juminda in the Gulf of Finland. This field inflicted great damage to the Soviet forces withdrawing from Tallinn (Reval) in August 1941. Out of the 195 warships, transport vessels, auxiliaries and 23,000 people that evacuated Tallinn, 53 ships and 4,000 lives were lost en route. Among the ships sunk were 25 out 29 of the larger transports, five destroyers, two corvettes, two submarines and two patrol boats. Some 2,828 German and Finnish moored mines were laid, mostly contact types along with some antenna types. In addition, about 1,500 explosive anti-sweeping devices were deployed in this field.
As mentioned above, the Germans had reliable Hertz horned contact mines for much of World War I. Magnetic, acoustic and pressure mines were developed during World War II.
The magnetic mines were fired by a change in the vertical field strength and were continually improved during the war. Various mechanisms were incorporated to prevent the mine from detonating until after a predetermined number of actuations occurred or a fixed time had passed.
Post-war mines have a variety of acoustic, magnetic and hydrodynamic/pressure sensors.
Most mines produced during World War I used wet gun-cotton as the explosive charge although cast TNT was also used. It is possible that TNT-hexanitrodiphenylamine mixtures were used, similar to the torpedo explosives of that time.
The standard explosive fillings for World War II mines were SW18 and SW36; S16, S18 and SW36 were used in the airborne mines. S16 was 31.4% ammonium nitrate, 5.9% sodium nitrate, 2.3% potassium nitrate, 9.7% cyclonite, 10.1% ethylene diamine dinitrate, 0.6% TNT and 40% aluminum.
Information on the kind of explosives used for post-World War II mines is not available at this time.
EM = Einheits Minen, "Unity Mine" or Elektrische Minen, "Electrical Mine." A series of 13 different types of sea mines; EMA through EMI, EMK, EMR, EMS and EMU. With the exception of the EMS type, all of these were moored mines which could be laid by surface ships or by submarines. The EMH, EMJ, EMK and EMU types were either abandoned during the developmental stage or were incomplete at the end of the war. Very little information available for these types and for that reason they do not appear in the descriptions below.
LM = Luft Minen "Air Mine" Type. A series of air-dropped magnetic mines.
"Naval Weapons of World War Two" by John Campbell
"S-Boote: German E-boats in action 1939 - 1945" by Jean-Philippe Dallies-Labourdette
"America's Use of Sea Mines" by Robert C. Duncan, Ph.D.
"The Naval Institute Guide to World Naval Weapon Systems 1991/92" by Norman Friedman
"The King's Ships Were at Sea: The War in the North Sea August 1914 - February 1915" by James Goldrick
"Depth Charge: Royan Naval Mines, Depth Charges & Underwater Weapons 1914 - 1945" by Chris Henry
"German Destroyer Minelaying Operations off the English Coast 1940-41" article by Pierre Hervieux in "Warship Volume IV"
"Find and Destroy: Antisubmarine Warfare in World War I" by Dwight R. Messimer
"U.S. Navy Bureau of Ordnance in World War II" by Lt. Cmdr. Buford Rowland, USNR, and Lt. William B. Boyd, USNR
---
"German Underwater Ordnance - Mines" - Ordnance Pamphlet No. 1637A" by Bureau of Ordnance
---
"Admiral Kuznetsov's Memoirs" by the Admiral Kuznetsov Foundation
Article about Lt.Cmdr. George Gosse at The Anzac Portal
---
Special help by Renard Kanter
21 June 2008 - Benchmark
26 June 2011 - Corrected introduction date of Pressure mines
07 January 2012 - Added information on World War II ASW mines and mine pictures
24 February 2013 - Corrected captions
28 December 2013 - Added photograph of Type 1 mine
21 February 2018 - Converted to HTML 5 format
23 October 2018 - Corrected origins of DM-51 and DM-61 mines
20 January 2019 - Added information and sketches for World War II mines