United Kingdom/Britain
Sea Wolf GWS-25, GWS-26 and GWS-27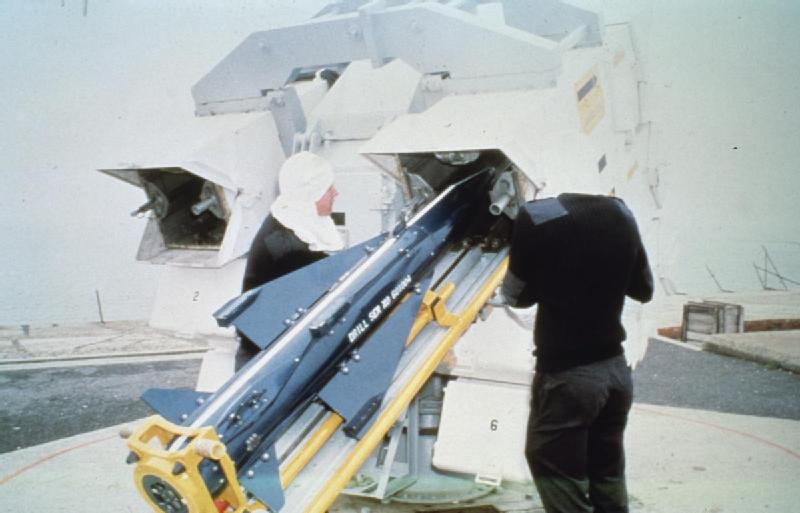 Sea Wolf is a point defense missile normally carried in a six-round launcher although newer ships employ a VLS. The missile is a beam-rider with terminal guidance.
Sea Wolf was originally envisioned as a supplement to Sea Cat, with the capability of engaging supersonic targets. It proved quite successful during the Falklands War, reportedly shooting down five aircraft. During one reported incident, four Argentine aircraft attacked a single frigate. Two were shot down and one crashed while trying to escape a Sea Wolf missile. Only the fourth aircraft escaped.
GWS-25 is carried in a six-round trainable launcher. GWS-26 is carried in VLS tubes. GWS-27 was a more sophisticated version cancelled in 1987. It would have used an active seeker and a phased-array tracker. It was to have had twice the range of the earlier missiles.
Designation
Sea Wolf GWS-25, GWS-26 and GWS-27
Ship Class Used On
Type 22 and 23 frigates
Date In Service
1969
Weight
180 lbs. (82 kg)
Dimensions
7.1" x 75" (18 cm x 2.0 m)
Span: 22" (56 cm)
Payload
31 lbs. (14 kg)
Speed / Range
Mach 2.0 / 5,500 yards (5,000 m)
Propulsion
Boost-glide, burn time 2-3 seconds
Data from:
"The Naval Institute Guide to World Naval Weapon Systems 1991/92" by Norman Friedman
Special help from Tony Gandy.
20 November 2006 - Benchmark
30 December 2013 - Added photograph of Sea Wolf on Launcher