Austria-Hungary
30.5 cm/45 (12") K10 Škoda
Updated 12 October 2013
---
Škoda guns built at the Pilsen works. Fitted to Austria-Hungary's last pre-dreadnoughts and to her only completed dreadnoughts. Used a horizontal wedge breech and the propellant charge was in a brass case.
The Škoda Works of Pilsen produced a total of 65 guns (5 of them were spares). The first 13 were for the Radetzky-class, the second 52 were for the Tegetthoff-class. Only the second series, the guns for the Tegetthoff-class, were designated as K10. The K10 differed slightly from the earlier 30.5 (12") guns in that its chamber was 1.97 inches (5 cm) longer, so that it could handle a heavier propellant charge.
Erzherog Franz Ferdinand, Radetzky and Tegetthoff were ceded after World War I to Italy, where they were scrapped and their guns then used as coastal artillery.
Actual bore diameter was 30.50 cm (12.008 inches).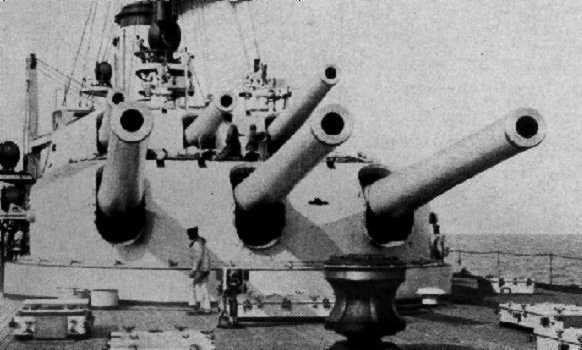 Stern Mounts of Viribus Unitis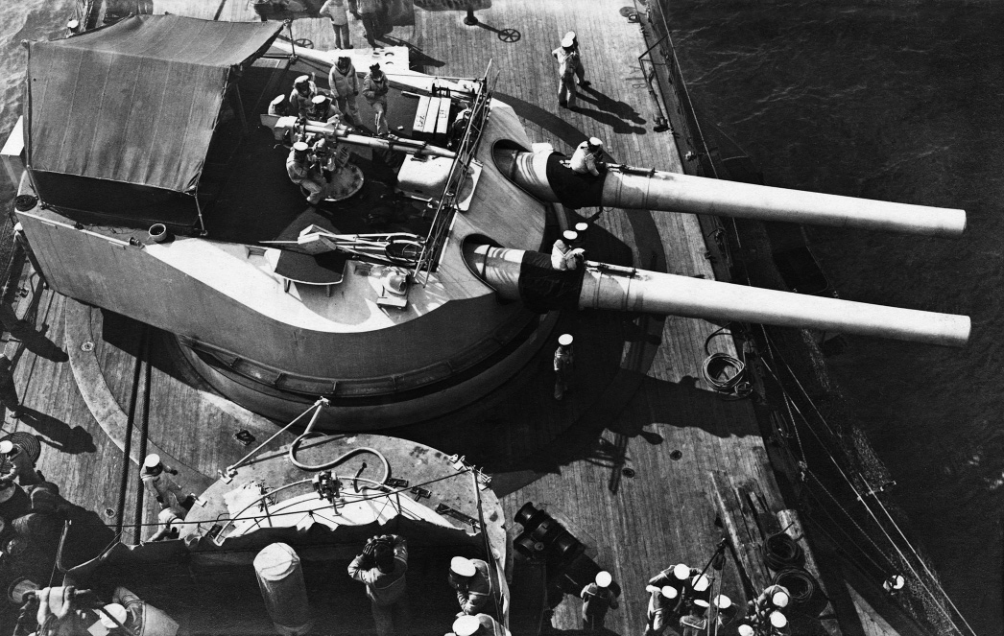 Good view of turret on a Radetzky class battleship
Note the tent for the 7 cm gunners
National Maritime Museum Photograph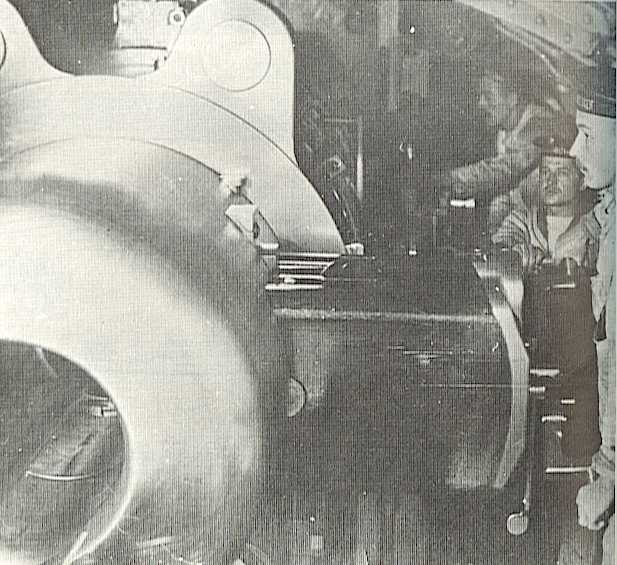 Breech of one of the 30.5 cm guns on Prinz Eugen
Note the open breech mechanism
Photograph from Austrian State National Archives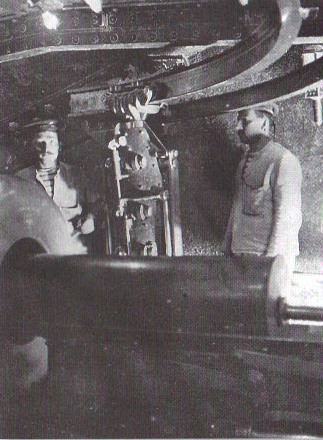 30.5 cm cartridge being rammed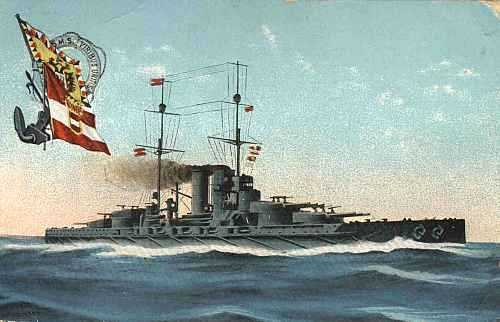 Painting of Viribus Unitis
Guns on turret roofs are 7 cm/L45

.
---
Gun Characteristics

.
Designation
30.5 cm/45 (12") K10
Ship Class Used On
Austria-Hungary: Radetzky and Viribus Unitis classes
Italy: Coastal Artillery
Date Of Design
1910
Date In Service
1911
Gun Weight
116,070 lbs. (52,650 kg)
Gun Length oa
541 in (13.750 m)
Bore Length
about 512 in (14.461 m)
Rifling Length
N/A
Grooves
N/A
Lands
N/A
Twist
N/A
Chamber Volume
N/A
Rate Of Fire
3 rounds in first minute, 1 to 2 rounds per minute afterwards
.
---
Ammunition

.
Type
Cartridge
Projectile Types and Weights
Austria-Hungary: AP - 992 lbs. (450 kg)
Italy: AP - 997 lbs. (452 kg)
Bursting Charge
N/A
Propellant Charge
Austria-Hungary: N/A
Italy: 304 lbs. (138 kg)
Muzzle Velocity for AP
Austria-Hungary: 2,625 fps (800 mps)
Italy: 2,510 fps (765 mps)
Working Pressure
18.4 tons/in2 (2,900 kg/cm2)
Approximate Barrel Life
N/A
Ammunition stowage per gun
Radetzky: N/A
Viribus Unitis: 76 rounds
Note: The figures for Italian service are an assumption based upon notes in "Naval Weapons of World War Two" by John Campbell.
.
---
Range

.
| | | |
| --- | --- | --- |
| Elevation | With Austria-Hungary 992 lbs. (450 kg) AP Shell | With Italy 997 lbs. (452 kg) AP Shell |
| Range @ 20 degrees | about 21,870 yards (20,000 m) | N/A |
.
---
Mount / Turret Data

.
Designation
Two-gun Turrets
Radetzky (2)

Three-gun Turrets
Viribus Unitis (4)

Weight
620 tons (630 mt)
Elevation
-3 / +20 degrees
Elevation Rate
2.5 degrees per second
Train
+140 / -140 degrees
Train Rate
3 degrees per second
Gun recoil
33.5 inches (85 cm)
Loading Angle
+2 degrees
Notes:

1) These turrets were poorly protected with thin armor. There was an unprotected slot between the gunhouse and the barbette. The cupolas for the rangefinders on the turret roofs were overly large. A hit on one of these could have peeled back the thin turret roof armor.

2) Under battle conditions the gun houses could not be ventilated as they would have sucked in the propellant gasses. It was estimated that they had no more than 15 minutes of oxygen once the ventilation was shut down.

3) On the Viribus Unitis class the heavy weight of the superimposed turrets caused hull distortions, requiring stiffening of the longitudinal frames.
.
---
Data from
"Naval Weapons of World War Two" by John Campbell
"Naval Weapons of World War One" by Norman Friedman
"The Big Gun: Battleship Main Armament 1860-1945" by Peter Hodges
"The Viribus Unitis Class" article in "Warship Volume II" and "A's and A's" comments in "Warship Volume III" both by Friedrich Prasky
"A Szent István Csatahajó" (The battleship Szent István) by Balogh Tamás and Csepregi Oszkár
---
Original research by Mihály Krámli
---
Special help from Daniel Papp
---

Off-Site Resources

Viribus Unitis - Austro-Hungarian Battleships
---
Page History
27 November 2007 - Benchmark
18 July 2010 - Updated with information supplied by Mihály Krámli
12 October 2013 - Added pictures of Radetzky turret and cartridge being rammed