France
340 mm/45 (13.4") Model 1912
The building of Britain's "Super-Dreadnoughts" prompted France to increase the size of her battleship guns as well. This meant a reduction from twelve main guns to ten, but this was more than offset by the abandonment of wing turrets in favor of having all turrets on the centerline.
These guns were considered to be an excellent weapon by the French, but the ships they were installed on were handicapped by poor fire control and low maximum turret elevations and hence short range. Salvo dispersions at their maximum range of 15,860 yards (14,500 m) was 330 feet (100 m).
Some of the unused guns intended for the never built Normandie class were used to rearm the Bretagne class when they were reconstructed in the 1930s. Other spare guns were later used as coast artillery, with four guns in two twin turrets mounted at Cap Cepet near Toulon. Four additional guns were used with a French version of the German BSG mounting and installed at Plouharnel near Quiberon. Additional spare guns were used on railway mountings. After Provence was scuttled at Toulon in November 1942, the Germans removed her two after turrets and then used them as coastal artillery in Southern France. These emplacements saw action in August 1944 during the Allied invasion where they were fired upon by the French battleship Lorraine and by USS Nevada (BB-36).
In May 1943 the French proposed to the USA that the incomplete Jean Bart be finished in a US yard as a combination anti-aircraft / carrier platform. Jean Bart had already given up her four 380 mm (14.96") guns to re-arm sister-ship Richelieu, so this proposal saw refitting her single main turret with four 340 mm (13.4") guns taken from the old battleship Lorraine together with cradles from the Métline coastal defense battery in Tunisia. All smaller caliber guns were to be removed and replaced with fifteen twin 5"/38 (12.7 cm) mountings and sixteen 40 mm Bofors quad mountings. Six aircraft of either US Avenger or British Barracuda torpedo bomber types along with US Hellcat or British Seafire fighters were to be carried. A second proposed reconstruction saw removal of all aircraft facilities and the secondary battery increased to seventeen twin 5"/38 (12.7 cm) mountings along with twenty 40 mm quads. This latter design also entailed using eight Mark 37 GFCS and twenty Mark 51 fire control systems. The USN decided that their resources would be much better spent turning out new ships - the guns and directors were the equivalent of about six Gearing class destroyers - rather than to use them to rearm an obsolescent foreign warship and so Jean Bart then languished until her postwar rebuild in France.
Gun construction was generally similar to that of the 380 mm (14.96") guns used on the later Richelieu class battleships, but there was an additional C tube and no loose liner. The Welin breech block is believed to have opened horizontally. Actual bore length was 45.82 calibers.
| | |
| --- | --- |
| Designation | 340 mm/45 (13.4") Model 1912 |
| Ship Class Used On | Bretagne, Normandie and Lille classes |
| Date Of Design | 1912 |
| Date In Service | 1915 |
| Gun Weight | 65.89 tons (66.95 mt) |
| Gun Length oa | 634.5 in (16.115 m) |
| Bore Length | 613.4 in (15.580 m) |
| Rifling Length | 521.7 in (13.250 m) |
| Grooves | (102) 0.075 in deep x 0.295 in (1.9 mm x 7.5 mm) |
| Lands | 0.118 in (3.0 mm) |
| Twist | Uniform RH 1 in 29.89 |
| Chamber Volume | 15,646 in3 (256.4 dm3) |
| Rate Of Fire | about 2 rounds per minute |
Type
Bag
Projectile Types and Weights 1
APC M1912 2: 1,224 lbs. (555 kg)
APC M1924 3: 1,268 lbs. (575 kg)
HE M1926: 842 lbs. (382 kg)
HE 15A: 1,025 lbs. (465 kg)
HE17 FATO: 981 lbs. (445 kg)
HE FATO 32-6: 952 lbs. (431.8 kg)
Bursting Charge
APC M1924: 47.8 lbs. (21.7 kg)
Others: N/A
Projectile Length
APC M1912: 49.5 in (125.8 cm)
APC M1924: 58.9 in (149.6 cm)
HE M1926: 41.5 in (105.4 cm)
Others: N/A
Propellant Charge 4
APC M1912: 338.4 lbs. (153.5 kg) BM 16
APC M1924: 338.4 lbs. (153.5 kg) BM 16
HE M1926: 308.6 lbs. (140 kg) BM 15
HE 15A: 338.4 lbs. (153.5 kg) BM 16
HE 17 FATO: 390 lbs. (177 kg) SD19G
HE FATO 32-6: 390 lbs. (177 kg) SD19G
Muzzle Velocity
APC M1912: 2,605 fps (794 mps)
APC M1924: 2,559 fps (780 mps)
HE M1926: 2,904 fps (885 mps)
HE 15A: 2,930 fps (893 mps)
HE 17 FATO: 3,005 fps (916 mps)
HE FATO 32-6: 3,022 fps (921 mps)
Working Pressure
17.8 tons/in2 (2,800 kg/cm2)
Approximate Barrel Life
about 250 rounds
Ammunition stowage per gun
Bretagne: 100 rounds
Others: N/A, but probably 100 rounds
Range with 1,224 lbs. (555 kg) M1912 AP Shell

| Elevation | Range |
| --- | --- |
| 12 degrees | 15,860 yards (14,500 m) |
| 18 degrees | 19,690 yards (18,000 m) |
Range with 1,268 lbs. (575 kg) M1924 AP Shell
Elevation
Range
18 degrees
22,970 yards (21,000 m)
23 degrees
29,090 yards (26,600 m)
47.5 degrees
(as coast defense gun)
38,749 yards (35,432 m)
The "Warship Volume X" articles listed below give contradictory ranges for 18 degrees of elevation. The above tables attempts to reconcile the data in those articles.
Designation
Two-gun turrets: Bretagne (5) 1a 2a 3a
Quad Turret: Normandie (3) 1a and Lille (4)
Weight
N/A
Elevation 4a
As completed: -5 / +12 degrees
Rate of Elevation
N/A
Train
Forward and aft turrets: about -150 / +150 degrees
Q turret: about 30 to 150 degrees on either side
Rate of Train
N/A
Gun Recoil
N/A
Loading Angle
+2 degrees
Data in this table is for the Bretagne class, data for the others is not available. These ships were equipped with electric motors driving hydraulic training and elevation gear. Chain rammers were also electric powered. Each gun had its own hoist which ran from the working chamber under the turret and a second pair of hoists ran down to the magazines. Gun loading cages had three compartments, the lower one for the projectile and the upper two each carrying two charges.
For the proposed Jean Bart reconstruction, the coastal battery gun cradles would have allowed a maximum elevation of +35 degrees.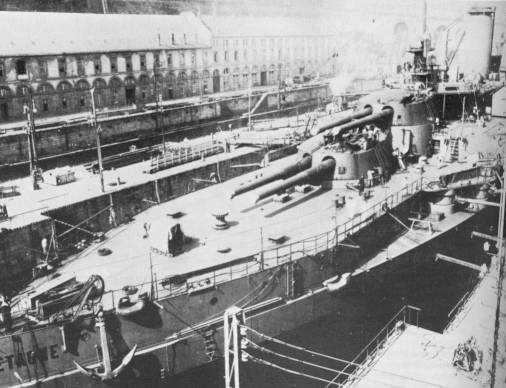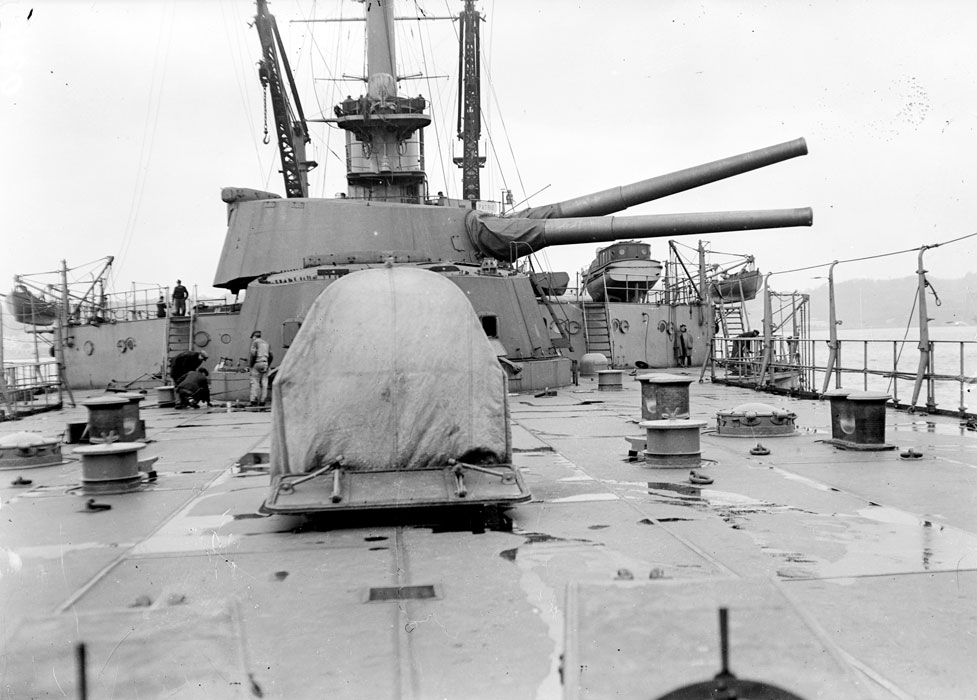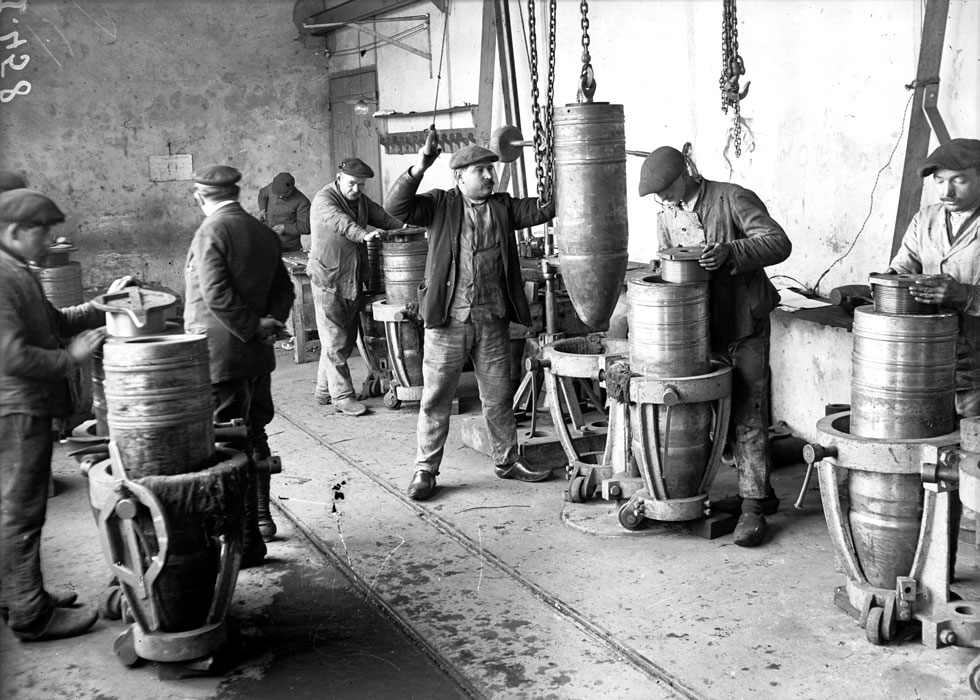 Data from:
"Naval Weapons of World War Two" by John Campbell
"The French Dreadnoughts: The 23,500 ton Bretagne Class" articles by Robert Dumas in "Warship Volume X"
"The Big Gun: Battleship Main Armament 1860-1945" by Peter Hodges
"French Battleships: 1922 - 1956" by John Jordan and Robert Dumas
"French Battleships 1933 - 1970: An Illustrated Technical Reference" by Wayne Scarpaci
"Battleships of World War Two" by M.J. Whitley
Other:
USS Nevada BB-36 DANFS Entry from Warships1 files
12 August 2006

Benchmark

22 December 2009

Added information on proposed Jean Bart reconstruction

07 January 2012

Added pictures of Lorraine and APC shells

25 February 2012

Added information on guns used as Coastal Artillery