Germany
21 cm/40 (8.27") SK L/40 C/97
21 cm/40 (8.27") SK L/40 C/01
21 cm/40 (8.27") SK L/40 C/04
Updated 06 June 2015
---
Used on the armored cruisers built in the 1890s and early 1900s. Most ships had single or twin turrets mounted on the bow and stern with the Scharnhorst class having an additional four single guns mounted amidships in casemates.
There were three versions of this weapon. The C/97 was used on the Victoria Louise class and was constructed of two layers of hoops and a cylindro-prismatic breech wedge. The C/01 was designed for twin turrets that were used on the later armored cruisers and had an extra layer of hoops on the rear of the gun. The C/04 version was similar to the C/01 but was designed for casemate mountings and did not have the extra layer of hoops.
Eight guns removed from the Victoria Louise class were used on the Belgian coast in the Freya and Hertha batteries (four guns each). In May 1917, one gun removed from Roon was emplaced at Cape Helles, Turkey, where it was used to harass the British ships seen at Kephalo and Aliki.
These guns were used in coastal artillery units during World War II.
Actual bore diameter was 20.93 cm (8.24").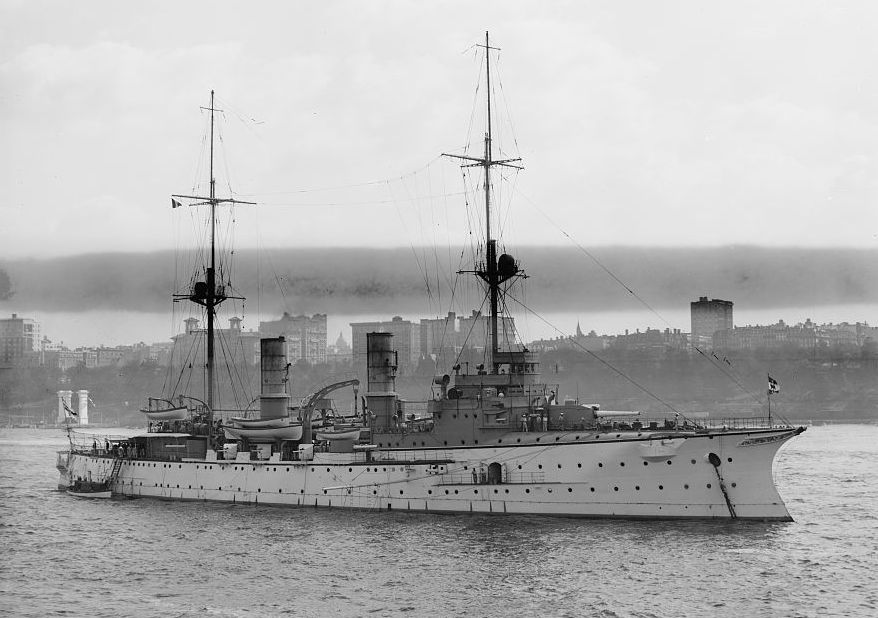 Armored Cruiser Victoria Louise in 1909
Note mixed secondaries of 15 cm and 8.8 cm guns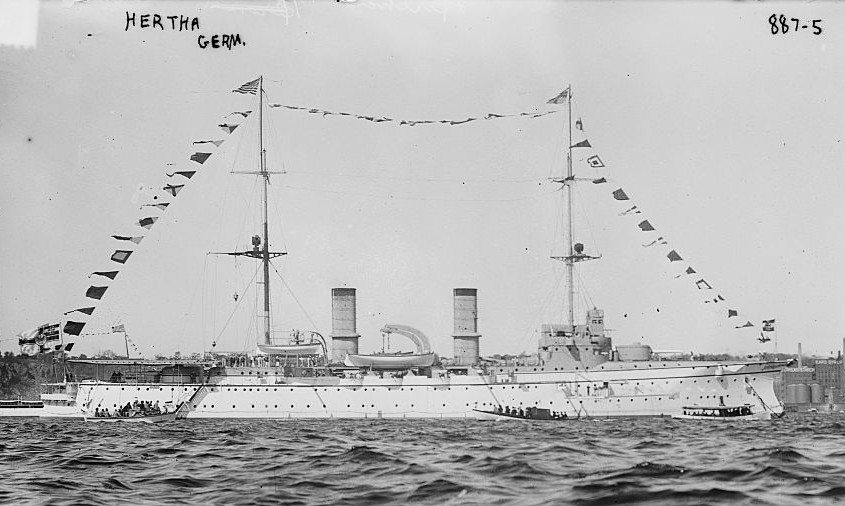 Armored Cruiser Hertha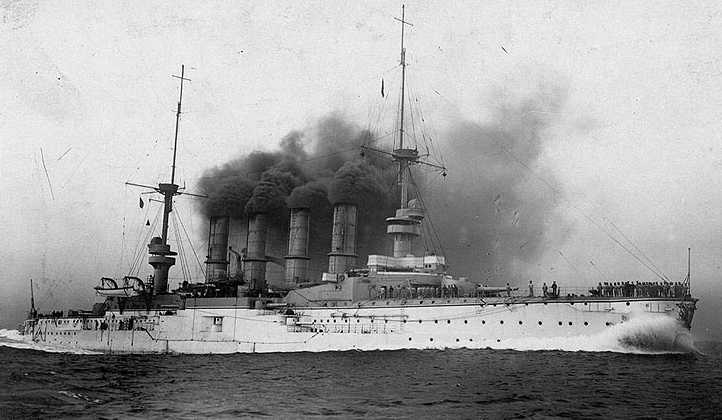 Armored Cruiser Scharnhorst about 1907
21 cm guns in turrets and in upper casemates
U.S. Naval Historical Center Photograph # NH 46837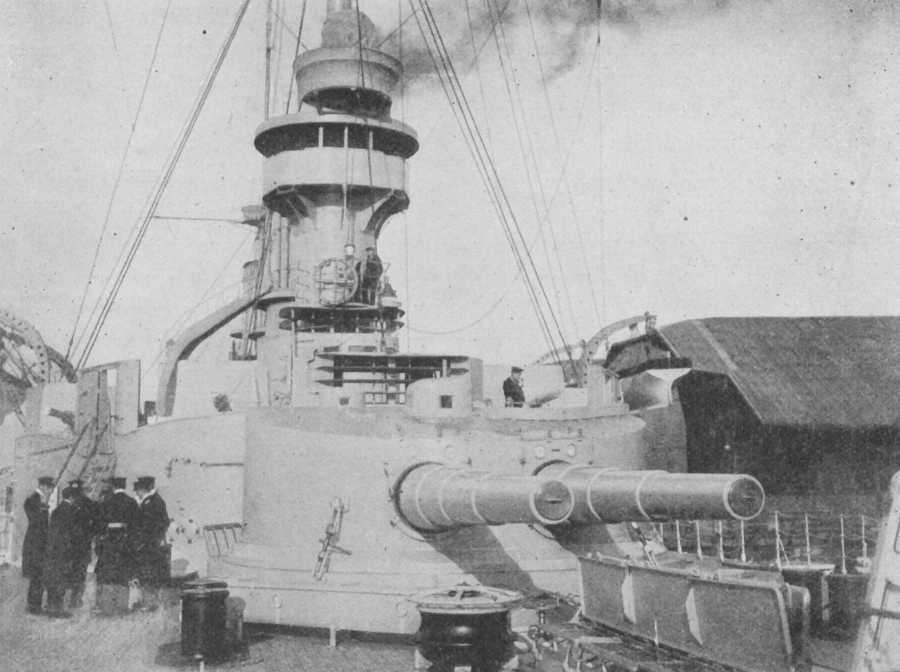 Stern Turret on Scharnhorst
Note the built-up nature of the gun barrels and the small gunports
Photograph courtesy of The First World War

.
---
Gun Characteristics

.
Designation
21 cm/40 (8.27") SK L/40 C/97, C/01 and C/04
Ship Class Used On
C/97: Victoria Louise class
C/01: Prinz Adalbert, Roon and Scharnhorst (1907) classes
C/04: Scharnhorst (1907) class
Date Of Design
1897 - 1904
Date In Service
1898 - 1905
Gun Weight
C/97: 36,376 lbs. (16,500 kg)
C/01: 44,137 lbs. (20,020 kg)
C/04: 41,667 lbs. (18,900 kg)
Gun Length oa
331 in (8.400 m)
Bore Length
307 in (7.801 m to 7.811 m)
Rifling Length
N/A
Grooves
N/A
Lands
N/A
Twist
N/A
Chamber Volume
3,034 in3 (49.7 dm3)
Rate Of Fire
4 - 5 rounds per minute
.
---
Ammunition

.
Type
Separate
Projectile Types and Weights
(see Notes 1 and 2)
World War I
AP L/3,1 - 238 lbs. (108 kg)
HE L/3,1 - 238 lbs. (108 kg)

World War II
AP L/3,1 - 238 lbs. (108 kg)
HE L/4,3 base and nose fuze - 250 lbs. (113.5 kg)

Bursting Charge
AP L/3,1 - 7.67 lbs. (3.5 kg)
HE L/3,1 - 15.18 lbs. (6.9 kg)
Others - N/A
Projectile Length
AP L/3,1 - 25.6 in (65 cm)
HE L/3,1 - 25.6 in (65 cm)
HE L/4,3 - 35.5 in (90 cm)
Propellant Charge
65.6 lbs. (29.8 kg) RP C/00 or RP C/06
Muzzle Velocity
2,559 fps (780 mps)
Working Pressure
N/A
Approximate Barrel Life
N/A
Ammunition stowage per gun
Victoria Louise: 58 rounds
Prinz Adalbert: 85 rounds
Roon: 95 rounds
Scharnhorst: 87.5 rounds
Notes:

1) The World War II HE round was a special coastal artillery projectile with both base and nose fuzes.

2) Actual Projectile designations were as follows.
AP L/3,1 - Psgr. L/3,1
HE L/4,3 base and nose fuze - Spr.gr. L/4,3 Bdz u. Kz
.
---
Range

.
Elevation
With 238 lbs. (108 kg) AP L2,9 Shell
Range @ 16 degrees
(max. elevation of turrets)
13,560 yards (12,400 m)
Range @ 30 degrees
17,830 yards (16,300 m)
.
---
Mount / Turret Data

.
Designation
Two-gun Turrets
Prinz Adalbert (2), Roon (2) and Scharnhorst (2): DrL C/01

Single Turrets
Victoria Louise (2): TL C/97

Casemates
Scharnhorst (4): MPL C/04

Weight
TL C/97: 88.6 tons (90 mt)
DrL C/01: 167.3 - 171.3 tons (170 - 174 mt)
MPL C/04: N/A
Elevation
TL C/97: -5 / +30 degrees
DrL C/01: -5 / +30 degrees
MPL C/04: -5 / +16 degrees
Elevation Rate
DrL C/01: 5.0 degrees per second
Others: N/A
Train
about +150 / -150 degrees
Train Rate
DrL C/01: 5.4 degrees per second
MPL C/04: 4.5 degrees per second
Others: N/A
Gun recoil
N/A
Loading Angle
N/A
Notes:

1) The TL C/97 mounting was hydraulically powered with manual loading. The DrL C/01 was hydraulically powered and had pusher hoists. MPL C/04 was electrically trained and manually elevated and loaded.

2) TL C/97 shield was 0.3 to 0.4 inches (8 to 10 mm). DrL C/01 face and sides were 6.7 inches (17 cm) except Roon 5.9 inches (15 cm) and roof was 1.2 inches (3 cm). MPL C/04 shield was 1.6 to 5.9 inches (4 to 15 cm) thick.
.
---
Data from
"Big Gun Monitors: The History of the Design, Construction and Operation of the Royal Navy's Monitors" by Ian Buxton
"Naval Weapons of World War One" by Norman Friedman
"German Warships 1815-1945" by Erich Gröner
"Die deutsche Flotte, Zweibrücken 1901" by Ernst Graf Reventlow
"Taschenbuch der Kriegsflotten 1905" by Bruno Weyer (Kapitänleutnant a.D.)
"The Great War: The Standard History of the All Europe Conflict (volume four)" edited by H. W. Wilson and J. A. Hammerton
and
Tony DiGiulian's personal files
---
Special help from Rainer Troendle

---
Page History

14 October 2006 - Benchmark
25 February 2009 - Added comment about gun from Roon
13 September 2010 - Corrected photograph caption
10 January 2011 - Added gun details kindly provided by Rainer Troendle
05 December 2012 - Added gun, projectile and coastal artillery details
06 June 2015 - Minor additions