Italy
381 mm/40 (15") Model 1914
Updated 05 March 2016

---
These weapons were intended for the Francesco Caracciolo class battleships. Construction of these ships was suspended in 1916 and the guns were then used on monitors, floating batteries (pontoons), railway guns and coastal fortifications.
During World War II the monitor Faà di Bruno (redesignated as GM 194) still carried these weapons and there were a total of ten guns mounted in Italian coastal defenses as of June 1940. During modernization programs prior to World War II, the coastal fortifications at Genoa and Augusta had their turrets modified for increased elevation.
In 1913 three companies were each given an order for twn guns: Elswick Pattern "A" (Pozzuoli), Vickers Mark "A" (Terni) and Schneider-Ansaldo. The first two companies built wire-wound guns but the Schneider-Ansaldo guns were of monobloc construction and considerably lighter. Actual production was the proof gun and nine production guns from Schneider-Ansaldo, about twelve from Elswick and three from Vickers.
Unlike many other European 38 cm guns, the bore of this gun was actually 381 mm (15.0"). Actual bore length may have been 40.9 calibers.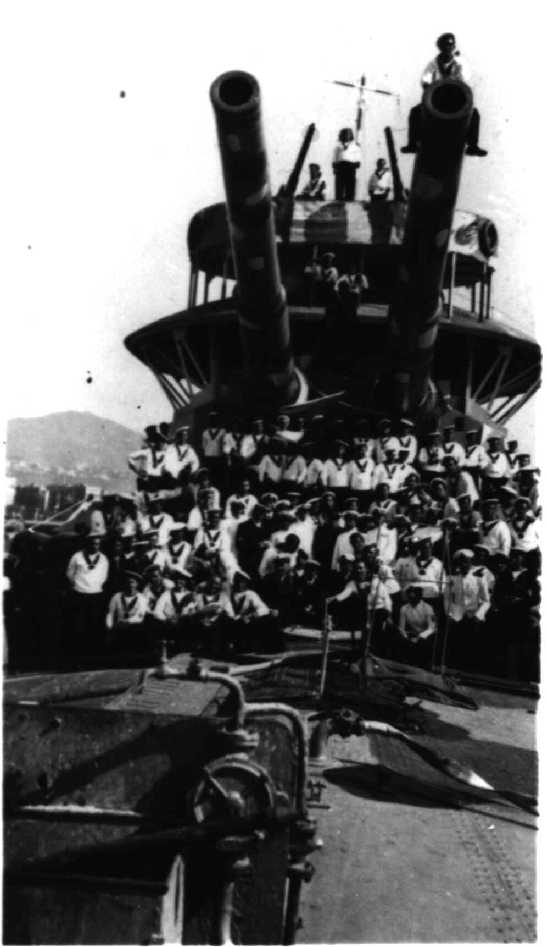 381 mm/40 (15") guns on Italian monitor Faà di Bruno
Photograph courtesy of Eugenio Vajna, whose grandfather was her last captain

.

Click here for additional pictures

.

.
---
Gun Characteristics

.
Designation
381 mm/40 (15") Model 1914
Ship Class Used On
Battleship (never completed): Francesco Caracciolo Class
Monitors: Faà di Bruno and Alfredo Cappellini
Pontoons: Sabotino (ex Tina), Monte Santo (ex Jella), Monte Grappa, Montello and Monte Novegno
Date Of Design
1914
Date In Service
1916
Gun Weight
Including Breech
Armstrong: 187,170 lbs. (84,900 kg)
Vickers: 184,800 lbs. (83,825 kg)
Ansaldo: 138,000 lbs. (62,600 kg)

Breech weight
Armstrong: 2,866 lbs. (1,300 kg)
Vickers: 5,500 lbs. (2,495 kg)
Ansaldo: 4,190 lbs. (1,900 kg)

Gun Length oa
(not including breech)
Armstrong and Vickers: 620.3 in (15.755 m)
Ansaldo: 620.1 in (15.750 m)
Bore Length
about 600.0 in (15.240 m)
Rifling Length
511.7 in (12.9972 m)
Grooves
120
Lands
N/A
Twist
RH 1 in 44.927
Chamber Volume
N/A
Rate Of Fire
1.5 - 2 rounds per minute
.
---
Ammunition

.
Type
Bag
Projectile Types and Weights
AP - 1,949 lbs. (884 kg)
HE - 1,949 lbs. (884 kg)
Common - 1,949 lbs. (884 kg)
Bursting Charge
AP - N/A
HE - 110.23 lbs. (50 kg) trotyl
Common - 84.85 lbs. (38.45 kg)
Projectile Length
N/A
Propellant Charge
326 or 331 lbs. (148 or 150 kg) C2
Muzzle Velocity
2,297 fps (700 mps)
Working Pressure
21.3 16.7 tons/in2 (2,996 kg/cm2)
Approximate Barrel Life
400 rounds
Ammunition stowage per gun
Faà di Bruno: 45 rounds
Others: N/A
.
---
Range

.
Elevation
With 1,949 lbs. (884 kg) AP shell
Range @ 20 degrees
21,650 yards (19,800 m)
Range @ 30 degrees
(World War II Coastal Artillery)
29,850 yards (27,300 m)
.
---
Mount / Turret Data

.
Designation
Twin Turrets
Francesco Caracciolo (4), monitors (1)

Single Mountings
Pontoons (1)

Weight
about 551 tons (550 mt)
Elevation
(see Note)
about -5 / +20 degrees
Elevation Rate
N/A
Train
+162 / -162 degrees
Train Rate
N/A
Gun recoil
N/A
Loading Angle
N/A
Note: The turret on Faà di Bruno was modified to allow +30 degrees elevation. Pontoons had a single open mounting with +35 degrees maximum elevation and +/- 15 degrees of train. The coastal fortifications at Genoa and Augusta were modified to allow +30 degrees elevation.
.
---
Data from
"Naval Weapons of World War Two" by John Campbell
"L'artiglieria Italiana nella Grande Guerra" (Italian Artillery of the Great War) by Andrea Curami and Alessandro Massignani
"Italian Warships of World War II" by Aldo Fraccaroli
"Naval Weapons of World War One" by Norman Friedman
---
Special help from Eugenio Vajna and Caspar Vermeulen
---
Page History

09 October 2006 - Benchmark
26 May 2012 - Updated to latest template
14 June 2014 - Added gun and shell detains along with photograph of 381 mm/40 gun
05 March 2016 - Additional pictures page