Russia / USSR
406 mm/50 (16") B-37 Pattern 1937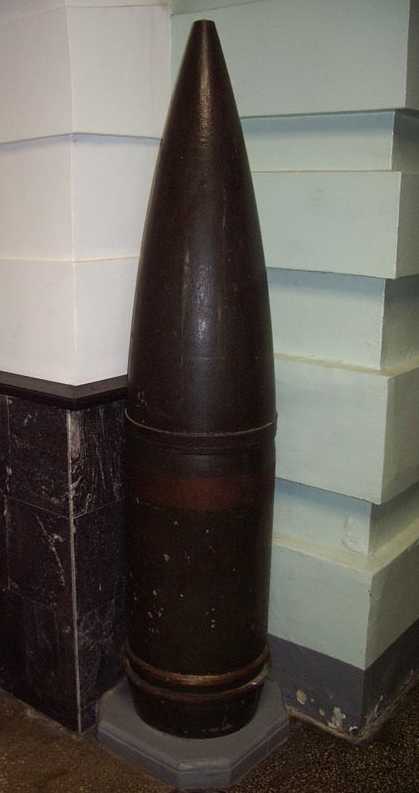 These guns were designed at the "Bolshevik" factory and were a result of the energetic Russian efforts to get foreign assistance for the design and construction of their naval guns and turrets. Much of this assistance came from Italy, whose influence can also be seen in the design of Soviet cruisers as well as in naval guns.
As originally planned, this weapon would have had long range and good penetration power, but also would have had a very short barrel life, all characteristics of Italian large-caliber naval guns. A total of twelve guns were started from 1939 to 1940 and by June 41 all were either completed or nearly completed. However, work was halted shortly after the start of World War II. Only one gun was proof fired and gunnery trials with it had uneven results. The gun itself was considered to be a success, but the rounds and propellant were of low quality, resulting in large dispersion patterns. This gun was used in the defense of Leningrad and one of its shells is now on display at the Central Naval Museum in Petersburg (see picture.) The gun and its mounting are currently stored (2010) at Rjevsky Artillery Range.
Actual bore diameter was 406.4 mm (16.0").
Designation

Three-gun Turrets

Sovetskii Soyuz (3): MK-1

Weight
2,327 tons (2,364 mt)
Elevation
-2 / +45 degrees
Rate of Elevation
6.2 degrees
Train
+150 / -150 degrees
Rate of Train
4.55 degrees
Gun Recoil
57.5 in (1.460 m)
Loading Angle
+6 degrees
Mountings were designed at Leningrad Metal Plant and were to be built at the Novokramatorsk Heavy Machine Building Plant.
Data from:
"Naval Weapons of World War Two" by John Campbell
"Battleships: Allied Battleships in World War II" by W.H. Garzke, Jr. and R.O. Dulin, Jr.
"Sovetskie Boevye Korabli 1941-45: IV Vooruzhnie" (Soviet Warships 1941-45: Volume IV Armament) by A.V. Platonov
"Entsiklopedia Otechestvennoi Artillerii" (Encyclopedia of Fatherland (Russian) Artillery) by A.V. Shirokorad
Special help from Vladimir Yakubov
09 October 2006

Benchmark

26 June 2010

Added link to "Rjevsky Artillery Range"