Russia / USSR
30 mm/63 (1.2") AK-230
People's Republic of China
30 mm/63 (1.2") Type 69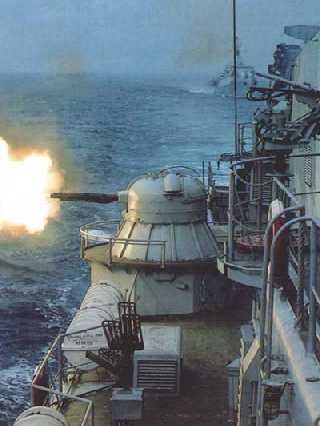 A close-in defensive weapon. Widely used on Soviet ships of the 1960s through the 1980s and exported to many Eastern Bloc countries and to India. Produced in the PRC under the designation Type 69.
The design of this weapon started in 1956 with testing beginning in 1957, but these were unsuccessful and the weapon was redesigned with new tests starting in 1958. System level ship trials began in 1960 and the weapon system was accepted into service in 1969. However, as was customary with Soviet weapons, the series production started in 1959. This gun is an automatic, stabilized mounting containing two 30 mm (1.2") liquid-cooled revolver cannons, with the automatics working from the power of the exhaust. The guns are belt fed, with 500 rounds per belt.
There were two versions of the mount: Version A was designed for ships with 220 Vdc power systems and Version B was designed for ships with 380 Vac 50 Hz power systems. There was also a low magnetic version of the system designed for minesweepers called AK-230M. All AK-230Ms were designed for 380 Vac, 50 Hz power supplies.
Data from:
"The Naval Institute Guide to World Naval Weapon Systems 1991/92" by Norman Friedman
"Jane's Fighting Ships 1998-99" edited by Capt. Richard Sharpe, RN
"Entsiklopedia Otechestvennoi Artillerii" (Encyclopedia of Fatherland [Russian] Artillery) by A.V. Shirokorad
Special help from Vukasin Milosevic and Vladimir Yakubov