Russia / USSR
37 mm/5 (1.5") Hotchkiss Gun
37 mm/1 (1.5") Hotchkiss Gun
[1-pdr (0.45 kg) Hotchkiss Guns]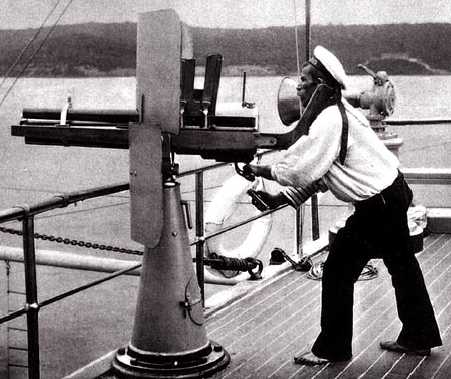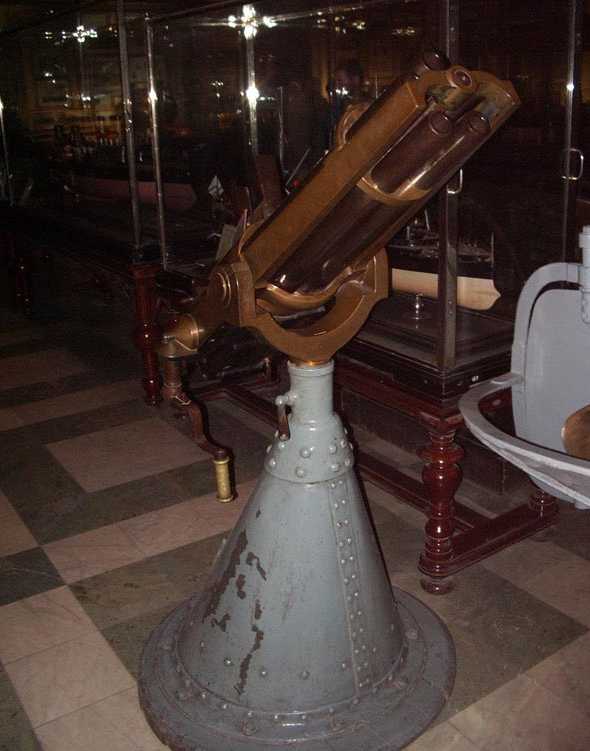 The Hotchkiss 37 mm/5 (5 = five-barrel) gun was first tested in Russia in 1879. Starting in 1884, the Russian Navy bought over 150 of these and the similar 47 mm five barrel gun for use as anti-torpedo boat weapons on large ships and to arm light craft. By 1884 there were 126 of the 37 mm/5 guns in service. Russian production of these guns was started at Tula in 1886 and by the time production stopped in 1896 an additional 290 weapons had been made. During World War I some of the surviving guns were used in the AA role.
These Hotchkiss weapons were crank-operated, five-barrel revolver-style rotating guns, externally somewhat similar to a Gatling gun but having a different ammunition feed system.
In addition to the five-barrel weapons, the Russians also purchased 37 mm/1 (1 = single barrel) Hotchkiss guns in 1883. By 1901 some 276 guns of this type were in service. As these single barrel guns were easier to manufacture than the multi-barrel guns, they became standard equipment in the Russian Navy until 1905. In that year, combat during the Russo-Japanese War proved these weapons to be ineffective and they were quickly removed from most larger ships. During World War I and the Russian Civil War they were widely used to arm light ships and river craft. Several of these weapons survived to serve in World War II on the ships of the Pinsk River flotilla.
These guns had monobloc barrels with a vertical blade type breech mechanism.
Data from:
"Etsiklopediya Otechestvennoi Artillerii" (Encyclopedia of Fatherland (Russian) Artillery) by A.V. Shirokorad
"Morskaya Artilleriya Rossiyskogo Flota 1867-1922" (Naval Artillery of the Russian Fleet 1867-1922) by A. B. Shirokorad
Special help from Vladimir Yakubov