Russia / USSR
100 mm/70 (3.9") CM-5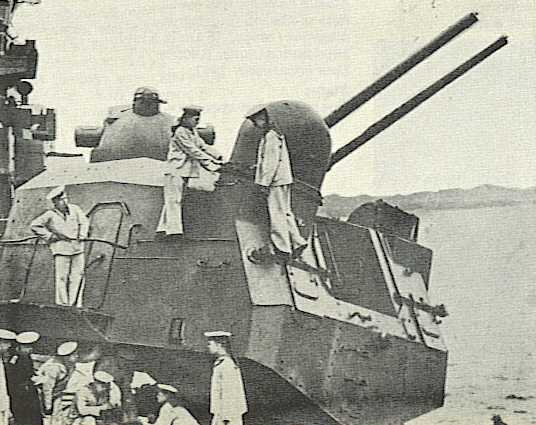 This gun was designed specifically for the Chapaev class (Pr.68) cruisers. Manufactured between 1948 and 1955 with a total of 150 weapons being built for the five Chapaev class and twenty Sverdlov class (Pr.68bis) cruisers.
These guns were controlled by the "Zenit-68bis A" Fire Control System which was used to control both these guns and the smaller AA guns. This system included a "Yakor'" radar and a SPN-500 radar system. The final targeting data was given by TsAS-1 and PKU-1 control systems. Any 100 mm (3.9") turret could provide firing data should the central computer be knocked out.
The mounting was cross-level stabilized up to -20/+20 degrees of roll using a Jenny-type coupling which was automatically controlled from a central location using the remote control system D-5S. In 1949 a BL-127 quadruple mount was designed, but this was not approved for production.
Constructed of loose liner, casing, barrel nut and a support ring. Used a sliding breech block with spring automatics. The guns were not individually sleeved.
Data from:
"Jane's Pocket Book 9: Naval Armament" edited by Denis Archer
"Entsiklopedia Otechestvennoi Artillerii" (Encyclopedia of Fatherland (Russian) Artillery) by A.V. Shirokorad
Special help from Vladimir Yakubov
18 November 2006

Benchmark

19 March 2016

Corrected typographical