Russia / USSR
57 mm/75 (2.24") AK-725 (ZIF-72)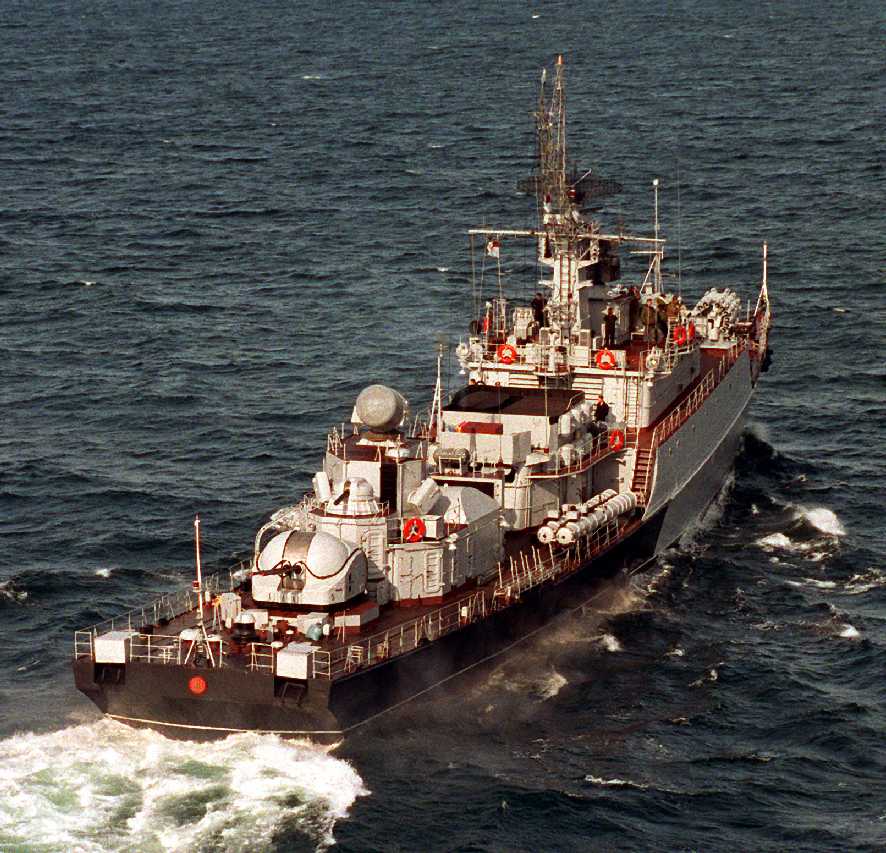 The problems with the 57 mm ZIF-31 and ZIF-71 mountings prompted the Navy in 1956 to issue a request for a completely new weapon system in this caliber. The prototype was constructed in 1959 and by 1960 was going through proofing tests. One of the problems noted during these tests was that the barrels had short lives, so new and improved barrels were designed which increased barrel life to over 750 rounds. The mount was officially accepted into service in 1964 as the AK-725.
The AK-725 had twin water cooled ZIF-74 barrels, which were modified to use belt ammunition, thus allowing for longer firing periods before reloading. Compared to the ZIF-71, this new weapon could fire bursts twice as long and had 80% less cooling time between bursts. Each belt contains 550 rounds and the first round needs to be manually chambered. The AK-725 was controlled by the ESP-72 fire control system, which was itself controlled by the MP-103 Bars radar. In an emergency, the turret can be used manually via a simple optical gunsight. This mount was in production from 1961 to 1988.
This weapon was not considered to be effective against anti-ship missiles, as was evidenced by a training accident in 1987 when a missile drone accidentally targeted the Small Missile Ship Musson. Musson was firing its AK-725 mount right up until the moment of impact, but was unable to hit the missile. The ship was destroyed by the resulting fire, with 39 crewmen killed.
The barrel was of monobloc construction with vertical blade type breech. Recoil operated with water-cooled barrels. Both barrels were mounted on a common cradle. The turret itself is unarmored but was hermetically sealed with 6 mm (0.24 in) thick aluminum sides.
Data from:
"The Naval Institute Guide to World Naval Weapon Systems 1991/92" by Norman Friedman
"Jane's Ammunition Handbook: Ninth Edition 2000-2001" edited by Terry J. Gander and Charles Q. Cutshaw
"Entsiklopedia Otechestvennoi Artillerii" (Encyclopedia of Fatherland [Russian] Artillery) by A.V. Shirokorad
Special help from Vladimir Yakubov