Russia / USSR
152 mm/57 (6") B-38 Pattern 1938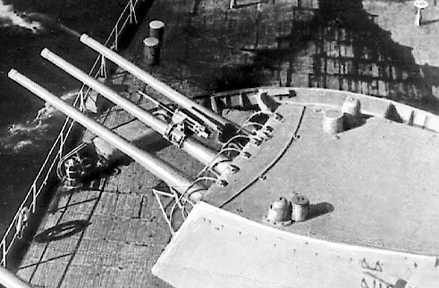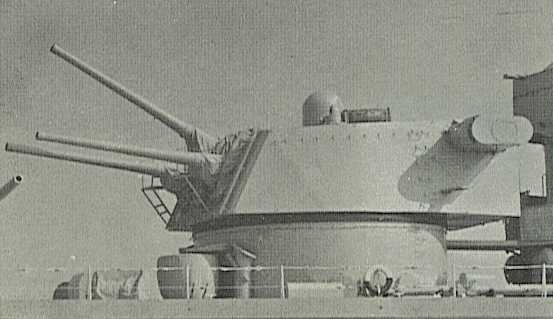 This gun was originally intended for use on the Soviet Battleships planned in the late 1930s. However, as those ships were cancelled during World War II, it did not enter service until 1949 as the main gun on the cruiser Chapaev. As a cruiser gun, this was a good, if not outstanding weapon.
The guns were designed by "Bolshevik" factory in 1938. The first gun was completed in 1940 and by 1941 a total of 10 were on hand. During World War II one gun was used for testing and the rest as railroad guns by installing them on cradles normally used for 8"/45 (20.3 cm) guns.
There were four different types of turrets designed for this gun. MK-4 was the twin turret designed for the Sovetsky Soyuz battleships, while MK-17 was the lighter version of the same turret designed for the Kronshtadt battlecruiser class. The MK-5 was a triple turret designed for the Chapaev and Sverdlov light cruiser classes and the MK-9 was a lighter counterpart designed for the modified Sovetsky Soyuz class battleships.
Source note: This gun is identified in "Battleships: Allied Battleships in World War II" as a 6"/50 Pattern 1937, which I believe to be incorrect. The other two sources listed below use the above designation.
Actual Caliber was 152.4 mm (6.0").
Data from:
"Jane's Pocket Book 9: Naval Armament" edited by Denis Archer
"Naval Weapons of World War Two" by John Campbell
"Battleships: Allied Battleships in World War II" by W.H. Garzke, Jr. and R.O. Dulin, Jr.
"Sovetskie Boevye Korabli 1941-45: IV Vooruzhnie" (Soviet Warships 1941-45: Volume IV Armament) by A.V. Platonov
"Entsiklopedia Otechestvennoi Artillerii" (Encyclopedia of Fatherland (Russian) Artillery) by A.V. Shirokorad
Other:
"Flot vo Slavu Rossii" (Fleet in Honor of Russia) CD
Special help from Vladimir Yakubov
23 May 2006

Benchmark

12 August 2012

Updated to latest template