United States of America
30 mm (1.2") Bushmaster II Mark 46 Mod 1 and 40 mm (1.57") Bushmaster II

The 30 mm Bushmaster II is derived from the proven 25 mm M242 Bushmaster automatic weapon. This next-generation member of the Chain Gun® family applies the same design simplicity, positive round control, ease of maintenance and constant velocity ammunition feed of the battle-proven Bushmaster cannon. The Mark 46 system is a navalized version of the gun used on the Advanced Amphibious Assault Vehicle (AAAV) and on the San Antonio LPD-17 class.
The larger 30 mm Bushmaster II incorporates 70 percent of the logistic parts used in the 25 mm M242 Bushmaster, offering operators low-risk, proven performance and NATO common parts supply. The production barrel will be chrome plated for extended life.
The mounting for this weapon will be shared with the Expeditionary Fighting Vehicle (EFV) - formerly known as the Advanced Attack Amphibious Vehicle (AAAV) - being built for the US Marine Corps.
From the LPD-17 website: "The Mk 46 30 mm gun system is a two-axis stabilized chain gun that can fire up to 250-rounds per minute. The system uses a forward looking infrared sensor, a low light television camera, and laser range finder with a closed-loop tracking system to optimize accuracy against small, high-speed surface targets. It can be operated locally at the gun's weapon station (turret) or fired remotely by a gunner in the ship's Combat Information Center."
This weapon can be converted to fire 40 mm rounds with a change of barrels and minor changes to the feeder assembly. This conversion can be performed by the ship's crew.
A 15 September 2005 Alliant Techsystems (ATK) Press Release announced that ATK "will provide its proven 30/40 mm Mk44 Bushmaster Cannon system to MSI Defence Systems for integration onto its DS30M Mk2 Naval Mounting. The UK Royal Navy (RN) has ordered a total of 26 systems for the new Type 23 Frigate, with deliveries scheduled to begin in late 2006. This is the first time ATK will provide the Bushmaster for use on a RN vessel and it extends the Bushmaster's reach beyond armored vehicle applications to shipboard use."
MSI supplies these weapon systems to many countries and has also won a contract to supply 30 mm systems to ThyssenKrupp Marine Systems (TKMS) for use on their MEKO-type frigates.
These 30 mm weapons replaced the 57 mm Bofors guns planned for the USS Zumwalt DDG-1000 class.
Designation
30 mm Bushmaster II
Ship Class Used On
USN
San Antonio LPD-17
Freedom LCS-1
Zumwalt DDG-1000
EFV (Armored Fighting Vehicle for the US Marines)

Britain
Type 23 Frigates

Date Of Design
about 1997
Date In Service
2004 (planned)
Gun Weight
341 lbs. (154.6 kg)
Gun Length oa
134.05 in (3.405 m)
Bore Length
N/A
Rifling Length
N/A
Grooves
16
Lands
N/A
Twist
N/A
Chamber Volume
N/A
Rate Of Fire
250 rounds per minute cyclic
Weapon may be set to fire in single shot, 5 round burst or fully automatic modes.
Type
Fixed
Weight of Complete Round
AP-I : 1.62 lbs. (0.735 kg)
Mark 266 Mod 1 HEI-T: 1.48 lbs. (0.670 kg)
Mark 238 Mod 1 HEI-T: 1.48 lbs. (0.670 kg)
Mark 240 SAPHEI-T: 1.46 lbs. (0.660 kg)
Mark 268 APFSDS-T: 1.60 lbs. (0.725 kg)
Projectile Types and Weights
(see Note 2)
AP-I: 0.94 lbs. (0.425 kg)
HEI-T: 0.79 lbs. (0.362 kg)
SAPHEI-T: 0.79 lbs. (0.364 kg)
APFSDS-T: 0.52 lbs. (0.235 kg)
Bursting Charge
AP-I: Solid Bullet
HEI-T: 0.12 lbs. (0.056 kg)
SAPHEI-T: N/A
APFSDS-T: None (solid penetrator)
Projectile Length
N/A
Complete Round: 11.4 in (29 cm)
Propellant Charge
AP-I: N/A
HEI-T: 0.38 lbs. (0.153 kg)
SAPHEI-T: 0.33 lbs. (0.148 kg)
APFSDS-T: 0.39 lbs. (0.176 kg)
Cartridge
30 x 173 mm
Muzzle Velocity
API: 3,225 fps (983 mps)
HEI-T: 3,543 fps (1,080 mps)
SAPHEI-T: 3,543 fps (1,080 mps)
APFSDS-T: 4,544 fps (1,385 mps)
Working Pressure
API: N/A
HEI-T: 50,000 psi (345 MPa)
SAPHEI-T: 52,200 psi (360 MPa)
APFSDS-T: 52,200 psi (360 MPa)
Approximate Barrel Life
N/A
Ammunition stowage per gun
(see Note 3)
about 200 rounds
This weapon fires standard 30 x 173 mm GAU-8 ammunition, using a side-stripping link developed by The Boeing Company. It can also fire RARDEN and Oerlikon KCB (30 x 170 mm) ammunition by changing the barrel, bolt and aft feed plate.
The major difference between the HEI-T Mark 266 Mod 1 and Mark 238 Mod 1 is that the Mark 266 Mod 1 uses a non-self destruct fuze (NSD) while the Mark 238 Mod 1 uses a self-destruct fuze (SD).
The navalized Mark 46 Mod 1 mounting has a dual feed magazine with 200 rounds in each feed.
Range of projectiles fired at new gun muzzle velocities

| Elevation | With HE Shell |
| --- | --- |
| Effective Range | about 2,200 yards (2,000 m) |
| Nominal Min/Max Range | 330 to 3,300 yards (300 to 3,000 m) |
| Maximum Range | about 4,400 yards (4,000 m) |
Designation
USN Single Mount
EFV (1): Mark 46 Mod 0
San Antonio (2), Freedom (2) and Zumwalt (2): Mark 46 Mod 1

MSI Single Mount
DS30M Mk 2

Weight
Mark 46: N/A
DS30: 2,645 lbs. (1,200 kg) with ammunition
Elevation
Mark 46: -10 / +45 degrees
DS30M: -20 / +65 degrees
Elevation Rate
N/A
Train
360 degrees
Train Rate
Mark 46: up to 60 degrees per second
DS30: 55 degrees per second
Gun recoil
N/A
The differences between the EFV Mark 46 Mod 0 turret and the navalized Mark 46 Mod 1 turret include:
- The choice of either remote unmanned operation or local 1-man operation by a single crewman.
- Unarmored turret.
- No exterior hatches or periscopes.
- No coaxial secondary weapon.
- Higher ready-round capacity than the armor variant.
- Use of Low-Light Television (LLTV) for target acquisition.
This weapon uses a 1.0 HP motor @ 24 VDC to operate all moving components.
MSI uses a similar mounting for the 30 mm KCB cannon.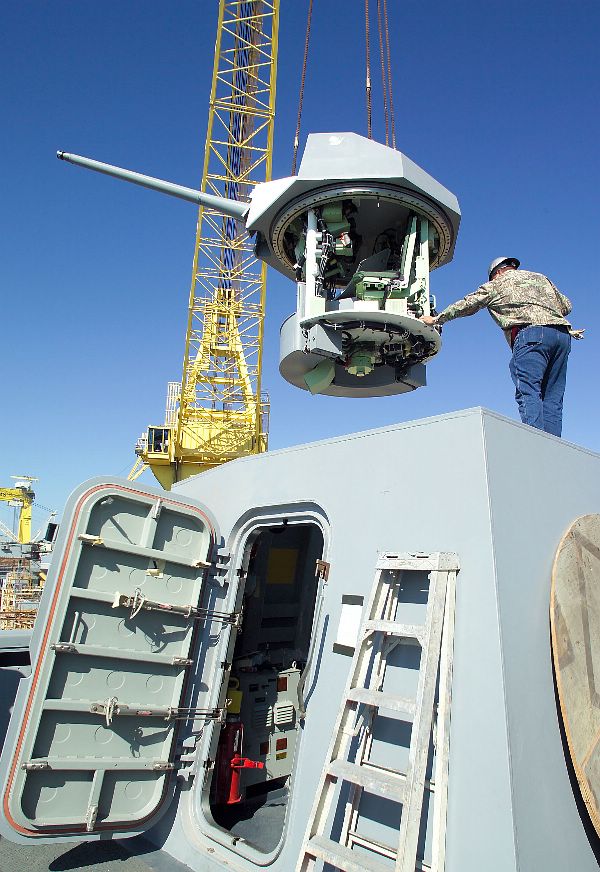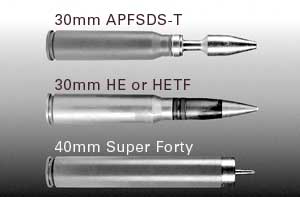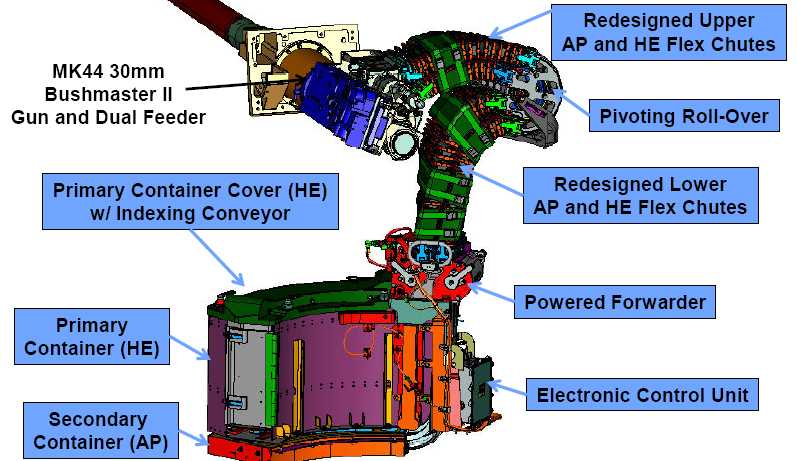 "The Naval Institute Guide to World Naval Weapon Systems 1991/92" by Norman Friedman
"Jane's Ammunition Handbook: Ninth Edition 2000-2001" edited by Terry J. Gander and Charles Q. Cutshaw
---
"EFV 30mm Ammunition Feed System" by Ms. Kim Perkins, General Dynamics ATP, presented at the
NDIA
Joint Armaments Conference, Exhibition & Firing Demonstration, May 2010
"Gun / Ammunition Acquisition Strategy for the EFV Program" by Major Ian McDuffie, USMC, presented at the
NDIA
Joint Armaments Conference, Exhibition & Firing Demonstration, May 2010
"Super 40mm to 30mm Ammunition Comparison - Performance/Lethality" by Mr. Rick Wright, General Dynamic, presented at the
NDIA
Joint Armaments Conference, Exhibition & Firing Demonstration, May 2010
---
Boeing Company Press Releases
LPD-17 Design Team
US Marines EFV Website
Alliant Techsystems (ATK)
---
USNI News: "Navy Swaps Out Anti-Swarm Boat Guns on DDG-1000s" by Sam LaGrone
---
Special help from Leo Fischer
11 April 2007 - Benchmark
03 June 2010 - Added data about dual-feed system, other ammunition notes, links to papers presented at NDIA Joint Armament Conference
22 November 2014 - Added notes regarding use on DDG-1000
20 July 2015 - Added notes for use by MSI
13 June 2016 - Converted to HTML 5 format