United States of America
30 mm/75 (1.2") EX-74 and Emerlec-30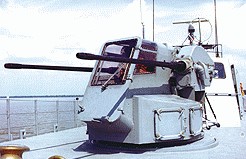 This mounting was originally developed by Emerson Electric as the EX-74 and was intended to arm the US CPIC coastal patrol boats, of which only a single prototype was ever built. The CPIC boat used a GFCS Mark 93 which incorporated the Kollmorgen Mark 35 periscope director.
With the cancellation of the US CPIC program, Emerson then further developed this weapon into an export version and has successfully sold them around the world.
This weapon system uses the Oerlikon 30 mm/75 KCB cannon which is also used on the British GCM and LS-30B weapon systems.
Data from:
"The Naval Institute Guide to World Naval Weapon Systems 1991/92," Update 1994" and "US Naval Weapons" all by Norman Friedman