United States of America
6"/47 (15.2 cm) Mark 17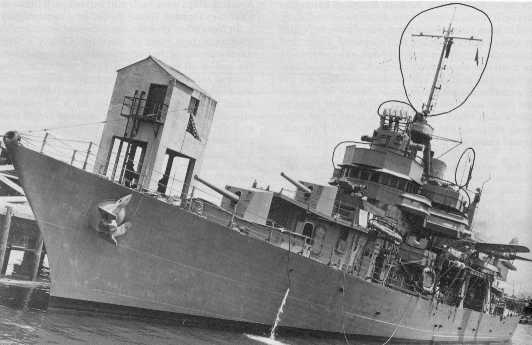 This was a variation of the previous 6"/47 (15.2 cm) Mark 16 and was used only on the Erie (PG-50) class of Patrol Gunboats. Unlike the Mark 16, the Mark 17 was designed for bag ammunition.
The mountings for these weapons were unusual for this type of ship, as they had power elevation and training.
Constructed of a chrome-platted autofretted barrel attached to a breech housing by interrupted threads. Used a side-swing breech mechanism.
| | |
| --- | --- |
| Designation | 6"/47 (15.2 cm) Mark 17 |
| Ship Class Used On | Erie Class |
| Date Of Design | 1933 |
| Date In Service | 1938 |
| Gun Weight | 5.24 tons (5.32 mt) |
| Gun Length oa | 289.0 in (7.341 m) |
| Bore Length | 282.3 in (7.169 m) |
| Rifling Length | about 238.3 in (6.053 m) |
| Grooves | N/A |
| Lands | N/A |
| Twist | Uniform RH 1 in 30 |
| Chamber Volume | 1,478 in3 (24.22 dm3) |
| Rate Of Fire | 5 - 8 rounds per minute |
Type
Bag
Projectile Types and Weights 1
Common Mark 28 Mods 1 and 2: 105 lbs. (47.6 kg)
Illum Mark 22 Mod 1: 95.40 lbs. (43.3 kg)
Illum Mark 23 Mods 1 and 2: 96.0 lbs. (43.5 kg)
Bursting Charge
Common Mark 28 Mods 1 and 2: 5.72 lbs. (2.6 kg) Explosive D
Projectile Length
27 in (68.6 cm)
Propellant Charge 2
34.5 lbs. (15.7 kg) NC 34.0 lbs. (15.4 kg) SPD or SPDN
Muzzle Velocity
Common 2,800 fps (853 mps)
Working Pressure
18.5 tons/in2 (2,910 kg/cm2)
Approximate Barrel Life
750 - 1,050 rounds
Ammunition stowage per gun
N/A
Range with 105 lbs. (47.6 kg) Common Shell

| Elevation | Range |
| --- | --- |
| 20 degrees | 19,800 yards (18,100 m) |
"Naval Weapons of World War Two" by John Campbell
"US Cruisers: An Illustrated Design History" and "US Naval Weapons" both by Norman Friedman
---
"U.S. Explosive Ordnance: Ordnance Pamphlet 1664 - May 1947" by Department of the Navy
18 May 2007 - Benchmark
10 January 2019 - Converted to HTML 5 format, reorganized notes and added mounting sketch
03 August 2020 - Minor changes