Torpedoes of the United States of America
World War II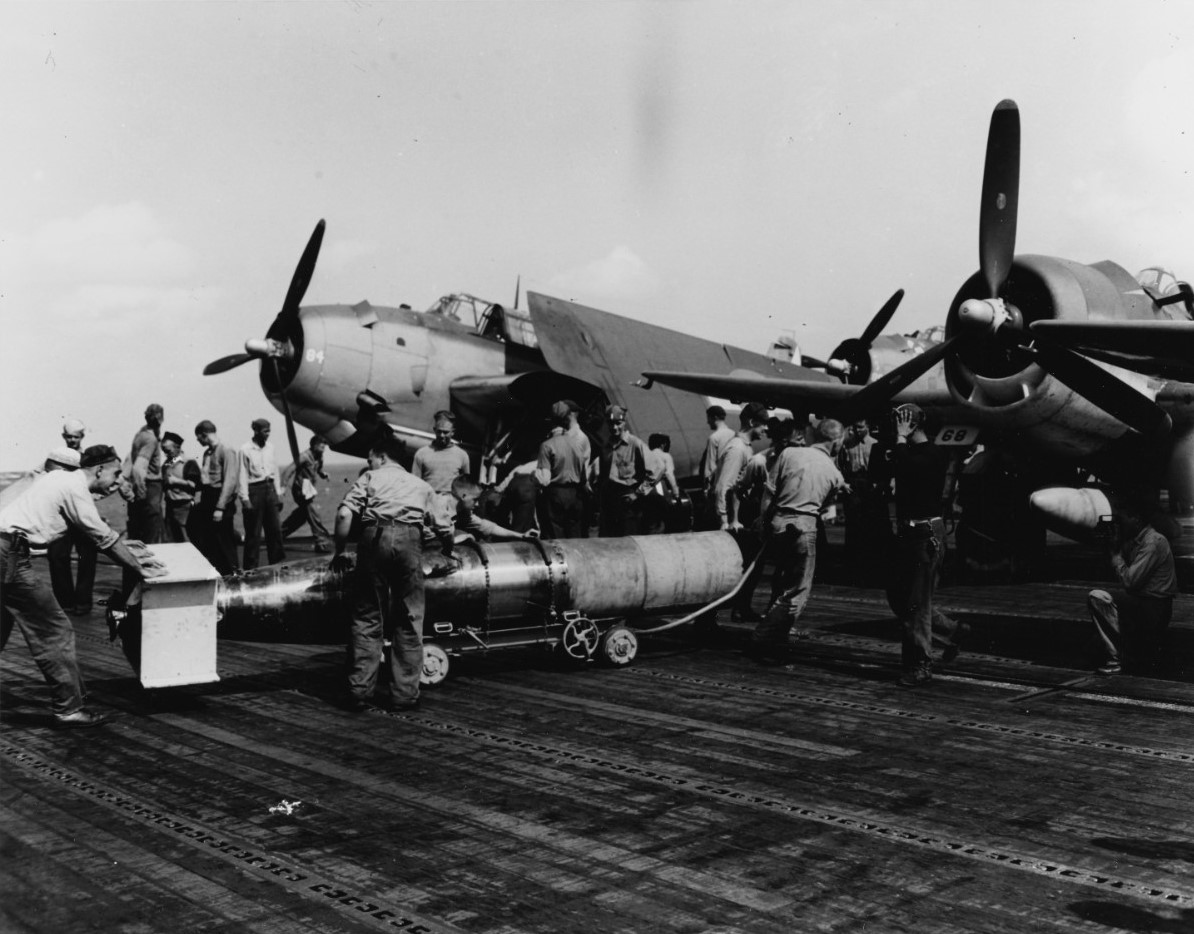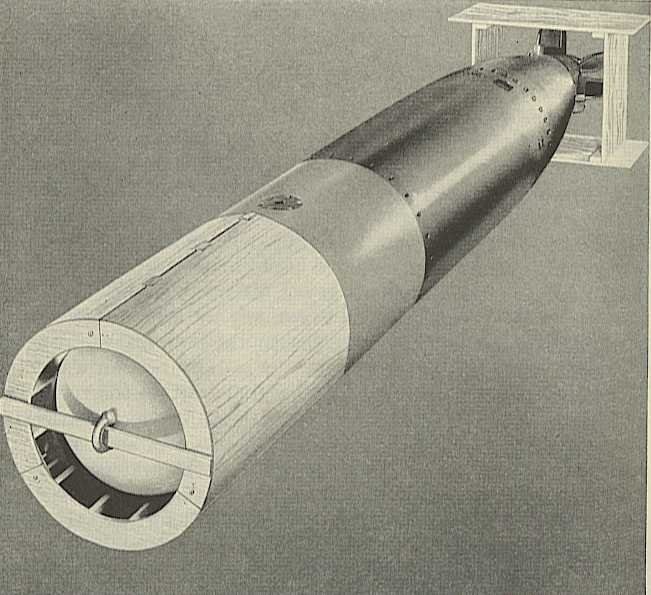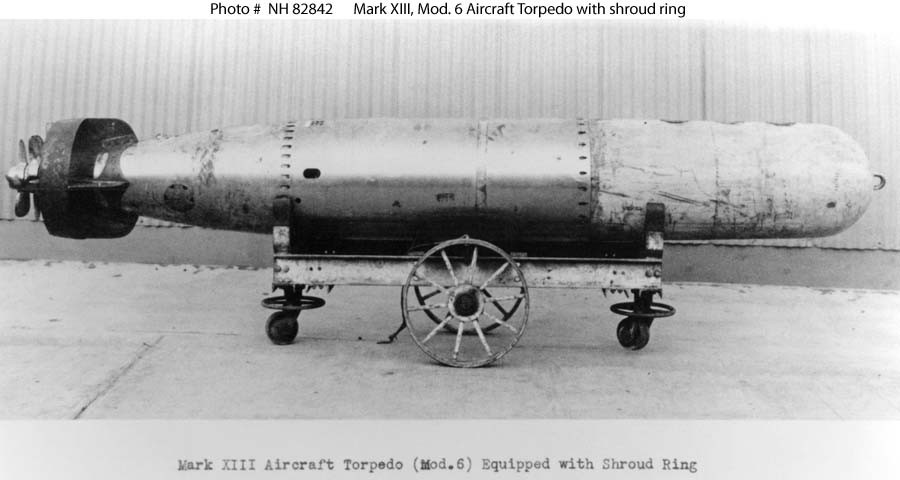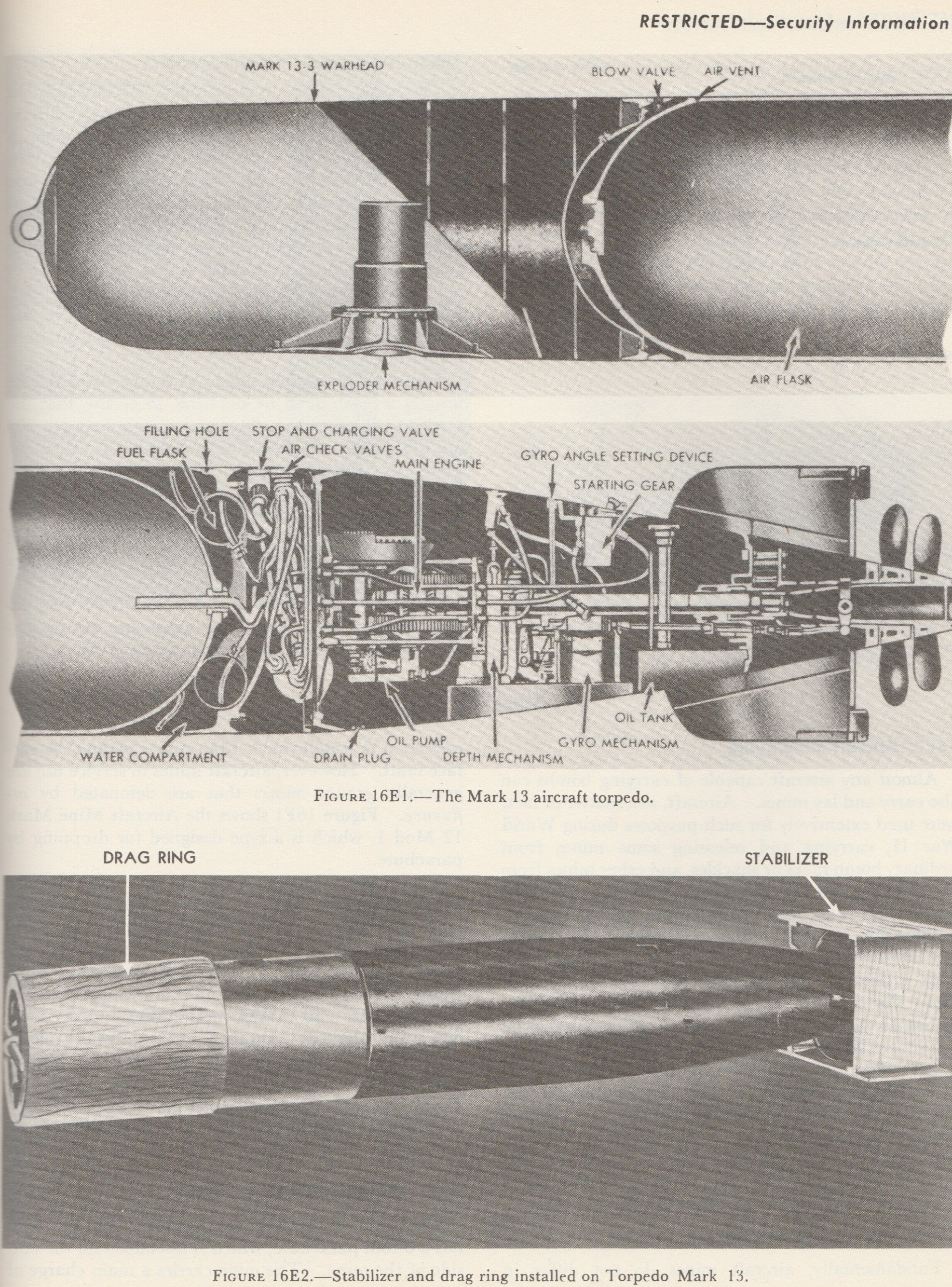 Ship Class Used On
Aircraft
Date Of Design
1930 (see Notes)
Date In Service
1938
Weight
Mod 0: 1,949 lbs. (884 kg)
Mod 10: 2,216 lbs. (1,005 kg)
Overall Length
Mod 0: 13 ft. 5 in (4.089 m)
Mod 10: 13 ft, 9 in (4.191 m)
Negative Buoyancy
523 lbs. (237 kg)
Explosive Charge
Mod 0: 404 lbs. (183 kg) or 392 lbs. (178 kg) TNT
Mod 10: 603 lbs. (274 kg) TNT or 606 lbs. (275 kg) TPX or 600 lbs. (272 kg) HBX
Range / Speed
Mod 0: 5,700 yards (5,210 m) / 30 knots
Mod 10: 4,000 yards (3,660 m) / 33.5 knots
Power
Wet-heater steam turbine
Guidance
Mark 12 Mod 1 gyro
Work on a specialized aircraft torpedo, known as "Project G-6", began in February 1925. This was discontinued in 1926 in favor of making additional modifications to the aerial version of the Mark 7. However, this did not prove advantageous and the G-6 program was resurrected in 1927. This was formally designated as Mark 13 in August 1930, but in October work was stopped again as the USN had now called into question the entire future of the torpedo bomber. Dive bombers were now in favor, so much so that the new USS Ranger (CV-4) was designed completely without torpedo storage. Interest in torpedo planes was not entirely lost and a new, lighter-weight 1,000 lbs. (454 kg) torpedo was considered for future planes. This design proved impractical, so the Mark 13 development project was revived once again in July 1931. The first successful run of a Mark 13 torpedo was made in March 1932 with the second prototype making 30 knots during a run of over 6,000 yards (5,500 m). Aerial testing followed in 1935 with at least 23 drops made between 27 May and 1 October and twenty more made in 1936. Finally, in 1938 the Mark 13 became the first specifically-designed aircraft torpedo accepted into service in the USN. This became the most common US airborne torpedo of World War II. Markedly different from airborne torpedoes of other navies in that it was short and fat vs. short and thin. Also different in its relatively low speed and long range.
Unlike other USN torpedoes developed during the 1930s, the Mark 13 was not equipped with a magnetic exploder at the start of the Pacific War. The original TNT charge used a Mark 4 Mod 1 contact exploder and the later Torpex charge used a Mark 8 contact exploder. A magnetic exploder designated as the Mark 9 was introduced about March 1945. This was also issued for submarine Mark 16 (Hydrogen Peroxide) and Mark 18 (electric) torpedoes (see below). As this was very late in the war, I am not certain if any of the Mark 13 torpedoes equipped with this exploder saw actual combat use. For example, the exploders used for the attacks on the battleship Yamato in April 1945 were apparently all contact-type.
By the late 1930s, 156 Mark 13 Mod 0 torpedoes had been manufactured which was enough to provide two loads for each of the four 18-plane torpedo squadrons assigned to the pre-war carrier fleet plus a dozen spares. Mod 0 differed from later mods by having a rail-type tail in which the propellers were in front of the rudders. This was the only US torpedo to ever have this feature. The Newport Torpedo Station was unhappy with arrangement for reasons unknown and the Mod 1 entered service in 1940 with a conventional propeller arrangement, as can be seen in the photographs above. Unfortunately and unlike the Mod 0, the Mod 1 proved to be an unreliable weapon, with only one of ten torpedoes dropped by VT-6 during an exercise in July 1941 having a hot, straight and normal run. Of the others, four sank and could not be recovered while the other five experienced erratic runs.
These problems continued into the early war years, with a mid-1943 analysis of 105 torpedoes dropped at speeds in excess of 150 knots found that 36 percent ran cold (did not start), 20 percent sank, 20 percent had poor deflection performance, 18 percent gave unsatisfactory depth performance, 2 percent ran on the surface and only 31 percent gave a satisfactory run. The total exceeds 100 percent as many torpedoes had more than one defect. The early models were further handicapped by the need to drop them low and slow - typically 50 feet (15 m) and 110 knots which made the torpedo planes carrying them vulnerable to attack.
These problems were greatly reduced by the latter years of the war. Torpedoes had fin stabilizers, nose drag rings and tail shroud rings added, all of which worked to slow the torpedo after it was dropped so that it struck the water nose-first and at an acceptable speed. These improved the drop characteristics such that the recommended aircraft maximum launch parameters were increased to a height of 2,400 feet (730 m) and a speed of 410 knots.
A lanyard was attached to the tail of the torpedo. When dropped, the lanyard tripped a starting lever, but a water trip delay valve prevented the combustion flask from lighting off until the torpedo had entered the water. When dropped at 150 knots or more, the torpedo would enter the water at an angle of between 26 and 30 degrees. The water needed to be at least 150 feet deep (45 m) and the torpedo assumed its preset running depth after water travel of 300 yards (275 m). The exploder mechanism was armed after water travel of 200 yards (180 m). Depth could be set up to 50 feet (15 m).
The addition of the nose drag ring improved aerodynamic performance by stabilizing the torpedo in flight and reduced air speed by about 40 percent. It also acted as a shock absorber when the torpedo struck the water. The tail shroud ring improved the water run by reducing hooks and broaches and by eliminating much of the water roll which had characterized the earlier Mark 13s. Hot, straight and normal runs now approached 100 percent. To speed availability of the much improved torpedo, the Bureau of Ordnance had tail assemblies built with the shroud ring attached and then shipped these to the fleet for upgrading the existing inventory. By the fall of 1944, the modified torpedo was in general use by the front-line carrier units which were enthusiastic in their praise. On one occasion in early 1945, six torpedoes were dropped from altitudes between 5,000 and 7,000 feet (1,500 to 2,100 m). Five out of the six were observed to make their runs hot, straight and normal. By the end of the war, the USN considered the Mark 13 to be the best aircraft torpedo produced by any nation and it remained in service until 1951.
The Mark 13 has the distinction of having been the last torpedo used by by the US Navy in combat and the world's last use of aerial torpedoes in combat (as of December 2010). On 1 May 1951, following the failure of conventional aerial attacks with bombs, the Navy decided to use torpedoes against the sluice gates of the Hwachon Dam, located on the Pukham River just north of the 38th parallel. The dam waters were being used by the North Koreans to aid their own troop movements and hinder those of the Allies. USS Princeton CV-37 sent five AD-4 and three AD-4N Skyraiders into action and these planes each launched a single Mark 13 torpedo against the dam. One torpedo was a dud and another ran erratic, but the other six blew open the flood gates, successfully ending the North Korean control of the river water.
A total of 17,000 Mark 13 torpedoes were produced during World War II.

Mod 1 - Improved tail, strengthened propellers, rudders moved in front of the propellers

Mod 2 - 40 knot experimental torpedo, development cancelled

Mod 2A - Mod 2 converted to 33.5 knots, water trip delay valve added to delay firing until water entry to prevent turbine runaway when dropped from over 300 feet (910 m)

Mod 3 - External gyro setting added

Mod 4 - Experimental Model; 50 produced with strengthened after body

Mod 5 - Addition of water trip to Mod 1

Mod 6 - Addition of shroud ring to Mod 2A

Mod 7 - Addition of shroud ring to Mod 3

Mod 8 - Addition of shroud ring to Mod 4

Mod 9 - Addition of shroud ring to Mod 5

Mod 10 - Strengthened after body, shroud ring, suspension beam, gyro angle eliminated

Mod 11 - Mod 6 modified to accommodate suspension beam

Mod 12 - Mod 7 modified to accommodate suspension beam

Mod 13 - Mod 9 modified to accommodate suspension beam

From "US Naval Weapons" by Norman Friedman:
"A review of war experience showed a total of 1,287 attacks [this count only includes those launched by carrier-borne aircraft, other US Navy aircraft launched another 150 torpedoes - TD], of which 40 percent (514) resulted in hits, including 50 percent hits on battleships and carriers (322 attacks, including Midway), 31 percent on destroyers (179 attacks), and 41 percent (out of 445 attacks) on merchant ships."
This hit percentage is much too high, but illustrates the over claiming that was typical of all nation's pilots during the war.

Although not mentioned by Dr. Friedman, at least eight Japanese cruisers were struck by aircraft torpedoes during the war.
| | |
| --- | --- |
| Ship Class Used On | Aircraft |
| Date Of Design | 1941 |
| Date In Service | 1943 |
| Weight | 680 lbs. (308 kg) |
| Overall Length | 7 ft 0 in (2.134 m) |
| Explosive Charge | 92 lbs. (42 kg) TPX or HBX |
| Range / Speed | 4,000 yards (3,660 m) / 12 knots |
| Power | Electric Battery |
| Guidance | Passive Acoustic Homing |
A very small anti-submarine homing torpedo. Also known as the Mark 24 Mine and as "Fido." Homing was by four crystal hydrophones arranged around the body with simple guidance system that steered towards the loudest noise. Launch parameters were 125 knots from 250 feet (76 m).
The following is from "US Navy Torpedoes" by Frederick J. Milford:
"340 [Fido] torpedoes [were] dropped in 264 attacks of which 204 were against submarines. In 142 attacks US aircraft sank 31 submarines and damaged 15; in 62 attacks against submarines other Allies, mainly British, sank six and damaged three. Most of these submarine sinkings were German U-boats in the Atlantic, but five Japanese submarines were sunk by Fidos, one, I-52, in the Atlantic and four in the Pacific. OEG Study No. 289, 12 August 1946, is the main source for this conclusion."
Fido was first used successfully by a British B-24 Liberator defending Convoy HX 237 on 12 May 1943, sinking U-456. This was followed by a USN PBY-5A from VP 84 which sank U-640 on 14 May 1943.
Fido would have been too slow to attack the Type XXI U-boats and could be avoided by going very deep.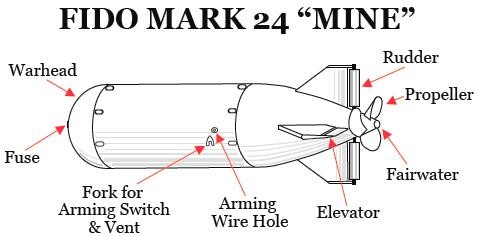 13 August 2008 - Benchmark
19 December 2010 - Updated data tables to include guidance systems and other information
10 November 2014 - Additional information
05 October 2019 - Converted to HTML 5 format, added Mark 26 torpedo, minor changes to other data
23 December 2020 - Corrected typographical error
17 May 2021 - Added photograph of Mark 13 Mod 6 torpedo
13 August 2022 - Added cut-away view of Mark 13 torpedo
09 May 2023 - Added information on exploders for the Mark 13 and corrected typographical error