Most mines of World War II were Hertz horned type, with the horns containing acid. Contact with the horn broke open the acid container which energized a battery and exploded the mine. During the war antenna and magnetic mines were produced.
Explosives were primarily TNT or TNT with up to 50% cyclonite, but other explosives were also used as an emergency measure during World War II.
The weak nature of the Italian economy did not allow as large a mining campaign as desired, but the Italians did lay some 54,457 during the war.
Italian mines sank one light cruiser (HMS Neptune), three destroyers, eleven submarines and seventeen smaller warships and merchantmen.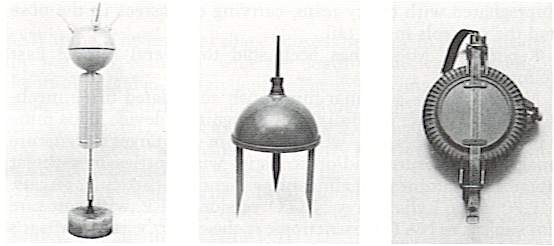 An anti-invasion mine manufactured by Tecnovar, these are flat disks in shape. The number indicates the explosive charge (1.2, 2.5, 3.6 or 6.0 kg). Fuzing is electronic and the mines saw service introduction about 1981. The EPR 2.5 weighed a total of about 13 lbs. (6 kg). This mine was 10.2 inches in diameter and 3.5 inches thick (26 x 9 cm) and was said to be capable of blowing a 9.8 in (25 cm) diameter hole in a 1.2 in (3 cm) thick steel plate.
Another anti-invasion mine manufactured by Tecnovar, these were introduced in 1984. MAL/17 is a contact mine with three horns on top of the sphere containing a 17 kg charge. Total weight of 22 kg.
This is a variation of the MAL/17 that is a half-spherical mine with three stakes that allow it to be driven into a river bed or beach. Total weight of 22 kg with a 17 kg charge.
Another anti-invasion mine, this one produced by Misar. This is a larger mine intended to be laid by ships or aircraft with a weight of 309 lbs. (140 kg) TNT or 375 lbs. (170 kg) of HBX-3. Triggering is magnetic and acoustic. Manta has a shelf life of 30 years and the mine will operate for 17 months after activation.
"Naval Weapons of World War Two" by John Campbell
"Italian Warships of World War II" by Aldo Fraccaroli
"The Naval Institute Guide to World Naval Weapon Systems 1991/92" by Norman Friedman
"Churchill's Folly: Leros and the Aegean, The Last Great British Defeat of World War Two" by Anthony Rogers
21 June 2008 - Benchmark
17 February 2018 - Converted to HTML 5 format