United Kingdom / Britain
12"/40 (30.5 cm) Mark IX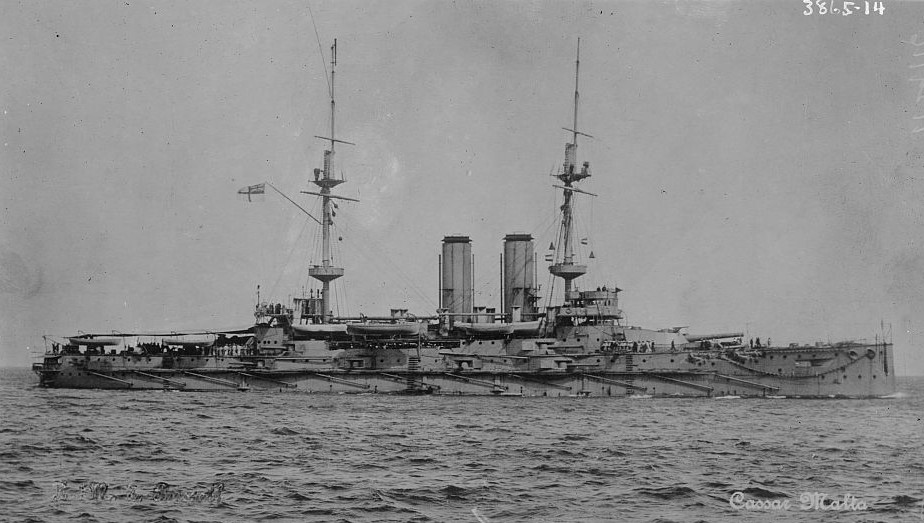 First large-caliber British gun to use the Welin breech mechanism which considerably shortened the loading time. Serious difficulties arose in this weapon as a result of "steel choke" and inner A tube cracking problems and some rebuilding was required.
During World War I nineteen of these guns were transferred to land service and then used on nine railway mountings. A further four guns from HMS Queen were sent to Italy.
Near the end of the war, three of these guns were used on the "M" class submarines. These were meant to be utilized as anti-shipping weapons, as it was felt that a single hit from a 12" (30.5 cm) projectile would be enough to sink a merchant vessel. This was moderately successful, although if the firing tube leaked it could blow the muzzle off the weapon.
Consisted of A tube, inner A tube, B tube and overlapping jacket. A total of 110 guns were made, including guns reworked to repair "steel choke" problems, being five Mark IXE (Elswick), five Mark IXv (Vickers) and three Mark IXw (Woolwich). A further six Mark IXw guns with tapered inner A tubes and no forward shoulders were manufactured during World War I. The Welin breeches were hand operated, but hydraulic operation was fitted in latter ships. Vickers "pure-coupled" breech mechanisms were used on some guns, designated as A Mark IX. Mark IX* was assigned to guns intended for railway mountings. These were to have had their front chamber slopes modified, but it appears that no guns were actually altered.
Designation
12"/40 (30.5 cm) Mark IX
Ship Class Used On
Formidable, London, Duncan and King Edward VII classes
"M" class submarines
Date Of Design
1898
Date In Service
1901
Gun Weight
50 tons (51 mt) inc. breech
Gun Length oa
496.5 in (12.611 m)
Bore Length
480 in (12.192 m)
Rifling Length
N/A
Grooves
48
Lands
N/A
Twist
(see Note 1)
Increasing RH 0 to 1 in 30
Chamber Volume
17,930 in3 (294 dm3)
Rate Of Fire
(see Notes 2 and 3)
about 1.5 rounds per minute
"M" submarines: 0.33 rounds per minute
The rifling grooves ran straight for the first 4 feet (1.2 m) and then spiraled with a gradually increasing twist towards the muzzle.
The Rate of Fire figure given above is found in references for British guns of this caliber, but "Warrior to Dreadnought: Warship Development 1860-1905" quotes Jellicoe's 1906 figures for rates of fire for these guns in gunlayers' tests and in battle practice and notes that the latter figures corresponded well to those actually attained by the Japanese at Tsushima:

Gunlayers Test: 2 rounds per minute
Battle Practice: 1 round per minute

The submarine gun could only be reloaded on the surface. The procedure was to submerge and approach the target to within 1,200 yards (1,100 m), drive the submarine to the surface, quickly fire the gun and then dive back down. It is apparently a myth that the gun would normally be fired with only the muzzle out of the water when attacking an enemy, as such a condition would mean that the gun was at its maximum elevation while the sighting periscope would be at a minimum height out of the water. Such a combination would mean an extremely slight chance of hitting anything.
Type
Bag
Projectile Types and Weights
APC Mark VI (2crh) - 850 lbs. (386 kg)
APC Mark VIa (4crh) - 859.4 lbs. (389.8 kg)
APC Mark VIIa (Greenboy) - 854 lbs. (387.4 kg)
CPC Mark VIIa - 850 lbs. (386 kg)
HE Mark IIa - 850 lbs. (386 kg)
Bursting Charge
APC Mark VI - 26.3 lbs. (11.9 kg)
APC Mark VIa - 27.3 lbs. (12.4 kg)
APC Mark VIIa - 20.3 lbs. (9.2 kg)
CPC - 80 lbs. (36.3 kg)
HE - 106.5 lbs. (48.3 kg)
Projectile Length
APC Mark VI - 39.7 in (100.8 cm)
APC Mark VIa - N/A
APC Mark VIIa - 38.0 in (96.5 cm)
CPC - 48.4 in (122.9 cm)
HE - 48.3 in (122.7 cm)
Propellant Charge
King Edwards Class: 254 lbs. (115 kg)
Others: 246 lbs. (112 kg)
Muzzle Velocity
King Edward VII class: 2,612 fps (796 fps)
Others: 2,552 fps (778 mps)
Working Pressure
N/A
Approximate Barrel Life
N/A
Ammunition stowage per gun
King Edwards Class: 105 rounds
Other Battleships: 80 rounds
Submarines: 40 rounds
Projectile weights from ADM 186/169. The sources below disagree as to the muzzle velocity for these guns.
I have chosen to use those values given in "Warship Volume V" by John Campbell.
Early ships carried 2crh shells. 4crh was carried by ships with 30 degree mountings and by the submarines.
The BVI mounting originally had two ready-use rounds per gun in the gunhouse, later increased to five rounds. There were eight more rounds per gun stowed in the working chamber which could be accessed via a winch should the shell hoists suffer a breakdown.
Ranges of AP projectiles
Elevation
Range
13.5 degrees
2crh @ 2,552 fps (778 mps) MV
15,150 yards (13,850 m)
13.5 degrees
2crh @ 2,612 fps (796 fps) MV
15,600 yards (14,260 m)
20 degrees
4crh @ 2,552 fps (778 mps) MV
20,950 yards (19,150 m)
30 degrees
4crh @ 2,612 fps (796 fps) MV
26,500 yards (24,230 m)
The sources below disagree as to the maximum ranges and muzzle velocities of these guns. I have chosen to use those values given in "British Naval Guns 1880-1945 No 4" by John Campbell.
It should be mentioned that these maximum ranges were of little use at the time these ships were built. Fire control systems and rangefinders capable of accurately firing at ranges over 10,000 yards (9,140 m) were nonexistent.
| Range | KC Side Armor |
| --- | --- |
| Range | KC Side Armor |
| 4,800 yards (4,390 m) | 12 in (30.5 cm) |
This is for a MV of 2,612 fps (796 mps) and so probably applies only to the King Edward VII class. Data from "British Battleships: 1860 - 1950."
Designation
Twin Mounts
All pre-dreadnoughts carried two mounts
Formidable, Implacable, London, Bulwark, Duncan, Montagu, Russell, Cornwallis, Queen, Prince of Wales: BVI
Irresistible, Venerable, Exmouth, Albermarle: BVII
King Edward class: BVII(S)

Single Mount
Submarines (1)

Weight
Twin: 184 tons (187 mt)
Single: 120 tons (122 mt)
Elevation
(see Note 5)
All surface ships as built: - 3 / +13.5 degrees
Submarines: -5 / +20 degrees
Rate of Elevation
N/A
Train
Surface ships: about +150 / -150 degrees
Submarines: +15 / -15 degrees
Rate of Train
N/A
Gun Recoil
N/A
Loading Angle
BVI: 4.5 degrees
Others: Any angle

Submarine: N/A
The BVI mounting was a rotating stalk design with a shell chamber below the gunhouse. The ammunition hoist was interrupted at the shell chamber rather than continuous from the magazine to the gunhouse. Shells were delivered horizontally to the shell chamber where a grab picked them up and delivered them to the gunhouse hoist. From a sketch, this gunhouse hoist appears to be a three level cage with the shell on top and half charges in the lower compartments. This mounting was also designed with safeguards against a cordite fire in the gun chamber flashing down the ammunition tube into the magazine.
The BVI mounting had a secondary bogie for hand-loading fitted at the rear of the gun and aligned at 1 degree elevation.
The BVII mounting achieved the long-sought British goal of any angle loading, a featured carried through on subsequent ships until it proved impractical on the 15"/42 (38.1 cm) Mark I twin mounts.
The submarine mount needed to be loaded and fired on the surface, although some trials had just the muzzle of the gun above the water. The muzzle was fitted with an electrically-operated, water-tight tampion. The gun mounting was free-flooding, thus allowing quick access after surfacing.
HMS Commonwealth and HMS Zealandia were altered in 1918 to allow an elevation range of -3 / +30 degrees.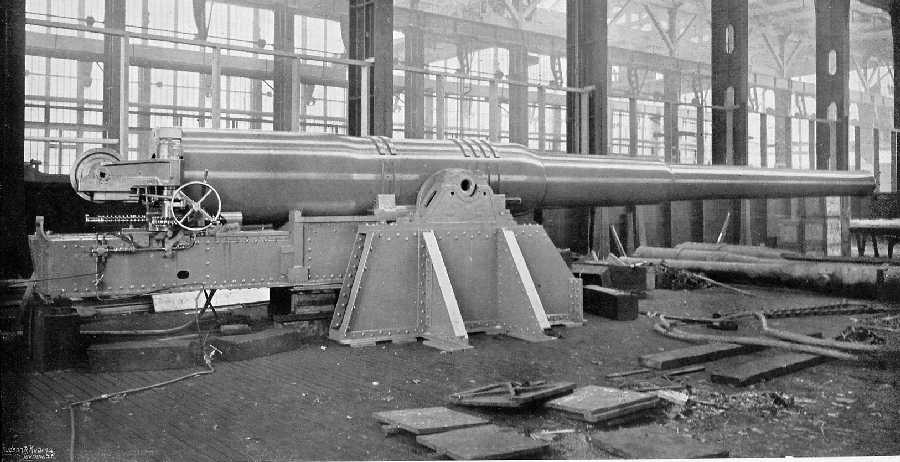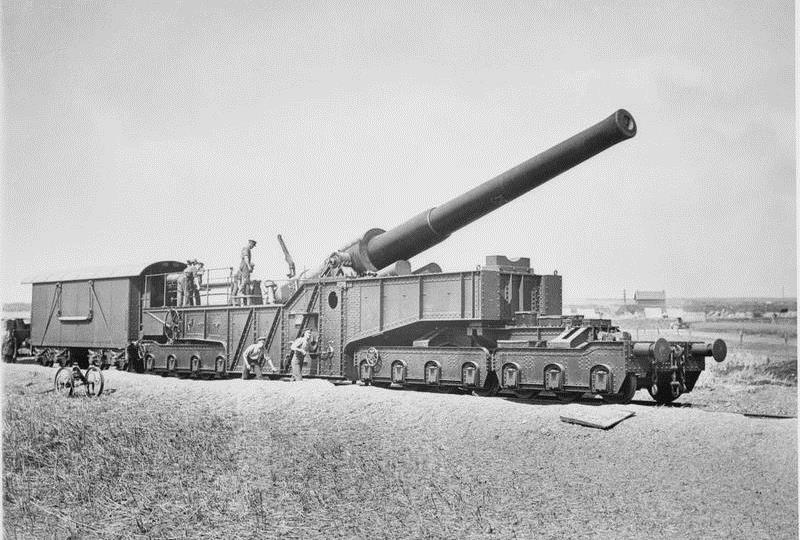 "The M Class Submarine Monitors" article by Thomas A. Adams in "Warship Volume VII"
"Warrior to Dreadnought: Warship Development 1860-1905" and "The Grand Fleet: Warship Design and Development 1906-1922" both by D.K. Brown
"British Naval Guns 1880-1945 No 4" article by John Campbell in "Warship Volume V"
"The Big Gun: Battleship Main Armament 1860-1945" by Peter Hodges
"British Battleships: 1860 - 1950" by Oscar Parkes
"A Concentrated Effort: Royal Navy Gunnery Exercises at the End of the Great War" article by William Schleihauf in "Warship International" No. 2, 1998
"Navy and Army Illustrated Annuals, Volume VI - 1898"
---
ADM 186/169
---
Special help from Dave Perkins and Neil Stirling
03 March 2007 - Benchmark
30 January 2009 - Added a comment regarding guns repaired for "steel choke" problems
24 May 2009 - Replaced picture of Prince of Wales with picture of Russell
30 August 2011 - Added to mounting notes
04 January 2014 - Added photograph of railway gun
01 December 2015 - Changed Vickers Photographic Archive links to point at Wayback Archive
21 September 2016 - Converted to HTML 5 format