United Kingdom / Britain
4.7"/45 (12 cm) QF Mark V and Mark V*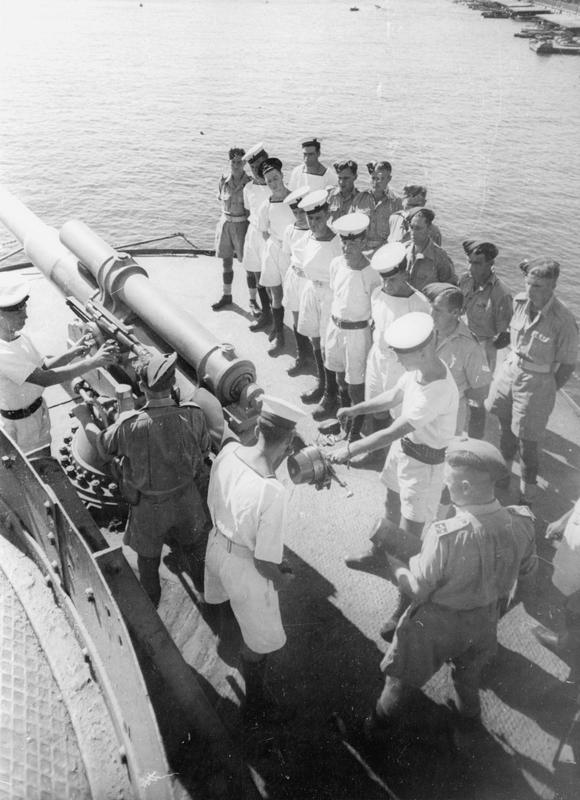 These were Elswick guns of Pattern Y that were designed for export, with guns being supplied to the Argentine, Chinese and Norwegian navies, among others, during the late 1800s and early 1900s. Seven of these Elswick guns were acquired for British coast defense in 1900 and designated by the Royal Navy as the Mark V.
The Mark V* was a similar gun ordered by the Royal Navy from Japanese factories for use on DAMS during World War I. These guns were considered to be obsolescent even when new, as they still used a screw breech but fired separate ammunition. Many of these guns survived in storage until World War II when they were then used on a few auxiliary warships and some large liners but primarily on DEMS.
In certain conditions the striker protruded so much that it was possible for the gun to fire before the breech was closed.
Both the Mark V and the Mark V* were built up guns consisting of A tube, breech piece, two B tubes, jacket and short breech ring. Both guns used a single-motion breech block which on the Mark V was held by the breech piece but on the Mark V* was held by a breech bush screwed into the jacket. Of the 620 Mark V* guns supplied by Japan, 24 were lost in transit and two were used for coast defense at Trinidad. 525 of these guns remained as of 1939.
Actual bore length was 43.92 calibers.
The 4.7" (12 cm) caliber was used on almost every destroyer built by Britain between 1917 and 1943.
Actual bore diameter of all British 4.7" guns was 4.724" (12 cm).
The data that follows is for the Mark V* unless otherwise specified.
Data from:
"Naval Weapons of World War Two" and "British Naval Guns 1880-1945 No 15" article in "Warship Volume IX" both by John Campbell
Special help from Anthony G. Williams and Shane Rogers
07 January 2008

Benchmark

16 January 2016

Added photograph