Chile
4"/62 (10.2 cm) Vickers Mark Q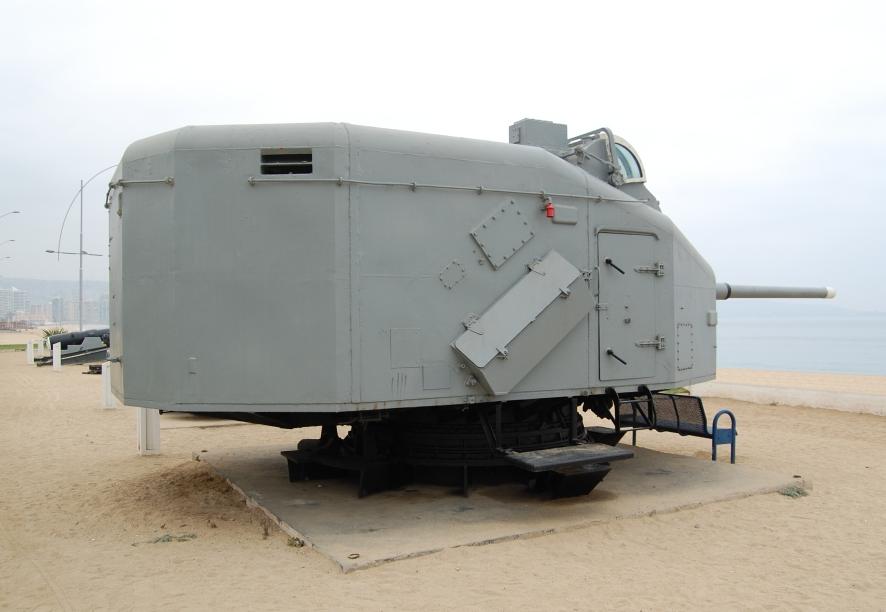 An interesting automatic weapon that grew out of the cancelled British 5" (12.7 cm) projects of the 1940s and 1950s.
The original plan was to use surplus 4"/45 (10.2 cm) Mark XVI guns in an automatic mounting similar to the mountings that Vickers was designing for the 5" (12.7 cm) post-war projects. Later, the gun was changed to a design similar to a high-powered anti-aircraft gun being used by the British Army. This mounting was to be used for rearming the Argentine training cruiser La Argentina and also for Peruvian and Chilean warships. None of these plans were proceeded with, but then in the mid-1950s Vickers and the Chilean navy struck a deal whereby a new 4" (10.2 cm) mounting would be used on two destroyers to be built by Vickers.
This gun loads though the trunnions with the breech forward of them, an unusual design feature that made it somewhat easier to load the gun at any angle of elevation. The Director of Naval Ordnance (DNO) was skeptical of this arrangement, as it was argued that this would make for a greater inertia in the rotating mass, hence for slower elevation and train. Vickers response was that this through-trunnion scheme had actually originated with the 2-pdr Mark M mounting, widely used during the war and considered a fairly successful weapon.
Constructed of an autofretted loose barrel, jacket breech ring and vertical sliding breech mechanism. The rammer was pneumatic with alternate left and right loading trays fed from left and right hoppers.
Data from:
"British Naval Guns 1880-1945 No 18" article by John Campbell in "Warship Volume X"
"The Naval Institute Guide to World Naval Weapon Systems 1991/92" by Norman Friedman
"Vanguard to Trident: British Naval Policy since World War Two" by Eric J. Grove
05 April 2008

Benchmark

14 August 2010

Corrected projectile weight and added note regarding same