United Kingdom / Britain
4"/45 (10.2 cm) QF Mark XVI and Mark XVI*
4"/45 (10.2 cm) QF Mark XVII
4"/45 (10.2 cm) QF Mark XVIII
4"/45 (10.2 cm) QF Mark XXI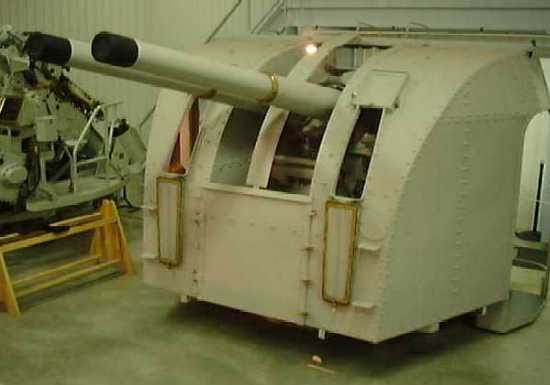 Intended for use as a DP weapon, the Mark XVI was a reasonably good AAA gun although many considered it as being too small for the anti-ship role. This weapon superseded the 4"/45 (10.2 cm) Mark V HA gun on new cruiser construction in the 1930s. In addition, many older cruisers and capital ships had their Mark V guns replaced with these more powerful weapons during refits. A popular weapon, production could not keep up with demand until late in the war, resulting in many ships being armed with older weapons.
HMS Carlisle, a converted AA cruiser armed with these guns, shot down 11 aircraft during the war, the highest score among British cruisers. The Auxiliary AA ship Alynbank, also armed with these guns, shot down six aircraft.
These guns were noteworthy as having "neither long barrel life nor particularly high accuracy" - John Campbell. This was blamed on the use of projectiles with a too-short parallel section which led to poor centering at the muzzle.
The original Mark XVI had an A tube, jacket from muzzle to removable breech ring and used a down-sliding breech block which was manually operated but opened semi-automatically. The Mark XVI* was the most produced version and differed by having the A tube replaced by an autofretted loose barrel with a sealing collar at the front of the jacket. Mark XVI guns when repaired were converted to the Mark XVI* standard.
The Mark XVII was designed for some "County" class cruisers with the intention of replacing two of their single 4"/45 (10.2 cm) Mark V mountings with twin mountings without exceeding the Treaty weight limits. This hair-splitting exercise was described as "ridiculous punctiliousness" by John Campbell. Twelve guns were manufactured, all of which were later converted back to the Mark XVI standard. The Mark XVIII was the original designation for an improved version of the Mark XVI but this was redesignated as the Mark XVI* described above before being accepted into service. The Mark XXI was a lighter version built to revised design rules with an autofretted monobloc barrel and removable breech ring.
Some 2,555 Mark XVI and XVI* along with 238 Mark XXI guns were manufactured in Britain. Canada produced 504 Mark XVI* and 135 Mark XXI guns. Australia built a further 45 Mark XVI* guns.
Designation
4"/45 (10.2 cm) QF Mark XVI and XVI*
4"/45 (10.2 cm) QF Mark XVII
4"/45 (10.2 cm) QF Mark XXI
Ship Class Used On
Many capital ships, a few aircraft carriers, most 8 inch (20.3 cm) and 6 inch (15.2 cm) cruisers
A Cruisers as rearmed, Abdiel minelayers, "Tribal", "Hunt" and "Weapon" class destroyers
"L" class destroyers Lance, Gurkha, Legion and Lively
"P" class destroyer Petard
Australian and Canadian "River" class frigates
Australian warships Parramatta, Warrego, Bathurst and Kanimbla
Most sloops, auxiliary AA ships, AMCs, some landing ships, depot ships and netlayers 1938 - 1948

Poland: Destroyer Blyskawica
Date Of Design
About 1934
Date In Service
1936
Gun Weight
Mark XVI: 4,495 lbs. (2,039 kg)
Mark XVI*: 4,502 lbs. (2,042 kg)
Mark XXI: 3,397 lbs. (1,541 kg)
Gun Length oa
190.5 in (4.839 m)
Bore Length
180.0 in (4.572 m)
Rifling Length
149.5 in (3.798 m)
Grooves
(32) 0.037 in deep x 0.270 (0.94 x 6.86 mm)
Lands
0.1227 in (3.117 mm)
Twist
Uniform RH 1 in 30
Chamber Volume
511.8 in3 (8.387 dm3)
Rate Of Fire
15 - 20 rounds per minute
Type
Fixed
Weight of Complete Round
HE: 63.5 lbs. (28.8 kg)
SAP: 66.75 lbs. (30.28 kg)
Projectile Types and Weights
HE: 35 lbs. (15.88 kg)
SAP: 38.25 lbs. (17.35 kg)
Bursting Charge
N/A
Projectile Length
N/A
Complete round was 45.13 in (114.6 cm)
Propellant Charge
Standard Charge: 9.0 lbs. SC 103 or 10.5 lbs. NF/S (4.09 or 4.8 kg)
Reduced Charge: 5.1 lbs. SC 061 (2.3 kg)

Cartridge: 28.5 lbs. (12.9 kg)
Muzzle Velocity 1
Standard Charge: 2,660 fps (811 mps)
Reduced Charge: 2,000 fps (610 mps)
Working Pressure
20.5 tons/in2 (3,230 kg/cm2)
Approximate Barrel Life
600 rounds
Magazine capacity per gun 2
Hood, Barham, Malaya and Warspite: 250 to 280 rounds plus 250 total star shells
Most Cruisers: 200 rounds
Edinburgh: 250 rounds 3
Roberts: 400 rounds 4
Designation

Twin HA/LA Mount 1 2:

Mark XIX 3:

Capital Ships: Barham (4), Malaya (4), Warspite (4), Royal Sovereign class (4), Hood (7)
Monitors: Roberts class (4)
Carriers: Furious (6), Unicorn (4), Activity (1), Campania (2), Nairana (2), Vindex (2), Pretoria Castle (2)
County Cruisers: Kent class (4) except Suffolk (2) and Canberra (0), London class (4), Norfolk class (4), Exeter (2)
Small Cruisers: Leander class (4), Perth (4), Hobart (4), Arethusa class (4)
Town Cruisers: Southampton class (4), Edinburgh class (6) 4
Colony Cruisers: Fiji class (4), Ceylon class (4), Swiftsure class (4)
Old Cruisers: Danae (1), Effingham (4)
AA Cruisers: Cairo (4), Calcutta (4), Carlisle (4), Curacoa (4), Caledon (3), Colombo (3)
Cruiser/Minelayers: Abdiel class - First Group (3) as rearmed; Abdiel class - Second Group (2) as built
Destroyers: "Tribals" (1), "P" class Petard (2), "L" class Lance (4), Gurkha (4), Legion (4) and Lively (4)
Destroyers: Canadian "Tribals" Cayuga (4), Athabaskan (4)
Old Destroyers: Wallace (2), some "V" class (2) and "W" class (2)
Escort Destroyers: Hunt Type I (2), Hunt Type II (3), Hunt Type III (2), Hunt Type IV (3)
Frigates: "Bay" class (2), Canadian "River" class (1), Late Australian "River" Class (2)
Sloops: Fleetwood (1), Egret class (4), Black Swan class (3), Australian Parramatta (1)
AMC: Canton (2), Corfu (2)
Sea-going Auxiliary AA ships: Alynbank (4), Springbank (4), Foylebank (4), Palomares (3), Pozarica (4)
Sea-going Auxiliary AA ships: Tynwald (3), Ulster Queen (3), Canadian Prince Robert (5)
LSH (L): Bulolo (2), Lothian (2)
LSI (L): Glenearn (3), Glengyle (3), Glenroy (3)
LSI (M): Prince David (1), Prince Henry (1)
Submarine Depot Ships: Bonaventure (1), Montclare (2), Wolfe (2)
Netlayers: Guardian (1), Protector (1)
Poland: Blyskawica (4), Dragon (1) and Conrad (ex-HMS Danae) (1)

RP 50 Mark XIX conversions:

Monitors: Roberts class
Cruisers: Shropshire, Delhi, Birmingham, Belfast, Gambia, Jamaica, Nigeria, Newfoundland, Quebec

RP 51 Mark XIX conversions:

Cruiser/Minelayers: Apollo and Manxman
Destroyers: Petard and a few "Hunts"
Frigates: A few "Bay" class
Sloops: Late-war commissions
Post-war Destroyers: "Weapon" class

RP 52 Mark XIX conversions:

Cruisers: Cumberland, Australia, Devonshire, Sussex, Norfolk, Hobart, Glasgow, Sheffield, Liverpool, Bermuda, Kenya, Mauritius, Ceylon, Ontario, Swiftsure, Superb

Single HA/LA Mounts 5:

Australian Parramatta (3) Warrego (3), Bathurst class (1), Kanimbla (1): Mark XX
Early Australian "River" class frigates (2): Mark XX
Loch Veyatie (1): Mark XXIV

Weight
Mark XIX: 37,072 lbs. (16,816 kg)
Mark XIX*: About 39,300 lbs. (17,826 kg)
Mark XIX+: About 36,000 lbs. (16,333 kg)
Mark XX: 22,064 lbs. (10,008 kg)
Mark XXIV: 19,039 lbs. (8,636 kg)
Elevation
All: -10 / +80 degrees
Elevation Rate 2
As completed, most mountings were manually operated, only

Mountings converted to RP 50: 15 degrees per second
Mountings converted to RP 51 and RP 52: 20 degrees per second
Train
340 degrees
Train Rate 2
As completed, most mountings were manually operated, only

Mountings converted to RP 50: 15 degrees per second
Mountings converted to RP 51 and RP 52: 20 degrees per second
Gun recoil)
15 in (38 cm) 6
The gun axes were 21 in (53.3 cm) apart on the Twin Mark XIX.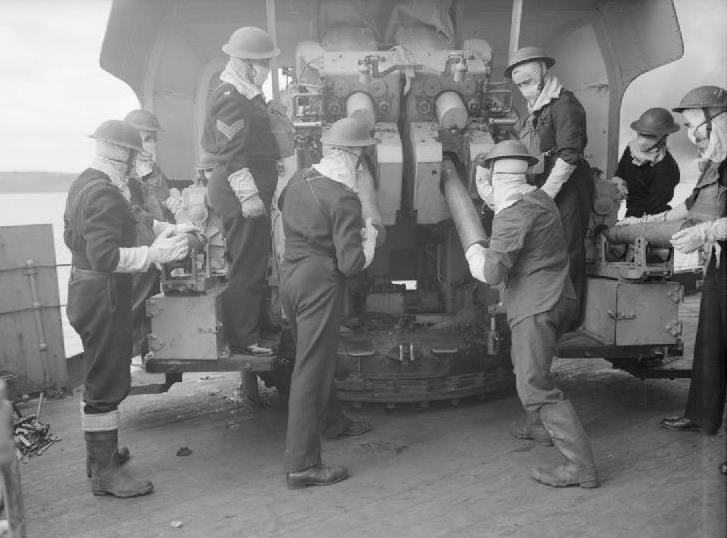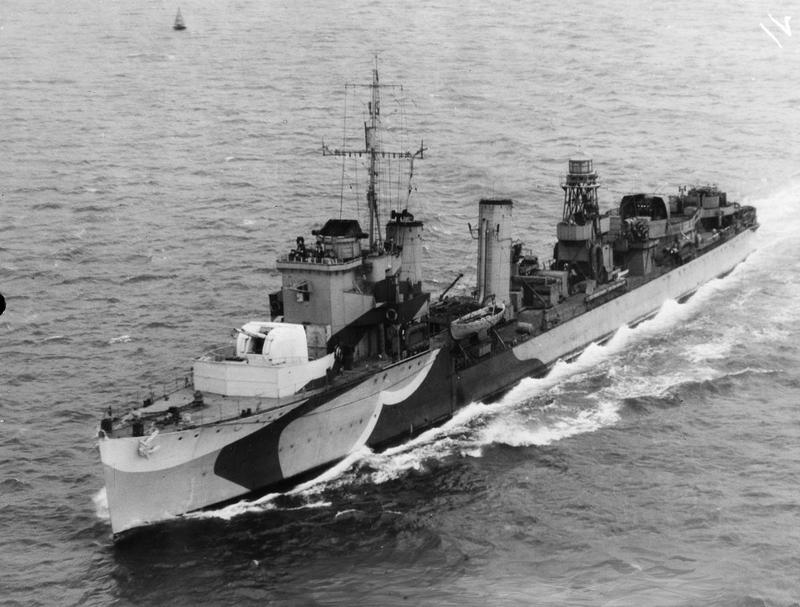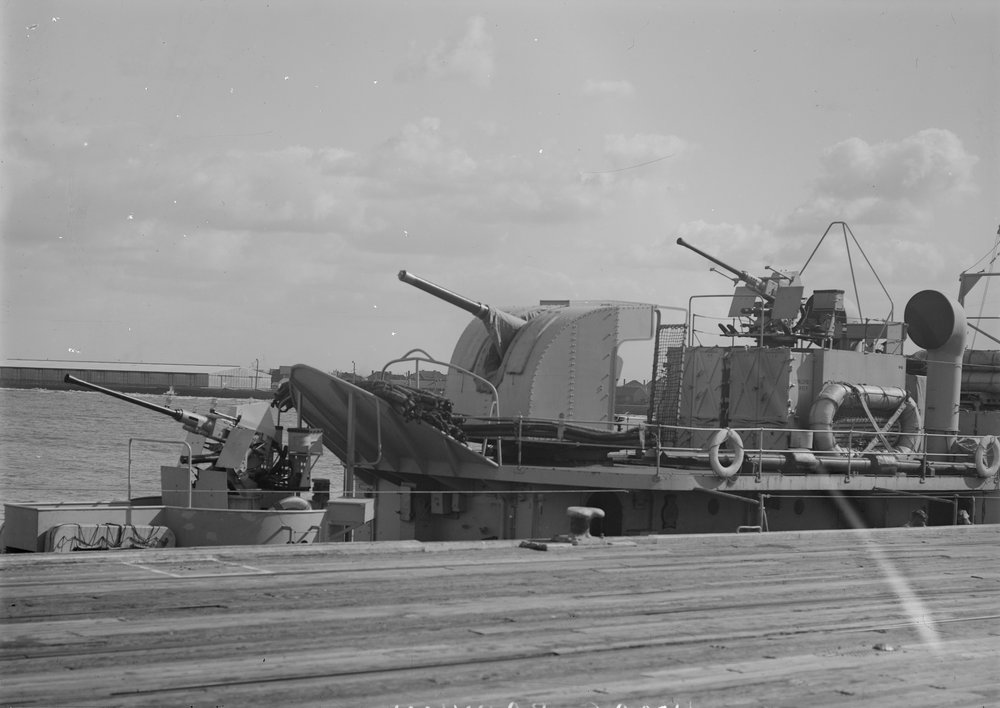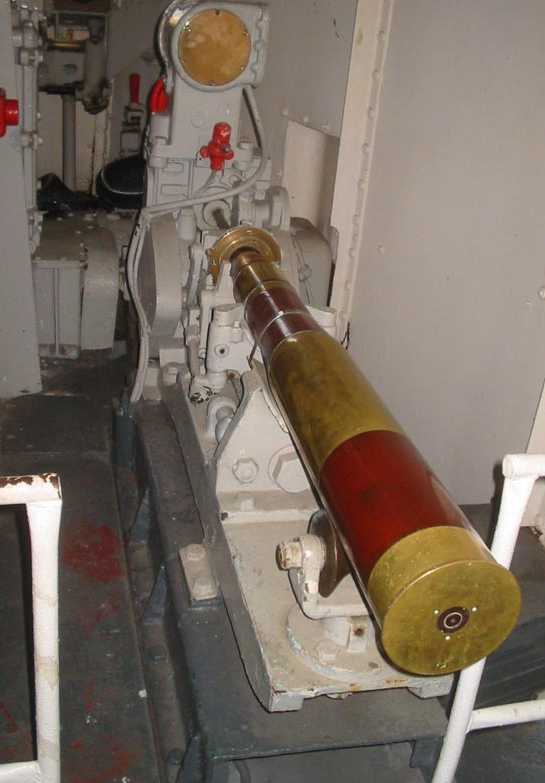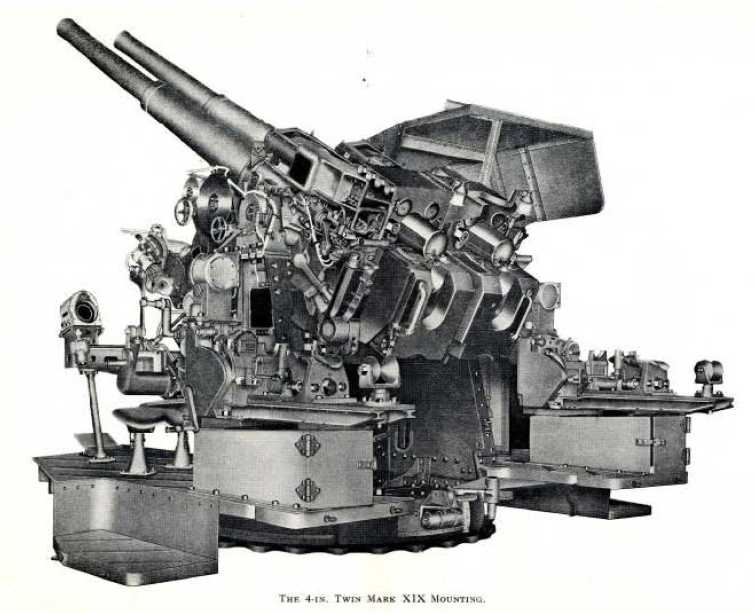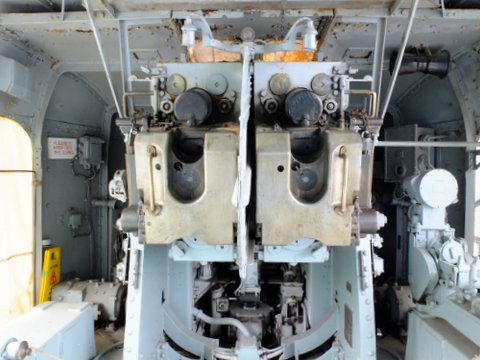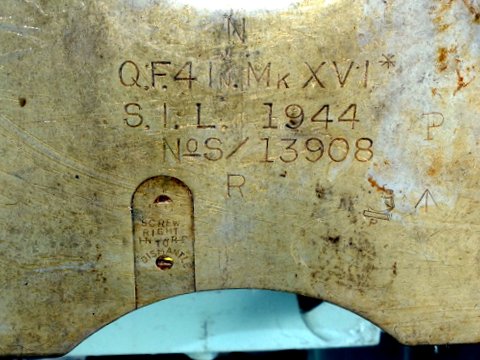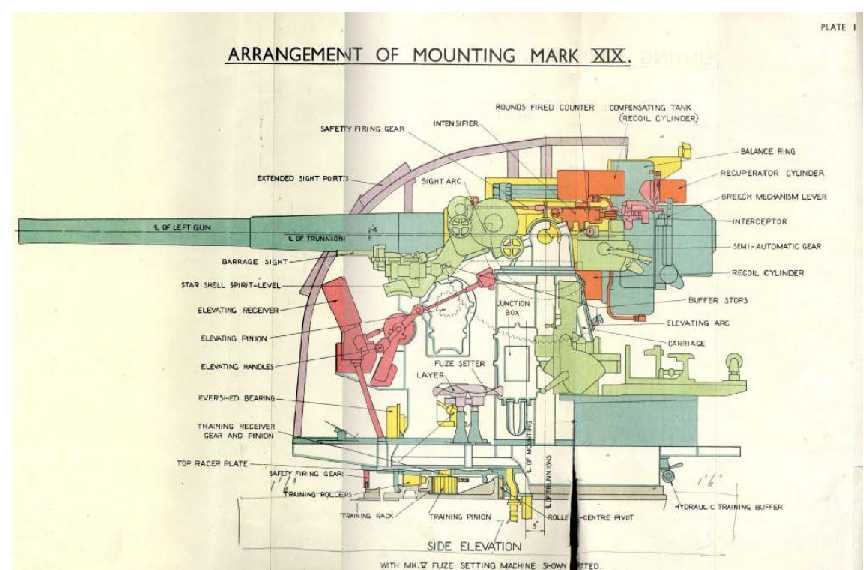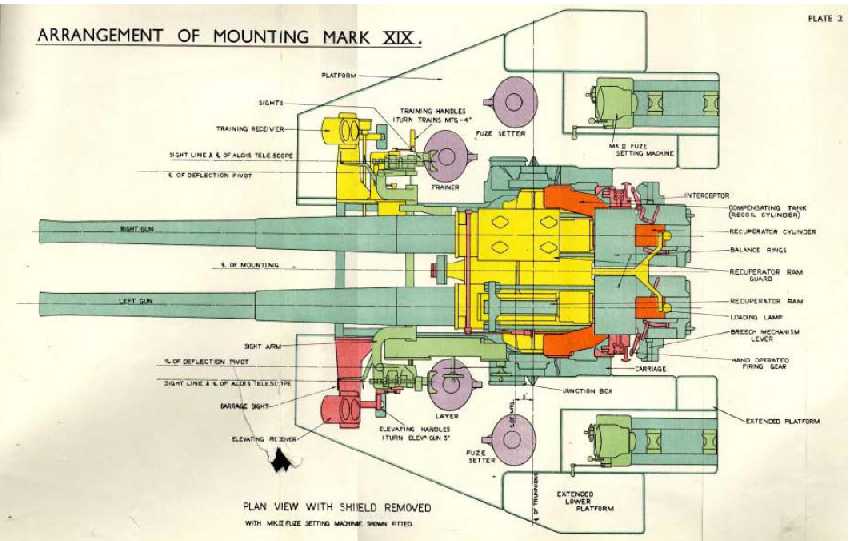 Data from:
"The Design and Construction of British Warships 1939-1945 Vol.1 - Major Surface Warships" by D.K. Brown
Big Gun Monitors: The History of the Design, Construction and Operation of the Royal Navy's Monitors" by Ian Buxton
"Naval Weapons of World War Two" and "British Naval Guns 1880-1945 No 18" article in "Warship Volume X" both by John Campbell
"The Hunts" by John English
"British Carrier Aviation: The Evolution of the Ships and their Aircraft" by Norman Friedman
"Destroyer Weapons of World War 2" by Peter Hodges and Norman Friedman
"Warships of World War II" by H.T. Lenton and J.J. Colledge
"Cruisers of the Royal and Commonwealth Navies" by Douglas Morris
"British Battleships of World War Two" and "British Cruisers of World War Two" both by Alan Raven and John Roberts
"Anatomy of the Ship: The Battlecruiser Hood" by John Roberts
"Cruisers of World War Two: An International Encyclopedia" by M.J. Whitley
"Handbook for the 4 Inch Q.F. Mark XVI* Gun on the H.A. Twin Mark XIX and Single Mark XX Mountings" BR 257 1941
28 October 2007 - Benchmark
24 September 2011 - Added HMS Edinburgh ammunition outfit
16 June 2012 - Added picture of HMAS Barwon
20 January 2013 - Added sketches of Mark XIX twin mounting
18 May 2013 - Added photograph of HMCS Haida
05 January 2014 - Added photograph of HMS Berwick
21 September 2014 - Minor changes and additional information regarding RP conversions and HMS Danae and HMS Dragon
29 November 2015 - Changed Vickers Photographic Archive links to point at Wayback Archive
16 January 2016 - Added photograph of HMS Wallace