Germany
8.8 cm/45 (3.46") SK C/30
8.8 cm/45 (3.46") KM41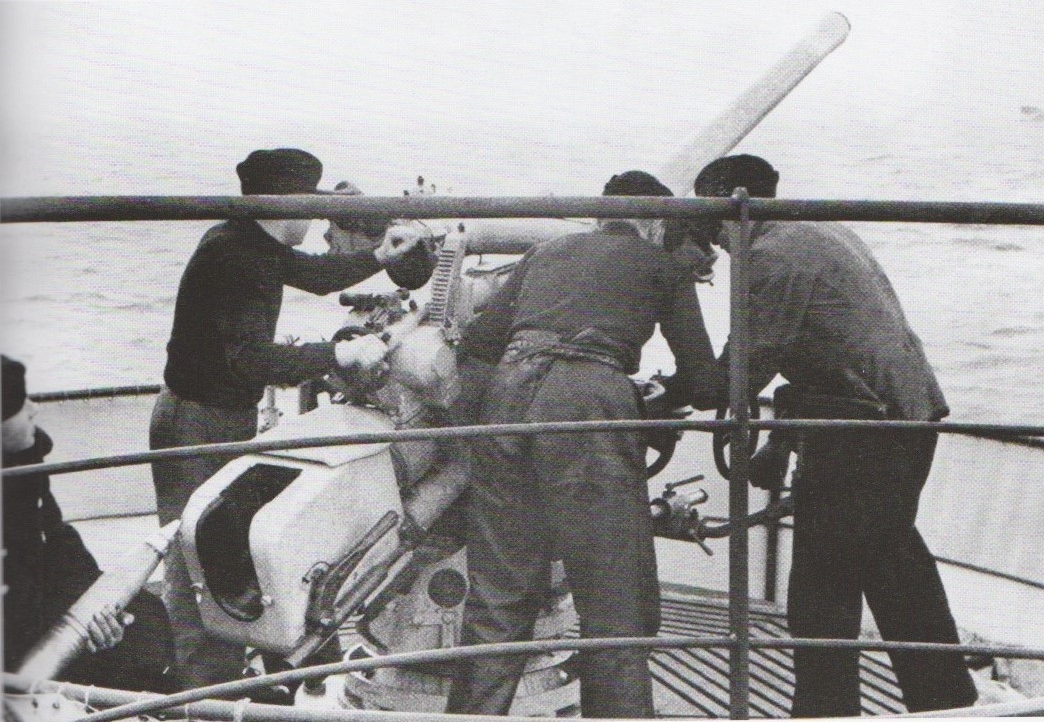 These guns were intended for smaller warships such as submarine-chasers and Flak corvettes. The KM41 was a lighter version but is not believed to have actually entered service. Both of these guns were significantly lighter than the older 8.8 cm (3.46") SK L/45 guns.
The SK C/30 had a barrel and breech ring with a loose liner and a half-length jacket. A vertical sliding breech block was used. The liner was attached to the breech ring with a brass nut and to the jacket with a ring with an asbestos seal to keep out water and other debris. The KM41 used a monobloc barrel with a muzzle brake and used a horizontal sliding breech block. The gun barrel could easily be removed from the breech end-piece.
Unless otherwise noted, the data below is for the 8.8 cm/45 (3.46") SK C/30.
Designation
8.8 cm/45 (3.46") SK C/30
8.8 cm/45 (3.46") KM41
Ship Class Used On
Smaller warships of World War II
Date Of Design
C/30: 1930
KM41: 1941
Date In Service
C/30: 1933
KM41: 1943 (?)
Gun Weight
SK C/30: 2,712 lbs. (1,230 kg)
KM41: 2,116 lbs. (960 kg)
Gun Length oa
155.91 in (3.960 m)
Bore length
145.91 in (3.706 m)
Rifling Length
122.42 in (3.110 m)
Grooves
(32) 0.041 in deep x 0.213 in (1.05 mm x 5.4 mm)
Lands
0.126 in (3.2 mm)
Twist
Increasing RH 1 in 45 to 1 in 31
Chamber Volume
224 in3 (3.67 dm3)
Rate Of Fire
about 15 rounds per minute
Type
Fixed
Complete Round Weight
N/A
Projectile Types and Weights
HE, nose fuze: 19.8 lbs. (9.0 kg)
HE, incendiary: 20.94 lbs. (9.5 kg)
AP: 22.5 lbs. (10.0 kg)
Illum: N/A
Bursting Charge
N/A
Projectile Length
about 14.0 in (385.5 mm)
Propellant Charge
6.22 lbs. (2.82 kg) RPC/38
Muzzle Velocity
2,590 fps (790 mps)
Working Pressure
17.5 tons/in2 (2,750 kg/cm2)
Approximate Barrel Life
7,000 rounds
Ammunition stowage per gun
N/A
Range with 19.8 lbs. (9.0 kg) HE

| Elevation | Distance |
| --- | --- |
| 43 degrees | 15,500 yards (14,175 m) |
| AA Ceiling @ 70 degrees | about 30,000 feet (9,150 m) |
Designation
Single Mountings
For SK C/30: Biaxial MPLC/30, SKC/30U 1, Ubts L C/35 1, Ubts Flak LC/41 1
For KM41: Triaxial turntable mounting Flak LM41
Weight
MPLC/30: 5.67 tons (5.76 mt)
Flak LM41: 4.675 tons (4.750 mt)
Elevation
MPLC/30: -10 / +70 degrees
Flak LM41: -10 / +75 degrees
Elevation Rate
Manual operation, only
Cross Leveling
MPLC/30: N/A
Flak LM41: + / - 15 degrees
Train
N/A
Train Rate
Manual operation, only
Gun recoil
6.9 - 11.8 in (17.5 - 30.0 cm)
"Naval Weapons of World War Two" by John Campbell
"German Naval Guns: 1939 - 1945" by Miroslaw Skwiot
06 October 2006 - Benchmark
05 June 2011 - Added picture note
08 February 2019 - Converted to HTML 5 format, reorganized notes and added gunnery drill photographs