United Kingdom / Britain
10"/32 (25.4 cm) Marks I, II, III and IV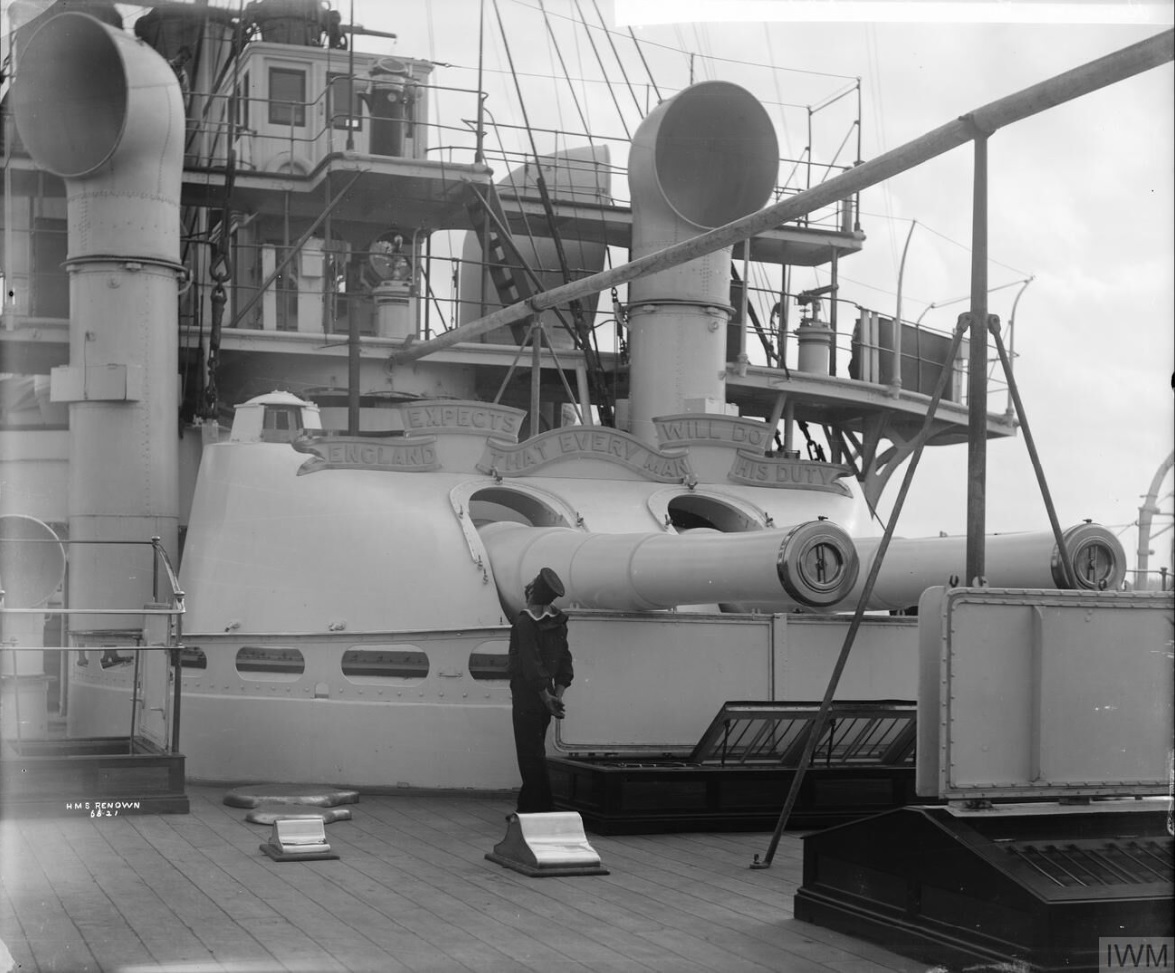 A series of trunnioned guns used in coastal artillery and late 19th century fighting vessels.
The Mark I was an Elswick design used only in coastal batteries and was not interchangeable with the other Marks. The other Marks were Woolwich designs which were used afloat but were mainly utilized for coastal defense batteries world-wide. These other Marks were interchangeable with each other and the ships that carried them eventually had a complement of different Marks.
Mark I consisted of a "complete liner"/A tube/breech piece, three "B tubes to the muzzle/C hoop, trunnion piece and jacket. Mark II used a liner, "alpha tube"/A tube/breech piece, two B tubes not to muzzle/C hoop, trunnion piece and jacket/D hoop. Mark III was A tube/breech piece, two B tubes to muzzle/C hoop and tube/two hoops and trunnion piece/hoop and screwed breech ring. Mark IV was A tube/breech piece, B hoop and tube to the muzzle/three C hoops/D hoop, trunnion piece, screwed breech ring and jacket. All used a cylindrical interrupted screw breech block with a hand worked 3-motion mechanism, although HMS Renown was reported to have a continuous motion mechanism in 1897. For the Mark I, II and III, the breech screwed into the breech piece and for the Mark IV it screwed into a breech bush which was screwed into the end of the C hoop.
A few modified designs were also built. Mark IIA were guns with separate bore and chamber liners. Mark IIIA was two guns different from the Mark III in having the one of the B tubes replaced by two hoops and having shoulders on the A tube over the chamber for greater longitudinal strength. For all Marks, an "A" in front of the Mark meant that the gun was fitted with a continuous motion breech mechanism, used on coastal defense barbette mounting, and the Mark I* though Mark IV* meant loading tray stops and locks for the same mounting.
Altogether, ten Mark I, five Mark II, fifty-two Mark III and nine Mark IV guns were manufactured.
A note on sources: Parkes in "British Battleships" says that HMS Renown carried 40 caliber guns, but Campbell in "British Naval Guns 1880-1945 No 5" says that she carried 32 caliber guns. Campbell also states that the Mark III used on some ships and the Mark IV used on Renown were interchangeable with the Mark II which would lead one to believe that all three of these Marks were dimensionally the same. From an examination of photographs, I am unable to see any difference in the appearance of the guns on Renown from the other ships listed below, so I believe Campbell to be correct.
Nomenclature note: The 10" (25.4 cm) Mark V was a proposed gun that was never built. Originally, this was to be a 40-caliber gun similar to Elswick Patterns P, Q and R used on ships built for foreign navies. However, in 1901 it was learned that the USN was planning armored cruisers armed with 10" (25.4 cm) guns and so a new 50-caliber gun was planned. The coast artillery branch was also interested in this design, as the early versions of the 9.2" Mark X had proved unsatisfactory. Design was a wired gun with inner A, A and B tubes with a jacket. The design for this gun was sealed, but it appears that none were ever ordered.
Designation
10"/32 (25.4 cm) Marks I, II, III and VI
Ship Class Used On
Victoria, Thunderer, Devastation and Barfleur classes
Date Of Design
Mark I: 1884
Mark II: 1885
Mark III: 1888
Mark IV: 1889/1890
Date In Service
1885
Gun Weight
Mark I: 32.32 tons (32.8 mt)

Others: 29.53 tons (30 mt)

Gun Length oa
342.4 in (8.697 m)
Bore Length
320 in (8.128 m)
Rifling Length
N/A
Grooves
N/A
Lands
N/A
Twist
N/A
Chamber Volume
8,370 in3 (137.2 dm3)
Rate Of Fire
about 0.5 rounds per minute
Coast defense batteries included four guns at Sheerness, three at Harwich, two at Coalhouse (Thames), two at Plymouth, one at Milford Haven. Overseas installations included eight at Bombay, five at Aden, five at Hong Kong, three at Malta, three at Karachi, two at Singapore and one at Halifax. There were also two 10" (25.4 cm) guns at Port Phillip, Melbourne, but these were Elswick Patterns F and G 30-caliber guns that were never assigned a Mark number.
The hand-worked breech mechanism on these guns was difficult to manipulate and was recognized as being "much inferior to the hydraulic gear" used on larger caliber guns.
Type
Bag
Projectile Types and Weights
AP - 500 lbs. (227 kg)
Bursting Charge
N/A
Projectile Length
N/A
Propellant Charge
Full charge: 252 lbs. (114.3 kg) Pr Br, 76-cord 30
Half charge: 126 lbs. (57.15 kg) Pr Br, 76-cord 30
Muzzle Velocity
Full charges: 2,040 fps (622 mps)
Half charges: 1,393 fps (425 mps)
Working Pressure
N/A
Approximate Barrel Life
N/A
Ammunition stowage per gun
105 rounds
Half charges were used only at higher elevations. See Mount / Turret note, below.
Ranges of AP projectiles
Elevation
Range
12.1 degrees
(Full charges)
10,100 yards (9,235 m)
35 degrees
(Half charges)
11,552 yards (10,560 m)
Designation
Single Mount
Victoria (2): VCP I

Twin Mounts
Thunderer (2): Turret Mark I
Devastation (2): Turret Mark II

Barbette Mount
Barfleur class (2): Barbette Mark III

Weight
N/A
Elevation
(see Note 1)
VCP1: 0 / +14 degrees
Mark I: 0 / +12 degrees
Mark II: 0 / +13 degrees
Mark III: -7 / +15 or +35 degrees
Elevation Rate
(see Note 1)
Barfleur: about 2 degrees per second
Others: N/A
Train
+150 / -150 degrees
Train Rate
N/A
Gun recoil
N/A
Loading Angle
N/A
Most ships had hand-worked elevation gear, but the Barbette Mark III mounting on Barfleur had experimental Siemens electric gear which could elevate the guns from minus 7 degrees to plus 35 degrees in 14 seconds. Maximum elevation for this mounting was normally +15 degrees but +35 degrees could be achieved if a section of the shield was removed. However, only half charges could be fired at this elevation, converting the gun into a sort of a howitzer.
Loading could be performed at any angle of train as the loading chamber under the gun platform was part of the revolving structure. Ammunition was passed up a central tube and then up an incline to the breech of each gun.
Inspection reports for these ships show that the steam training gear could not stop the turning motion quickly and that the hand gear was inadequate. This led to the introduction of hydraulic gear on all subsequent ships.
"Warrior to Dreadnought: Warship Development 1860-1905" by D.K. Brown
"British Naval Guns 1880-1945 No 5" article by John Campbell in "Warship Volume VI"
"British Battleships: 1860 - 1950" by Oscar Parkes
Many pictures and an interior sketch of the twin mounting at City of Art
07 January 2007 - Benchmark
30 January 2009 - Added construction information on Marks I to IV, additional data on Mark V and information about coastal defense guns
29 August 2011 - Added mounting information
19 September 2016 - Converted to HTML 5 format