Britain
6"/50 (15.2 cm) BL Mark XVII
6"/50 (15.2 cm) BL Mark XXI
Updated 04 February 2014

---
The Mark XVII was another 6" (15.2 cm) gun designed for the foreign markets, this one for the Chilean battleships Almirante Latorre and Almirante Cochrane. The Almirante Latorre was almost completed in 1914 when World War I started, and shortly afterwards she was taken over by the British and renamed HMS Canada. The Almirante Cochrane lay half-completed until after the war when she was renamed HMS Eagle, converted to an aircraft carrier. At that time, she used these 6" (15.2 cm) guns as her main armament. HMS Canada was returned to Chile after the war and remained in service as Almirante Latorre until decommissioned in 1958 while HMS Eagle was sunk by Japanese aircraft in 1942.
Of built-up construction and wire wound, generally similar to the Mark 12. Used a hand-worked Welin breech-block and an Elswick sliding hinge mechanism, with the fore portion of the breech being conical. A total of 29 guns were made.
The Mark XXI was originally ordered by Chile as a coastal defense gun and was almost identical to the Mark XVII except for a longer chamber, B tube and jacket rather than a full length jacket. Sixteen guns were made of which ten were taken over by the British Army for coast defense.
The data that follows is for the Mark XVII except where specified.

HMS Eagle
The 6" (15.2 cm) guns are in the single mounts under the flight deck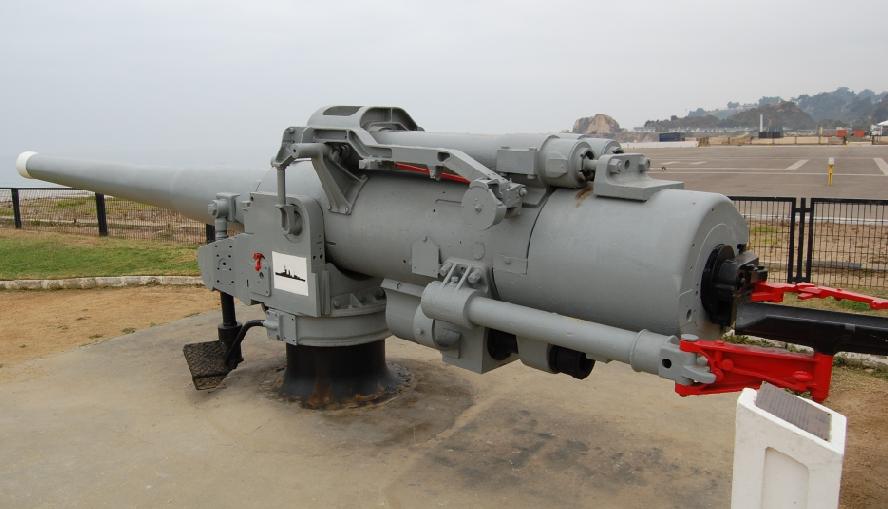 6"/50 (15.2 cm) gun from Chilean battleship Latorre now at Museo de Cañones Navales in Bahia de Valparaíso, Chile
Photograph copyrighted by Carlos Mey and used here by his kind permission

.
---
Gun Characteristics

.
Designation
6"/50 (15.2 cm) BL Mark XVII
6"/50 (15.2 cm) BL Mark XXI
Ship Class Used On
Mark XVII: Canada and Eagle
Mark XXI: Coast defense batteries
Date Of Design
1913
Date In Service
1914
Gun Weight
19,524 lbs. (8,856 kg)
Gun Length oa
310.4 in (7.885 m)
Bore Length
300.0 in (7.620 m)
Rifling Length
N/A
Grooves
N/A
Lands
N/A
Twist
N/A
Chamber Volume
1,650 in3 (27.04 dm3)
Rate Of Fire
(see Note)
5 - 7 rounds per minute
Note: The Rate of Fire figure given above is found in references for British guns of this caliber, but "Warrior to Dreadnought: Warship Development 1860-1905" quotes Jellicoe's 1906 figures for rates of fire for these guns in gunlayers' tests and in battle practice and notes that the latter figures corresponded well to those actually attained by the Japanese at Tsushima:

Gunlayers Test: 12 rounds per minute
Battle Practice: 4 rounds per minute

In "Jutland: An Analysis of the Fighting" by John Campbell, it is stated that, unique among British capital ships, that Canada's hoists were capable of supplying about 5.5 rounds per minute.
.
---
Ammunition

.
Type
Bag
Projectile Types and Weights
CPC 4crh - 100 lbs. (45.3 kg)
HE 4crh - 100 lbs. (45.3 kg)
Bursting Charge
CPC - 7.5 lbs. (3.4 kg)
HE - 13.3 lbs. (6.0 kg)
Projectile Length
CPC - 23.5 in (59.7 cm)
HE - 22.9 in (58.2 cm)
Propellant Charge
28.6 lbs. (13.0 kg) MD26
28.1 lbs. (12.76 kg) SC140
Muzzle Velocity
2,905 fps (885 mps)
Working Pressure
N/A
Approximate Barrel Life
N/A
Ammunition stowage per gun
200 rounds
.
---
Range

.
| | |
| --- | --- |
| Elevation | With 100 lbs. (45.36) CPC Shell |
| Range @ 20 degrees | 16,190 yards (14,800 m) |
.
---
Mount / Turret Data

.
Designation
Single Mounts
Canada (16): PXII
Eagle (9): PXII*
Weight
30,520 lbs. (13,844 kg) without shield
Elevation
PXII: -7 / +15 degrees
PXII*: -7 / +20 degrees
Elevation Rate
Manual operation, only
Train
about +80 / -80 degrees
Train Rate
Manual operation, only
Gun recoil
N/A
Notes:

1) HMS Canada had the two after guns removed in 1916 after it was found that blast from the 14-inch "Q" turret caused problems.

2) The shields for these guns were of a new Vickers design which allowed full elevation and depression over all arcs of fire.
.
---
Data from
"Warrior to Dreadnought: Warship Development 1860-1905" by D.K. Brown
"British Battleships of World War One" by R.A. Burt
"Naval Weapons of World War Two" and "British Naval Guns 1880-1945 No 12" article in "Warship Volume VIII" both by John Campbell
"British Cruisers of World War Two" by Alan Raven and John Roberts
"A Concentrated Effort: Royal Navy Gunnery Exercises at the End of the Great War" article by William Schleihauf in "Warship International" No. 2, 1998
---
Page History

05 April 2008 - Benchmark
11 February 2012 - Updated to latest template
04 February 2014 - Added ammunition stowage and mounting note about gun shields.