United Kingdom / Britain
13.5"/30 (34.3 cm) Marks I, II, III and IV
Also known as the "67 ton" gun. Owing to the complexities involved in manufacturing such a large gun, the completion of four ships of the "Admiral" class were greatly delayed, taking some six to seven years to commission. Part of the delay was due to defective liners which cracked during proofing and which were extremely difficult to replace.
One gun was modified by adding a trunnion band and then installed in a disappearing mount at the Plymouth defenses around 1900. During World War I, when the stocks of old 13.5" (34.3 cm) shells ran out, Revenge (later known as Redoubtable) had four of her guns relined down to 10" (25.4 cm), which were then designated as 10"/40 (25.4 cm) Mark VIII. Later, another four of her guns were lined down to 12" (30.5 cm), but these do not appear to have ever been redesignated. These relined guns had a performance similar to that of the 12"/35 (30.5 cm) Mark VIII.
Construction was gradually improved as the series went on, with a reduction in the number of components. Where the Mark I consisted of half liner/A tube/breech piece, B tube, four B hoops to muzzle/five C hoops/three D hoops; the Mark IV was constructed of A tube/breech piece, B hoop, B tube to muzzle, two C hoops with C tube between/two D hoops/jacket. For the Mark I, the breech mechanism screwed into the breech piece while for the Mark IV the block was taken by a breech bush which screwed into the breech piece and the first C hoop. All marks were interchangeable and all used an early interrupted screw type breech block for which there was no carrier, the hydraulically operated block being completely detached from the gun at the fixed loading station. An asterisk after the mark number originally indicated a planned alteration of the front slope of the chamber to prevent slip-back at high elevations for guns modified for coastal and railway batteries, but no guns were ever so altered. The gun modified for the disappearing mounting in the Plymouth defenses was designated as the Mark IIIf*.
In total, 4 Mark I, 13 Mark II, 54 Mark III and 5 Mark IV guns were manufactured. Italy purchased at least twelve 13.5"/30 (34.3 cm) guns ca. 1890 for arming the Umberto class, although these may have been to a similar but different design.
Designation
13.5"/30 (34.3 cm) Marks I, II, III and IV
Ship Class Used On
Britain: Middle "Admiral," Trafalgar and Royal Sovereign Classes
Italy: Umberto Class
Date Of Design
about 1880
Date In Service
1885
Gun Weight
67 tons (69 mt)
Gun Length oa
433.2 in (11.003 m)
Bore Length
338 in (8.585 m)
Rifling Length
N/A
Grooves
34
Lands
N/A
Twist
Uniform RH 1 in 30
Chamber Volume
N/A
Rate Of Fire
(see Note)
0.3 - 0.5 rounds per minute
Improvements in the handling and control of the hydraulic gear on the Trafalgar class made loading easier and on trials four rounds were fired singly in nine minutes. Eight shots could have been fired in the same amount of time if the guns been worked as a pair. However, it was accepted that an experienced guncrew would fire about once every two minutes.
Type
Bag
Projectile Types and Weights
AP - 1,250 lbs. (600 kg)
Palliser - 1,250 lbs. (600 kg)
Common - 1,250 lbs. (600 kg)
Shrapnel - 1,250 lbs. (600 kg)
Bursting Charge
84.5 lbs. (38.3 kg)
Projectile Length
N/A
Propellant Charge
630 lbs. (286 kg) SBC (Slow Burning Cocoa)
187 lbs. (84.8 kg) Cordite
Muzzle Velocity
SBC charge: 2,016 fps (614 mps)
Cordite charge: 2,099 fps (640 mps)
Working Pressure
N/A
Approximate Barrel Life
N/A
Ammunition stowage per gun
(see Note)
British ships: 80 rounds
Italian ships: N/A
As approved on 30 June 1891, stowage was 20 AP, 12 Palliser, 39 common and 10 shrapnel per gun.
Ranges of projectiles
Elevation
Range
13.5 degrees
SBC charge
11,950 yards (10,930 m)
13.5 degrees
Cordite charge
12,620 yards (11,540 m)
Designation
Twin Barbette Mountings
Middle "Admiral" (2), Trafalgar (2), Royal Sovereign [except Hood] (2) and Umberto (2)

Twin Turrets
Hood (2)

Weight
N/A
Elevation
about -3 / +13.5 degrees
Rate of Elevation
N/A
Train
-135 / +135 degrees
Rate of Train
N/A
Gun Recoil
N/A
Loading Angle
N/A
Mountings needed to be trained to 0 degrees in order to load.
As the guns at 0 degrees elevation were only 42 inches (108 cm) above the deck, there were concerns that firing them directly forward or astern could damage the deck. Trials firing full charges at 3 degrees of elevation caused only minor damage and thus no firing restrictions were implemented.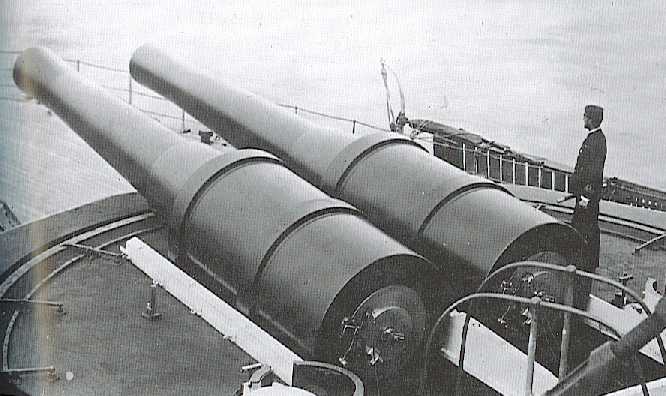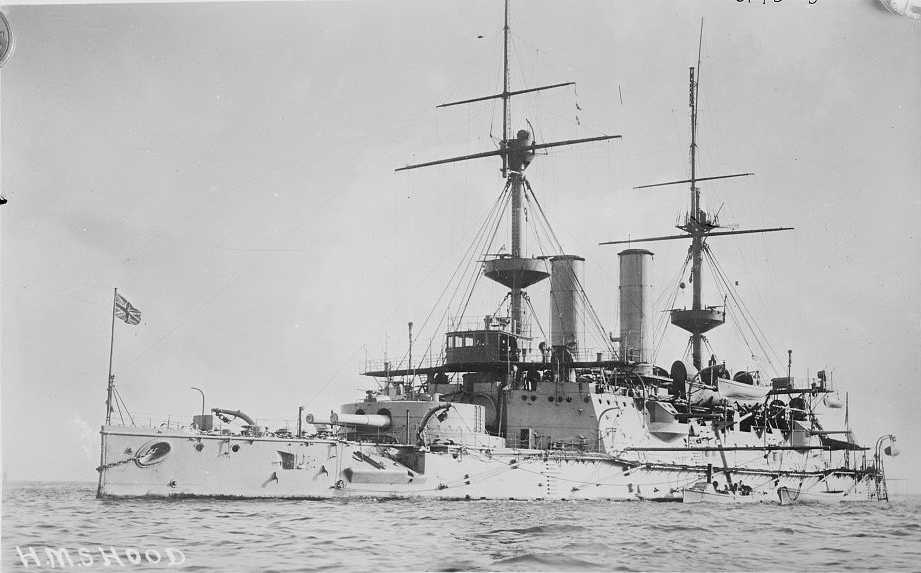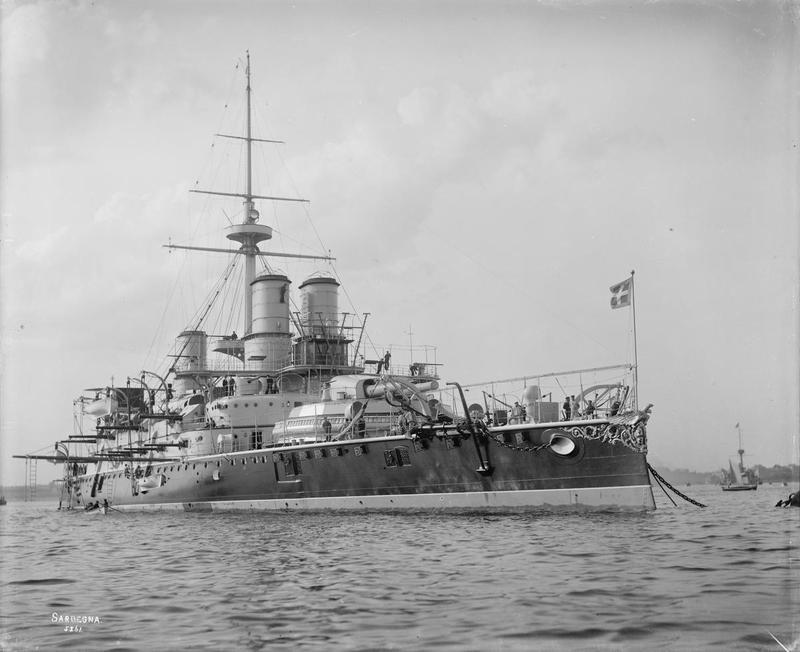 "Warrior to Dreadnought: Warship Development 1860-1905" by D.K. Brown
"The Magnificent 7: The Royal Sovereign Class of 1889" article by R.A. Burt in "Warship Volume IV"
"British Naval Guns 1880-1945 No. 2" article by John Campbell in "Warship Volume V"
"Conway's All the World's Fighting Ships: 1860 - 1905" by Robert Gardiner and Randal Gray
"The Big Gun: Battleship Main Armament 1860-1945" by Peter Hodges
"British Battleships: 1860 - 1950" by Oscar Parkes
19 July 2006 - Benchmark
30 January 2009 - Additional construction details, added link to 10"/32 (25.4 cm) Marks VI and VII datapage
19 May 2009 - Added picture of HMS Hood
25 March 2010 - Added notes about use on Italian ships
29 August 2011 - Added rate of fire note and mounting note
17 December 2013 - Added photograph of Sardegna
26 February 2016 - Minor edits for clarity
17 September 2016 - Converted to HTML 5 format